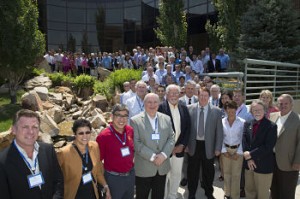 Opal Orthodontics, South Jordan, Utah, hosted its second Global Orthodontic Faculty Summit at its headquarters on July 18 and 19, 2014.
The event, headlined by Richard P. McLaughlin, DDS, and John C. Bennett, FDS, RCS, drew 107 orthodontic faculty doctors from 62 universities around the world. Of the 107 faculties in attendance, 14 of the doctors currently serve as chairmen of their respective university orthodontic programs.
With 2 days of lectures, educational experiences, and social events, the summit also featured McLaughlin and Bennett discussing their recently released textbook, Fundamentals of Orthodontic Treatment Mechanics, the third installment in their trilogy. The textbook includes 300 pages containing over 900 color illustrations and line drawings, supported by a series of stage-by-stage treated cases.
Other lecturers spoke on topics ranging from evidence-based decision-making to dental-based VTO, and Ultradent/Opal Orthodontics CEO Dan Fischer lectured on the importance of patient-centered treatment and the preservation of enamel.