by Kevin C. Walde, DDS, MS
An orthodontist recounts his adventures while giving medical treatment to the poor in Honduras

For many people, sharing one's good fortune is an important part of a fulfilling career and professional life. There are many ways orthodontists do this. Some provide services for less fortunate children in need of orthodontic care. Others make financial contributions to worthwhile causes. Donating time to teach is another way to give back. One of the most rewarding experiences I have had is dental mission work. I know there are orthodontists who have done mission work, but I wonder if most of the rest don't feel intimidated by the thought of doing dental work that they haven't done in years or, in some cases, never done.
This article is about the Washington Overseas Mission. Based in Washington, Mo, the Mission is a humanitarian aid organization that has, for the last 14 years, provided medical and dental treatment and construction help to the poorest of the poor in Honduras. It is a not-for-profit 501 (C)(3) corporation with no paid staff. Everyone who goes on a mission trip pays his or her own way. All donations are directly used to provide care and relief for these most grateful people.
What began in 1992 with physician Tim Long, MD; dentist Mark Tobben, DDS; orthodontist Frank Miller, DDS, MS, MD; and Frank's daughter Jackie Miller, DDS, (also an orthodontist); along with a few of their friends volunteering for a week in Honduras has grown into an organization that works year-round organizing and funding humanitarian projects including health care, construction, water projects, scholarships, and day care. Teams consisting of physicians, dentists, health care professionals, skilled-trade construction workers, students, and general volunteers have donated their time and skills to help improve the lives and health of more than 100,000 people.
With a population of more than 7 million people, Honduras is the second poorest country in the Western Hemisphere. (Only Haiti is poorer.) There is an extraordinarily unequal distribution of income and massive unemployment (28%); 53% of the population lives below the poverty level.
Over the years, the Mission has grown; this year, about 80 people participated. On Day 1, after leaving St Louis at 6:50 am and traveling through Miami, our flight arrived at the airport in San Pedro Sula at 2:10 pm CST The capital of Honduras, Tegucigalpa, has an airport also, but it is in the mountains, so it is a white-knuckle adventure to land there. The end of the landing strip is a vertical drop, so the plane must stop in time. There are still some "misses" at the bottom that you can see if you approach from the correct angle!
After negotiating our way through Immigration and Customs, the group divided into three medical/dental teams and one construction team. The construction team remained in San Pedro Sula, where it worked on the bodega being built to store equipment and supplies for future missions, while the medical/dental teams were all bound for different destinations. On this year's medical/dental teams, there were 12 dentists, five of whom were orthodontists: Frank Miller of Washington, Mo; his daughter, Jackie Miller, also of Washington; Janice Struckhoff, DDS, MS, of Cincinnati (who was a Thomas M. Graber Award of Special Merit winner at this year's AAO Annual Session); Chris Klein, DDS, MS, of Mount Vernon, Ill; and myself.
The medical/dental teams spent the first night in El Progresso (about 10 miles from San Pedro Sula) at the Notre Dame School and orphanage. For many, this would be the last opportunity to take a shower for the next 7 days!
Flashlights and Frijoles
Wake-up call on Day 2 was 4:15 am, with an anticipated departure of 5 am. We were finally ready to go at 6 am. With 24 souls in six extended-cab pickup trucks, we began the journey to El Nispero in the Santa Barbara region of Honduras. After a beautiful drive through some mountainous country, we arrived in El Nispero at 9:30 am. We set up shop in a local schoolroom and started seeing patients at about 11:30 am. The dental work provided is, for the most part, limited to tooth extractions and some hygiene education.
The conditions were spartan. In most locations there was no electricity available, not even for overhead lighting. If you needed suction, you got 2 x 2 pieces of gauze. If you needed high-speed suction, you got 4 x 4s. Each dentist worked with an assistant whose main job was to provide intraoral lighting via a flashlight.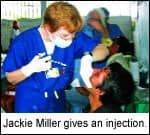 After taking about a 30-minute lunch break, we continued to treat patients until about 5:30 pm. We could have worked all night and still not taken care of all of the patients who were in line.
At the end of Day 2 we moved into our new digs, which would be our home base for the next week. Raul Ugarte, MD, and Sister Teresita, a local nun who runs several orphanages in Honduras, had made housing arrangements for us to stay in the back of the local church. Most of the group slept on the floor, while some slept in bunks stacked three high. We were fortunate in that we had two showers—cold showers, but showers nonetheless. (One of the other teams had to bathe in a local river.)
The food provided during the trip definitely had a local flavor. It was prepared by locals who were hired by the Mission. We were fed lots of fruit, ham, white cheese, rice, and, of course, frijoles and tortillas at every meal.
Another Day, Another Village
No need for an alarm clock on Day 3: We were awakened at 6 am by the serenade of barking dogs, crowing roosters, and honking burros. They actually began their racket much earlier in the morning. Earplugs were useful to dampen the effect.
We drove about 20 minutes to the small village of Robledal, where we again set up our clinic in a complex of schoolrooms. Each day our clinic consisted of dental, medical, and pharmacy stations, with a parasite station run by the pharmacy. Whatever furniture was available was procured for tables and patient chairs. We started seeing patients at about 8 am and worked until 5 pm, with 30 minutes for lunch. Since we were able to get an earlier start, we were able to treat more patients than the day before.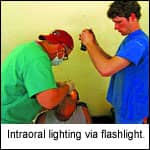 San Geronimo was the destination for Day 4. It is another small village about 30 minutes from El Nispero. It was another sweltering day, with temperatures in the mid-90s and high humidity. We were able to knock off at 4:30 pm, which gave us a little time to mingle with the locals back in El Nispero. Some of the kids on the trip played soccer with the local kids, but we were advised to be back in our quarters by dark.
Day 5 brought us to the community of Nejapa. It was the hottest day yet, with no breeze to bring relief. There were a lot of pedodontic patients. One of the most difficult things to accept is the necessity of extracting permanent first molars in an 8-year-old. While many of these teeth could be restored, this option isn't available. Left alone, these teeth will eventually abscess and cause much suffering. So the only alternative is to remove them.
In the evening, some of the volunteer kids played soccer with the locals again. The game ended when one of the locals ran off with the soccer ball. This was OK, since the intention was to leave the ball anyway.
On Day 6 we drove about 30 minutes to the town of Santa Rita. As usual, we worked in the local school. Unlike any other schools we have worked in, the school in Santa Rita has the advantage of a benefactor supporting it: A bank in Washington, DC, provides funding for much of the school's needs. This proved to be the nicest facility we had the pleasure of working in. The rooms had fluorescent lighting and oscillating fans that made the working conditions quite bearable.
It is a Honduran tradition to throw a party they call a despidida to express their gratitude for the services provided. On the evening of Day 6 they held their despidida for us. It started with a program in the church where we were staying. Several of the local officials gave short talks (en EspaÑol), after which we walked to the local community center for food, cerveza, and music. The entertainment was provided by three young men playing a large xylophone.
Fire on the Mountain
It took 2 hours to get to our destination on Day 7. While the trip was only about 18 miles, we had to travel through the small village of Santa Rita and up a treacherous mountain road that went as high as 4,700 feet before reaching our destination of San Fernando at 4,200 feet. Our lead vehicle developed a flat tire on the way. Luckily, this happened just as we were passing through Santa Rita. The locals made a quick change for us, and we were on our way.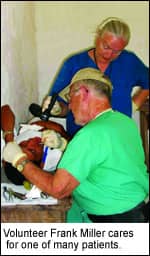 The drive up the mountain was a white-knuckle adventure that made several people ill. In a few places, the road came perilously close to the edge, where the drop-off was 150 feet or more. Because of the long drive to San Fernando, we were only able to treat patients for 4 hours. This village is located high up in coffee country, and for many of the locals it was the first time they had ever seen gringos. The conditions in this community were the worst we encountered on this mission.
As we made our way down the mountain, one of our vehicles broke a stabilizer bar—and caught fire! As luck would have it, this happened just as we were passing through Santa Rita again. However, this time the locals were unable to help us and we were forced to abandon the vehicle. So we regrouped, dispersed the occupants of the damaged vehicle, and continued on our way back to El Nispero. In the evening we packed for an early-morning departure.
On Day 8 we left El Nispero at 7 am and headed back to San Pedro Sula. After an hour of driving, we finally reached paved roads. The best way to drive in Honduras is defensively: The rules of the road are few, if any. Drivers will pass on the right, on the left, with no visibility, and with obvious oncoming traffic.
A Well-Earned Rest
There is always some R&R planned for the last day or two of this trip. While it is optional, most of the brigade members participate. When we got to the airport at San Pedro Sula, we unloaded our trucks and hopped on buses along with members of the other teams for a 3-hour ride to the Mayan ruins at Copan. Once in Copan we checked into our hotel and enjoyed a hot shower. In the evening we were able to go into town for pizza and basketball. (The NCAA tournament was in full swing.)
The next day (Day 9), we spent the morning exploring the Mayan ruins at Copan. In the afternoon we went into town for lunch and some shopping. In the evening the entire group gathered for a short meeting so we could discuss what was accomplished on this mission.
I don't have all of the statistics, but the Red Team alone treated more than 450 dental patients and extracted more than 2,000 teeth. The number of medical patients to whom we provided care was even greater. When these numbers are combined with the comparable numbers from the other teams, it is apparent that quite a lot was accomplished.
We got up early on Day 10 to have some breakfast before heading back to San Pedro Sula to catch our flights back to the States. Our flight didn't leave until 3:30 pm. After traveling through Miami, we arrived in St Louis about 10:30 pm.
One of the gratifying aspects of these missions is the opportunity to bring young volunteers along to help. Chris Klein brought his son and aspiring dentist Bryan along, and I brought two of my children, Ryan and Jane. It is an incredibly rewarding experience, with the reward being the satisfaction of service and the challenge to do more.
While we were assisted by Sister Teresita and several other Catholic nuns, the Washington Overseas Mission is not affiliated with any religious organization. All are welcome, and there is no religious requirement to receive the services of this organization.
As the organization has grown, it has recognized the need to develop better methods of communication with volunteers, sponsors, and other organizations. A Web site has been developed in an attempt to keep people informed about Mission activities and future projects. If you would like to participate in one of these mission trips or would like to help out in some other way, you can find information at [removed]www.overseasmission.org/index.html[/removed].
Kevin C. Walde, DDS, MS, is in private practice in Washington, Mo, and is an assistant clinical professor in the Department of Graduate Orthodontics at St Louis University. He is a member of the AAO, a Diplomate of the American Board of Orthodontics, past president of the Greater St Louis Orthodontic Study Club, and a past president of the Orthodontic Education and Research Foundation. He can be reached via e-mail at [email protected]