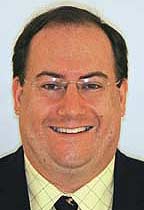 Jacksonville University (JU) School of Orthodontics has appointed Marc Bernard Ackerman, DMD, MBA, FACD, chair and program director, and Mark Alarbi, DDS, director of clinical affairs. Ackerman's appointment follows the departure of Laurence Jerrold, DDS, JD, the former dean of the school.
A third-generation orthodontist, Ackerman (pictured) graduated from the University of Pennsylvania School of Dental Medicine. He received his orthodontic specialty certification from the University of Rochester-Eastman Dental Center and practiced privately in Bryn Mawr, Pa, for more than 7 years.
Ackerman taught in the Department of Orthodontics at the Temple University School of Dentistry from 2003 to 2009. In 2007, he began teaching as an associate professor in JU's School of Orthodontics. In 2008, he developed and launched the JU Fellowship in Orthodontic Clinical Research.
Ackerman serves as chief scientific officer for Scientific Compliance in Atlanta. He is also a diplomate of the American Board of Orthodontics, a member of the Edward H. Angle Society of Orthodontists, a fellow in the American College of Dentists and the College of Physicians of Philadelphia. In addition, he was the co-recipient of the 2004 B.F. and Helen Dewel Award fro the best clinical paper or the previous year from the American Journal of Orthodontics and Dentofacial Orthodontics.
Alarbi graduated with a dental degree from the University of Tishreen, Syria, in 1996 and served as an assistant professor in the removable prosthetics department. In 2002, he received his specialty certification in orthodontics and dentofacial orthopedics at the University of Aix-Marseille II.
He is a former member of the French Society of Dento-Facial Orthopedists and the French Society of Bioprogressive Orthodontics. He joined the JU faculty in 2003, and in 2009 obtained his certificate in advanced graduate study in orthodontics.