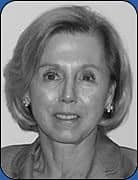 Dorothy Whalen, DDS, of Glen Cove, NY, has been appointed president of the College of Diplomates of the American Board of Orthodontists (ABO). Whalen is the first woman to serve in this position.
A graduate of Georgetown University's Dental School, she received her orthodontic training at Columbia University. Whalen has also served as an examiner for the ABO and is president of the New-Conn Orthodontic Foundation, a study club for orthodontists.
Whalen has guest-lectured at New York University and Columbia University's schools of orthodontics.