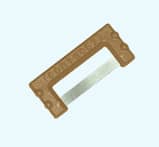 ContacEZ, Vancouver, Wash, has added four IPR Optional Strips to its IPR Strip System.
The two single-sided versions—IPR Single-Sided Opener (clear, 0.10 mm) and the IPR Single-Sided Widener (cyan, 0.12 mm)—can be used to increase the efficiency and safety of interproximal reduction without creating corners or excessive enamel reduction, according to the company. The two optional double-sided IPR strips—the IPR Super-Widener (purple, 0.25 mm) and the IPR Mega-Widener (brown, 0.30 mm)—feature double-sided coarse diamond that widens the contact for proper IPR.
The ContacEZ IPR Optional Strips are permanently housed in an autoclavable, FDA-approved, medical-grade plastic casing.
The ContacEZ IPR Strip System, which is intended for buccolingual use only, is designed to be used in conjunction with Invisalign®, ClearCorrect™, Inman Aligner™, and other clear aligner orthodontic treatments.
For more information about this and other orthodontic companies, visit our Buyer's Guide.