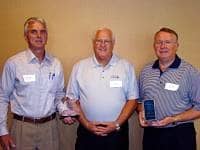 Whip Mix Corp,Louisville, Ky, recently presented the Lean Education Symposium ofDental Technology. Attendees at the 2-day symposium learned about howLean concepts and principles affect dental labs to improve efficiencyand quality.
Keynote speaker Nicholas Katko, CPA, discussed how labs can increasecapacity by reducing waste. In addition, attendees heard from a panel oflab owners and managers about their experience with Lean managementconcepts.
Whip Mix also recognized several labs that have implemented Leanmanagement and manufacturing principles. The company awarded EdmondsDental Prosthetics the 2010 "Superior Award for Operational Excellence,"Perry & Young the 2010 "Outstanding Award for OperationalExcellence," and Creative Expressions the 2010 "Rookie Award forOperational Excellence."
For more information about this and other orthodontic companies, visit our Buyer's Guide.