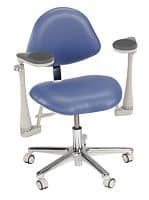 DentalEZ® Group, Malvern, Pa, has unveiled its new Free-Motion Elbow Support System. The system supports an orthodontist's elbow without limiting movement or interfering with procedures. Designed to reduce muscular tension and fatigue, the system features two free-moving, height-adjustable elbow supports that follow every movement while providing stability for neck, back, arm, and shoulder muscles.
The Free-Motion Elbow Support System has solid-steel components. The integral skin-foam technology features a nonslip texture. Heavy-duty ball joints with tension-adjustment knobs allow the elbow rests to glide horizontally, and are adjustable from zero resistance to fully fixed.
The system is compatible with any stool available on the market, andfastens to the stool cylinder. The telescoping elbow-height adjustmentlocks in place with a thumb lever.
For more information on this and other orthodontic companies, visit our Buyer's Guide.