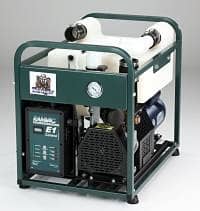 The DentalEZ® Group, Malvern, Pa, has introduced the RAMVAC® Badger™, a LubeFree™, waterless, dry vacuum system to replace traditional water ring pumps.
The Badger is designed for one to three users. It has a footprint of18 x 22 x 25 inches, and is compatible with existing plumbing as smallas ¾ inch and as large as 2 inches in either rigid or flexible PVC.
The Badger's LubeFree rotary vane vacuum pump includes a 5-gallonseparation tank and is protected by RAMVAC's 5-year no-fail, no-wear-outpump warranty. The E1 "Smart Control" provides maintenance remindersevery 2,000 hours, and has an auto shutdown feature designed to increasethe longevity of its rotary vanes.
The Badger also features an open-frame design, with no traps toclean. The Badger also maintains consistent vacuum levels when one ormore HVEs are in use.
Recently, the Badger received the Eco-Dentistry Association'sAccepted status seal for its water-conservation aspect andpollution-prevention features.
For more information on this and other orthodontic companies, visit our Buyer's Guide.