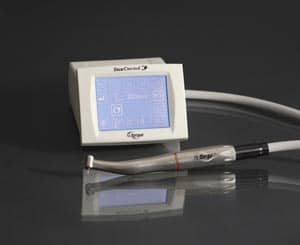 DentalEZ Group will unveil its NuTorque™ programmable electric handpiece system during this year's ADA Meeting, which will take place October 16–18.
NuTorque features a touch-screen display. NuTorque also features an auto-reverse, auto-reverse forward, and auto-reverse stop; torque control ranges from 0.1 to 3.0 Ncm with capabilities of 384 Ncm; 27 (+2) possible reduction ratios; fully customizable presets; a flat screen that wipes clean for better asepsis and a sharp display; and a screen that can be mounted remotely for user convenience.
The customizable touch-screen display includes three general procedure memory presets for common practices, such as cavity preparation, caries removal, and polishing; a speed/RPM display; an FO light; an on/off water spray; and an attachment gear ratio indicator. The main display provides a detailed and customizable setup mode and endo mode, which includes five endo memory presets that can be individually designed and tailored to fit various endodontic procedures.
The NuTorque is also equipped with a brushless motor that is compact and lighter than existing electric motors currently on the market, according to the company. The NuTorque's micro-motor measures 4 inches and weighs less than 99 g.
The NuTorque system has a 3-year warranty on the control box unit; a 1-year warranty on the motor, tubing, and attachments; and a 1-year warranty on the transformer.
For more information, contact DentalEZ.