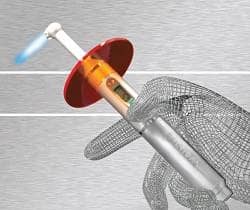 DENTSPLY GAC, Bohemia, NY, has added the Fusion LED 3.0 Curing Light to its product line.
Weighing 3.9 ounces, the light features an anodized aluminum body and arechargeable lithium-ion battery. One full charge allows for 5405-second cures. The device also includes a direct power plug at the endof the handpiece for use when the battery is low.
Fusion LED features an interchangeable 360° swivel light probe with a 10-mm tip and dual power settings for high plasma-like power or standard LEDpower. The handpiece also includes seven digital programs with batterybars and smart indicators, as well as sequential modes for full-arch,one-click operation.
The standard Fusion kit includes the LED curing light, power adapter,100 barrier sleeves, a 3-mm tacking tip, a charging stand with stick pad, aunit mount eyeshield, and a 2-year warranty on the light unit.
For more information on this or other orthodontic companies, visit our Buyer's Guide.