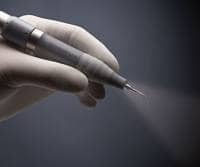 Hu-Friedy, Chicago, has modified its Symmetry Piezo tip line. All Symmetry S-series and E-series Piezo tips now feature the tip part-code laser-marked on the outside of the wrench for better visibility.
According to the company, this modification will make it easier to identify the tip and simpler to use the Symmetry IQ Power Range Guide.
The Piezo Tips are compatible with any Piezo generator. S-series tips are compatible with Symmetry IQ, Satelec/Acteon and NSK generators, while the E-series line is compatible with EMS generators.
Symmetry Piezo tips feature a stainless steel blend and include a color-coded Guardian Wrench/Tip Carrier, a torque-limiting wrench that makes an audible click when attached to the handpiece.
The company has introduced a new Orange Guardian Wrench for the P Universal and #10 Universal tips.
For more information about this and other orthodontic companies, visit our Buyer's Guide.