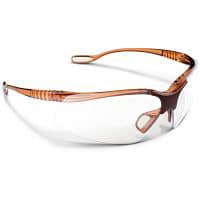 IndiGreen Innovations, Greenville, NC, offers AzÚr safety glasses. Designed especially for health care professionals, the glasses weigh only 0.8 ounces. According to the company, the integrated side-spring frame flexes open to reduce temple pressure and gently hug every face. Clear silicone nose and temple pads are designed to eliminate slippage. AzÚrs also feature interchangeable one-piece polycarbonate lenses that extend 150° around the face.
Each pair of AzÚr glasses includes a padded case and three replaceable lenses: a clear, fog-resistant safety lens, an orange curing light safety lens, and a tinted lens. AzÚrs are available in sienna, blue, black, violet, rose, silver, and teal.
For more information on this and other orthodontic companies, visit our Buyer's Guide.