by Christopher Piehler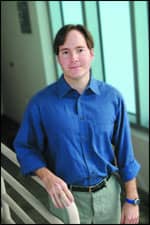 As I write this, I have just hustled back to my humble office from San Francisco, where I attended the AAO's 105th Annual Session. As is always the case with these 5-day marathons of investigating new products and listening to so many scientific lectures that I become obsessed with the need to have my second molars distalized (whether they need it or not), I learned quite a lot.
Some highlights: 1) Despite its reputation for dampness, San Francisco can be sunny and warm for days on end. 2) While the post-incision images may look downright scary, corticotomy-assisted orthodontics can, in some cases, help orthodontists achieve impressive movement in a mere 6 months. 3) Orthodontists can be extremely blunt, like the kind-looking older gentleman who made a point of coming by our booth to let me know that he had thrown our latest issue in the trash. 4) Another topic of conversation at the meeting was the American Board of Orthodontics' new certification process, which will result in a much larger number of orthodontists becoming certified (For more details, check out "Newsbites" on page 10.) 5) Miniscrews are poised to take American orthodontics by storm.
That's right, miniscrews. During my stay in San Francisco, I listened to a lecture about the anchorage they provide, saw posterboard presentations about their clinical applications, spotted several companies selling them, and overheard orthodontists extolling their virtues.
Apparently, orthodontists in other countries have been using miniscrews routinely for years, but they seem to have exploded here in the States only recently. You can be sure that we'll be covering this exciting product in a clinical article very soon.
On one last San Francisco-related note, this month's practice profile (page 15) features Frederick L. Johnston, DDS, from nearby Dublin, Calif, who uses the same drive that helped him win the World Masters championship in high hurdles to run a highly successful solo practice (and stock it with a treasure trove of sports memorabilia).
Enjoy the issue, enjoy your summer, and please keep in touch.