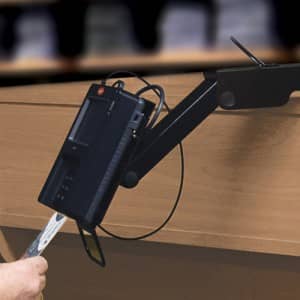 MMF POS, Wheeling, Ill, has launched a line of Wheelchair Accessible Payment Terminal Mounts that are compatible with most popular EMV-Ready credit card payment and transaction terminals.
The patent-pending design features an adjustable arm that enables those in wheelchairs to complete payment transactions without relinquishing personal information, payment cards, or PINs to office staff.
According to the company, recent litigation which alleged violations of the Americans with Disabilities Act has affected many businesses that have been accused of offering wheelchair users or visually impaired customers at the point of sale inaccessible or unusable payment keypads. In most cases, the person with the disability would give their payment card and PIN to the receptionist or another customer to help them complete the transaction, creating opportunities for security breaches and fraud.
"Accessibility will continue to be a growing concern as more litigation becomes public knowledge," said Larry Greenberg, director of sales and marketing for MMF POS. "The point of sale or transaction terminal accessibility issue affects any business that uses transaction terminals to conduct business, confirm personal information, or accept credit card payments. This certainly includes healthcare facilities and businesses."
In 2017, the MMF POS Wheelchair Accessible Payment Terminal Mount received the award for Best Core Business Product from the North American Office Products Association. In addition, the Wheelchair Mount was nominated as Product Innovation of the Year and People's Choice awards.