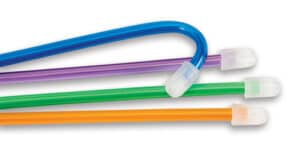 Practicon, Greenville, NC, now offers its Total-Comfort™ Colorflex™ Soft-tip Aspirators in multiple colors.
Now available in four bold colors, these aspirators feature the patented Total-Comfort soft, flexible tip, which is designed to be gentle on soft tissue and is ideal for pediatric and geriatric patients.
According to the company, the Total-Comfort Aspirators are manufactured from high-quality tubing that resists kinking when bent and is 100% latex- and phthalate-free.