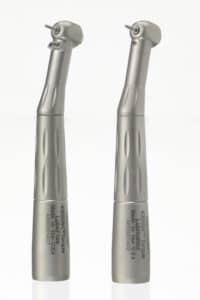 StarDental®, a division of DentalEZ Integrated Solutions, Malvern, Pa, now offers the 430 Torque high-speed handpiece.
Available in various configurations, the 430 Torque is ergonomically designed and constructed from 100% stainless steel with a satin finish. The design and angled head of the 430 Torque allow for a neutral wrist position, according to the company, minimizing hand fatigue. In addition, the dual beam glass design prevents shadowing in front of the bur to offer an unobstructed, clear view regardless of handpiece positioning or lighting.
The 430 Torque is available with and without fiber optics. A lubricated version of StarDental's patented LubeFree version also is available.
The handpiece offers 27 watts of power, and features a double bucket rotor design and dual air control for better airflow to the turbine. The coaxial water spray allows for water pressure control to cool the bur and flush the working area, while the vortex washer design helps minimize harmful debris and "suck back" into the housing of the handpiece, inhibiting unwanted buildup that can lead to eventual turbine engine damage. The 430 Torque features a small head design and a low noise level.