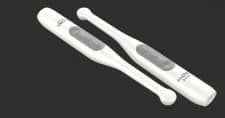 Venoka, Windermere, Fla, will soon launch an HD intraoral camera designed for the home consumer. The company sees the ProDENT SONO as a tool to help consumers improve dental care.
The ProDENT SONO is WiFi enabled and features a high-definition camera. The device records images and video, and with its BlueLight Scanning technology, it highlights any issues discovered on or around the teeth. The consumer can then share this information with their dentist or other dental specialist.
The company has launched a Kickstarter campaign to fund the device and plans to release the ProDENT SONO in late December.