For those who have been through it, the process of starting a practice from scratch is no small feat. It takes hard work, stamina, and, according to Niki Fallah, DDS, of Mills-Peninsula Pediatric Dentistry and Orthodontics, Millbrae, Calif, attention to detail…every detail.
In 2014, Fallah was the first to contract a lease within a new, mixed-use development in Millbrae, located just west of San Francisco Bay. She signed on to occupy the ground floor of a four-story building. The three upper levels were designated as residential condominiums. With a firm vision of her future practice in mind, Fallah turned to Santa Cruz, Calif-based office design firm Design For Health and designer ?Mitchell Goldstein.
"I wanted an office that was not only warm and inviting, but modern, sophisticated, and open," Fallah notes. "Where I'm located, there aren't many orthodontic/dental practices that have all of those qualities."
Fallah held memories of previous claustrophobic offices. When parents wanted to sit in during treatment times, the rooms quickly felt tight and uncomfortable for everyone. "It's hard to provide treatment in that kind of environment," she adds. "I knew that if I was going to open an office, it was going to have to be exactly what I wanted."
Walking into a new space held unbridled potential for Fallah. Her new practice was to house an orthodontist, a pediatric dentist, and a pediatric anesthesiologist. There was a lot of ground to cover, and the new space was, in many aspects, an open canvas.
However, Goldstein recalls, there were some elements that were troublesome. "It's a large, open space. Such a space allows for great creative freedom, but also presents its own set of troubles. For example, there are a number of round support columns, which influenced the floorplan in a couple of instances," Goldstein recalls. "What's more, the plumbing for the residences on the floor above the practice was installed quite low, which limited our ceiling plans and the types of materials we could use."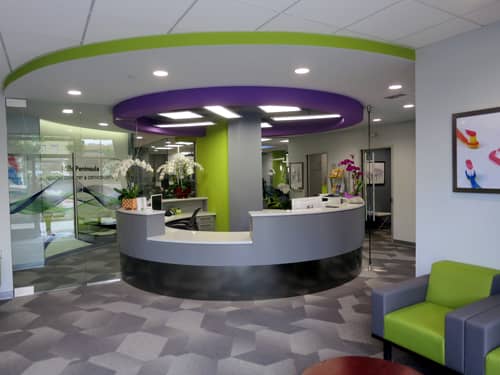 To remedy the column issue, Goldstein melded the rounded motif into the overall design of the office, and carried the curved structures throughout the floorplan. "The reception desk, as an example, is round to create a circular flow so patients and staff aren't bumping into each other as they enter and leave the treatment area," he says.
As for the overreaching plumbing system, ceilings were lowered and creativity took over.
In the treatment bay, for example, a large, bright mural of blooming red poppies greets patients as they enter. Once seated and reclined in treatment chairs, all are privy to the view of the sky, sans skylight—such a thing isn't possible on the ground floor of a four-story building. The clever and calming illusion was created by placing photos of blue skies and clouds in the ceiling panels, backlit by fluorescent lighting.
Fallah notes that, throughout the planning process, she remained very specific in the details of how she wanted her office to look. "From the door handles, to the counters, to the artwork—every detail was selected by me," she explains. "I chose materials like stainless steel and glass; I wanted the practice to be beautiful not only today, but in 10, 15, 20 years from now."
On her list of must-haves for the design of her new practice, calming and inviting were paramount for Fallah.
"It was important for me to have a place where children felt safe; where they felt at ease," she adds. "I wanted a space that is equally appealing to a 2-year-old and a 16-year-old. In our office, we need a design that works for the broad range of patients we see on a day-to-day basis."
For the younger set, Fallah notes that one of the most recognizable features is the plush-covered mushroom patch that sprouts in the middle of her treatment bay.
"The kids love the mushrooms. They run right to them," she adds. "The kids sit in between them, and they climb on them. It's so cute, and it stands out as a fun element. I would have never thought that those mushrooms would become the trademark of my office."
Mills-Peninsula Pediatric Dentistry and Orthodontics officially opened in February 2016. Since then, the practice has experienced an increase in its customer base; and Fallah gives a strong nod to the overall look of the space for her success thus far.
"The layout of the office reflects the calm environment that I wanted to create," she notes. "The feedback I've gotten so far is that the space provides a very bright, positive energy. It really turned out the way I wanted it to on that level, which, I believe, will benefit the practice for years to come." OP
Lori Sichtermann is a freelance writer for Orthodontic Products. She can be reached at [email protected].