Every year about 10 million Americans move from one county to another, according to a number of well-documented studies on population migration. The migration varies, of course, by region and demographic population, and is typically due to a change in employer. What this means for your practice is that patients can come and go—whether they're the child of a parent with a new job out of state or an adult patient chasing new employment opportunities in the next town over. Therefore, it is not uncommon for orthodontists to experience patients transferring out of their practice during the course of treatment, and also new patients to the area requesting to transfer into their practice. Both of these situations create their own special challenges and dilemmas. However, following a few simple guidelines can ease the transition and turn a transfer into a positive for the practice.
The Transfer Out
Often unexpectedly, a patient or guardian will inform the office staff or doctor of their intention to move out of the area. Ideally, adequate notice is given; however, it is not uncommon for a patient to announce that they are suddenly moving due to an urgent matter or imminent job opportunity. Therefore, it is important that the administrative staff and the doctor have appropriate systems in place for transfer patients.
First, schedule an immediate appointment for transfer records. At a minimum, these records would include facial and intraoral photographs. This would be sufficient for someone in the early stages of a basic treatment plan. In the mid-to-later stages of treatment or on complex cases, radiographic records may be prudent. These radiographs may consist of any combination of a panoramic image, a cephalometric image, periapical images, or possibly a cone beam CT scan. These images can be used to specifically check for root resorption and alveolar bone levels, or skeletal changes occurring during orthodontic treatment. In a situation with an impacted tooth or pathology, perhaps a CBCT would be sensible. Study models (digital or stone) may also be advisable in situations where certain aspects of the malocclusion or dentition are not easily elucidated with photographs.
Second, address the financial status of the patient. A very efficient method is to have a spreadsheet with a formula that quickly calculates the refund due to the patient or the money still owed to the practice. Once created, it can be easily utilized by either the doctor or administrative staff. It is important to have an uncomplicated formula, but not one that is overly simplified so that it is unfair to either the patient or the office. A common mistake is to just multiply the completed fraction of total treatment time by the total cost and to not factor in the records, initial bonding, appliance removal, and retainers. If a patient is early in treatment, the orthodontic office would be undercharging them by simply calculating the cost strictly based on completed treatment time (Figure 1). If a patient is toward the end of treatment, the patient would be unfairly overcharged and have significant additional fees at the new orthodontic office for finishing treatment and retainers with final records (Figure 2).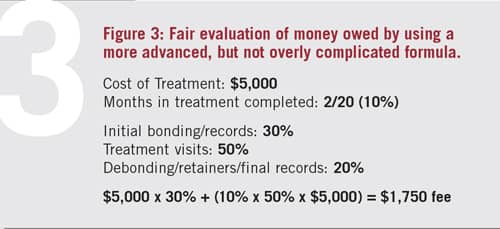 Each office will have to decide on the formula breakdown they will utilize for their transfers. However, a good guideline is 25% to 35% of the total fee goes toward the bonding and initial records, 45% to 55% goes toward the "treatment visits," and 15% to 25% goes toward the appliance removal, final records, and retainers (Figure 3). It is advisable to have a separate formula for any custom appliances with high up-front lab costs (such as aligners or lingual braces). In these situations, a different spreadsheet can be used in which a much higher initial bonding fee (40% to 55%) is charged and less is ascribed to the "treatment visits" portion. At this point, if the patient has a large balance due, and if they are unwilling or unable to pay in a lump sum, you may wish to offer a small paid-in-full discount or require them to sign up for automatic payment processing. In the patient's signed initial financial paperwork, it is beneficial to define these percentages, so that you can reference back to them if a patient does decide to transfer.
Lastly, transfer paperwork outlining the case should be provided to the new orthodontic office after HIPAA release. The American Association of Orthodontists (AAO) has a standard transfer form template, which can be downloaded from their website and edited. This template lists the diagnosis, treatment plan, appliances used, mechanics utilized, and many other pertinent facts about the case. Although the AAO form has a section to enter in the financial status of the patient, often that is not completed due to privacy and confidentiality concerns. In addition, a cordial letter or personal phone call to the new orthodontist introducing the patient to the office is much appreciated. In this phone call or letter, any special circumstances surrounding the patient, progress, or treatment plan can be discussed.
Be sure to get the forwarding address and email for the patient in case you need to contact them in the future for any reason.
The final visit for the patient is a good opportunity for the administrative staff or doctor to consult with the patient to review the progress and orthodontic outlook, and answer any questions about the transfer process. This can not only build goodwill, but will increase the patient's confidence in the orthodontic practice. In particular, any unique circumstances can be reviewed with the patient so that there are no "surprises" when the next orthodontist makes their diagnosis and treatment plan. For example, if a bracket was not placed ideally due to late eruption or severe crowding, you could mention that to the patient so they will understand why the new doctor may want to reposition it. This is also a good chance to briefly explain different bracket systems and philosophies to the patient, who is usually unaware that there are differences in braces and treatment approaches. For savvy practices, this consult is also a good opportunity to ask for a referral from the patient. Simply state, "We loved having you as a patient here, and we are sad to have you leave. Now that you are going though, we need to fill your spot with a new patient, so if you know anyone that would love to improve their smile, we would appreciate the referral."
The Transfer In
There are a number of orthodontic practices that do not accept transfer patients. They may feel that the benefits do not outweigh the hassles of dealing with extra administrative work or the challenges of working with a different bracket system. However, most orthodontic offices are not booked to capacity, so there is little incentive to decline transfers based on accessibility or profitability. Offices that do accept transfers find that these patients not only are a singular revenue source, but also offer a wealth of extenuating benefits. Most transfer patients are very grateful that someone is willing to finish their case and are enjoyable to treat (remember that the "hero" is always the person that takes off the appliances, not the one that puts them on). Accepting transfers can not only differentiate your practice, but open up a new referral stream since these patients often have siblings, parents, extended family, and friends who now are all potential future patients.
[sidebar float="right" width="200″]
In our office…
We have been on both sides of the transfer process many times and have had our share of interesting cases. Some incoming cases were simple finishes, and in others the treatment plan was drastically altered to involve extractions or orthognathic surgery because the patient was not reaching their desired result. We have declined to treat patients occasionally if any "red flags" are identified, such as having an excessive number of orthodontic consults, multiple courses of treatment within our local area, or a generally poor attitude toward treatment. Ultimately, if the patient accepts your treatment recommendation and you agree to treat, you now "own the case." You should develop your own treatment plan and provide the best care that you feel is achievable.
As a result of the globalization of the economy, our practice has experienced a large increase in patient transfers, with many being very distant relocations. We have had patients move overseas to places such as China and New Zealand, and have seen new cases come from the Middle East and Russia. Sometimes you have to really go the "extra mile" (pun intended) to assist the patient in finding the right orthodontist for them. During this stressful time for patients and their families, the additional effort is greatly appreciated. A few years ago, trying to find a lingual-trained orthodontist in a certain location was challenging for us, and we even had to recruit regional product sales representatives to help us out. That particular patient ended up moving back to our area after about a year, we finished her case, and she was thrilled with our level of customer service.
[/sidebar]If you do accept transfers, it is beneficial to get the transfer records from the previous orthodontist before seeing the patient for your exam and consultation. If possible, a personal phone call to the prior doctor can also be quite valuable because any unusual challenges or even unique opportunities can be discussed.
The best practice approach is to treat the transfer exam the same as any other new patient. All typical new patient exam systems and protocols should be followed, including new photographs at a minimum. Depending on the date and availability of the latest radiographs, new radiographic images may be advisable, particularly for longer or complex cases.
After the new patient exam, treatment recommendations and diagnostic findings are reviewed and the finances are presented. Generally, there are two common ways to arrange finances for finishing treatment. If there are only a few months remaining in treatment, often a simple "per visit" charge is done and then a set fee is added for appliance removal, final records, and retainers. These standard amounts can be set up in advance with your financial coordinator, so there is no question as to the charges. If treatment is longer than a few months, often a comprehensive fee will be presented that will include all new records, all treatment visits, appliance removal, retainers, and final records.
One of the most difficult decisions to make is whether to completely rebond a case. That may or may not be in the best interest of the patient, and should be done with caution. The clinical decision should be made by the orthodontist based upon their comfort level with various appliance systems, complexity of treatment, stage of treatment, and confidence in obtaining satisfactory results while meeting the patient's expectations. It is important to be honest with the patient and with yourself. If you are not comfortable treating with that particular appliance system or using specific mechanics, the patient should be informed and perhaps the patient should be referred elsewhere. Similarly, if you disagree with the current treatment plan, estimated treatment length, or any other aspect of the case, you should advise the patient as to your recommendations, and you may want to decline the transfer. There is no obligation to accept the transfer patient after your exam and consultation.
Legal Considerations
The medicolegal aspects of transfer patients vary by states, but there are a few universal themes to note. It is important to get HIPAA paperwork signed before forwarding your transfer records and the AAO transfer form to the new orthodontic office. In most states, you are allowed to charge a fee to the patient to duplicate and send the transfer records. However, it is often better to be generous and waive that fee; with digital records, for example, there is very little time and cost involved with forwarding the records. If someone has an outstanding balance on their account, you cannot "hold their records hostage" or refuse to cooperate with the transfer process. The transfer of records (and possible records fee) is a separate matter altogether.
When you do the transfer exam, a doctor-patient relationship is established and it is your duty to perform an appropriate exam, make a diagnosis, and provide a treatment recommendation using whatever records you feel are needed. It is important to only state what is seen clinically at the moment, what the records you reviewed showed, and what you would do moving forward. It is inappropriate, and potentially dangerous legally, to negatively comment on the treatment rendered, progress to date, and competency of the previous treating doctor. It is critical, with the explosion of corporate dentistry, to be collegial and professional with other orthodontists in private practice. OP
Shawn L. Miller, DMD, MMSc, is in private practice in Orange and Aliso Viejo, Calif. He completed his dental degree at the University of Pennsylvania School of Dental Medicine and his Masters of Medical Sciences degree and orthodontic residency at Harvard University School of Dental Medicine. He lectures on accelerated orthodontic treatment, lingual braces, and interdisciplinary orthodontic treatment.