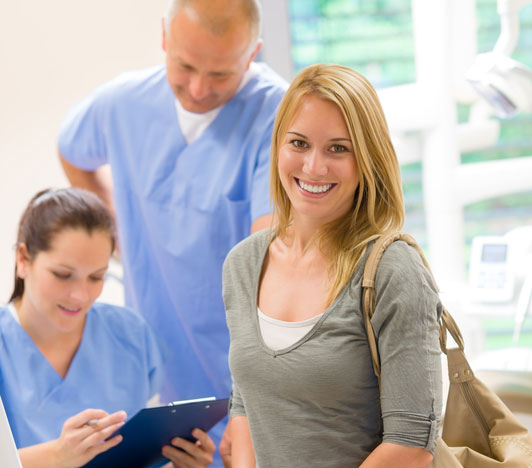 By Nancy Hyman
Happy parents and patients are the basis of a thriving internal referral machine. Potential patients are made aware of multiple treatment choices through professional referrals, contact with family and friends, and internet searches.
I recommend four key steps to a strategic internal referral program:
Patient Recognition
Practice Amenities
Patient Rewards
Web-Based and In-Office Support
Leadership
These four steps require a leader. Designate an internal Patient Referral Manager (PRM). The PRM organizes all marketing related to patient-to-patient (and parent-to-parent) systems. The PRM will coordinate a team comprised of your full staff, or select members, depending on team size and availability.
The PRM will design a task list with input from the PRT (Patient Referral Team). They will meet weekly during the implementation stage. Sections of the task list will be replaced as areas are completed. For example, let's imagine you are creating a patient-to-patient referral card tied to a reward system. The development of the card will be the first task. After this, the task list should reflect a shift to the promotion and distribution of these cards.
Patient Recognition
Patient recognition is the first key element of patient satisfaction. Recognition involves a personalized approach to show each patient that you care about him/her as an individual. It is vital to recognize their contributions and achievements. Contributions may be patient referrals, participation on a review site, and "liking" the practice on Facebook. Achievements may be excellent treatment cooperation or completion of a dental visit. Suggested recognition may include Care Calls, Birthday Patient of the Month, Star Patient of the Week, and Super Parent Club.
I have included Care Calls as they set the tone for expectation of excellent patient service. Care Calls are an important aspect of personalized service after the initial bonding. The orthodontist or assistant may conduct the call on the evening of the appliance placement appointment or the following day after school. A Care Call is a "wow factor" event. The call sets the tone of continued "gold service" throughout treatment. Encourage staff participation in Care Calls with a monthly drawing. Each Care Call by a staff member is allotted one ticket entered in a random drawing. The winning assistant may select from an array of gift cards or experiences.
And don't forget to reward patients. The following three reward strategies are excellent photo opportunities for Facebook and Instagram posts! Present a certificate and gift card to the winner in each category.
Select one patient per month with a birthday falling near the patient's appointment for the "Birthday Patient of the Month." Present a certificate and gift card to the patient.
Each assistant selects one patient per week with excellent cooperation for "Star Patient." The patient may have improved oral hygiene, excellent rubber band or retainer wear, always arrive on time to appointments, etc.
Don't forget your parents! Parents may enter a "Super Parent Club" drawing each time they bring a child to an appointment. I recommend a generous prize of a $50 gift card for one winner per month.
In Part 2, Nancy Hyman will discuss practice amenities and their effect on patient satisfaction.  
—
Nancy Hyman is a speaker and practice growth consultant specializing in referral systems and increased case acceptance exclusively for the orthodontic industry. She developed the Practice Representative program for the Practice Builders orthodontic division and established marketing plans for their clients. She now shares this same program through Ortho Referral Systems. Nancy is the author of "Winning Marketing Strategies." She can be contacted at [email protected]