Drs Manika Agarwal, Jeff Alba, and Natalie Parisi on how their work with Ormco as product testers and advisors helps them treat patients more effectively and makes them more successful practitioners.
By Jane Kollmer | Photography by Copper Peaks Photo
For three orthodontists, the opportunity to test products for the orthodontic product manufacturer Ormco has allowed them to stay at the leading edge of technology and solutions for orthodontics. By serving as advisors and testers, they provide perspective on how doctors really use products and how they can be improved.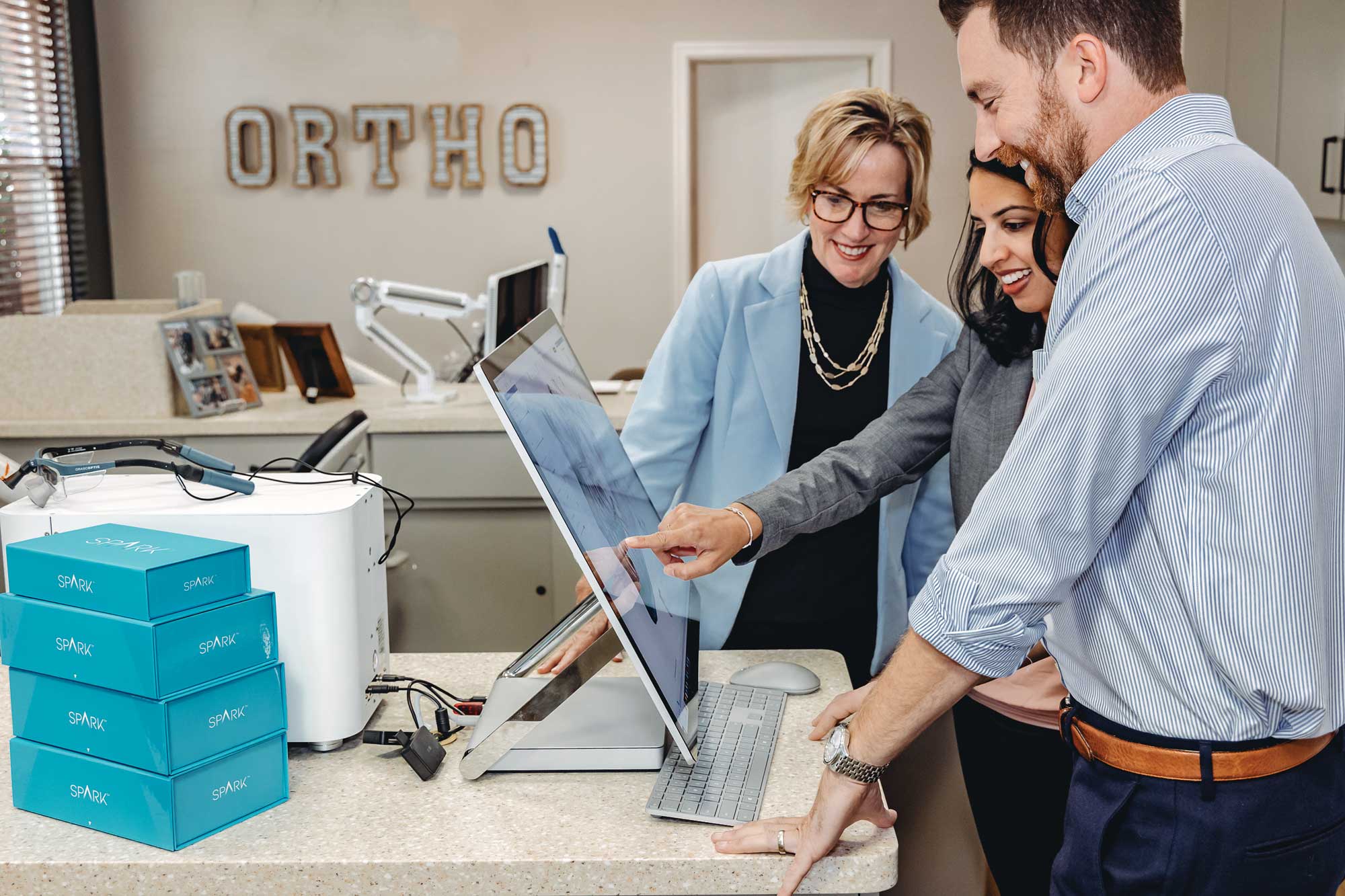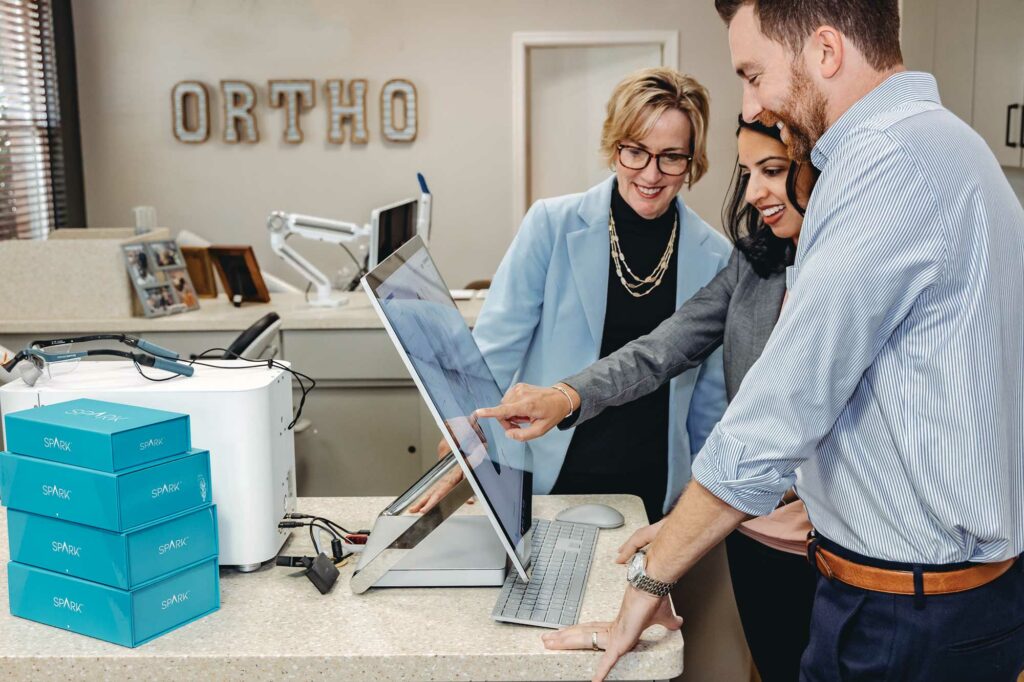 Taking risks and dreaming big
Natalie Parisi, DDS, of ROG Orthodontics in Wyomissing, Pa, is a long-time user of the Damon System of braces. She says Ormco was the first company that approached her to learn how her practice was doing with their products and what ways they could make them better.
For over 60 years, Ormco has collaborated with orthodontic experts to better understand their needs and challenges. The company's research and development team leverage doctors' feedback to make every iteration of a product as efficient as possible. In return, doctors get early access to the latest technology and get to take part in innovation that benefits the entire industry.
Parisi is among a group of handpicked doctors that Ormco works with to develop new ideas and provide the user perspective. Twice a year, Ormco organizes a focus-group environment where the doctors give feedback about industry trends and can network with other progressive clinicians. In fact, many of Ormco's flagship products were first developed, tested, and launched in collaboration with the group.
"I've stayed so close to Ormco because they partner with the orthodontist and want our practices to be better and less stressful," she says. "When we say, 'Hey, this is a stumbling block for us,' or 'We feel like this is not helping us to be as efficient as we want to be,' they'll make the changes."
As an example, Parisi says Ormco redesigned jigs for indirect bonding for Damon Ultima based on feedback she and other orthodontists shared. Afterward, she noted that the improved jigs were easier to place and provided a better fit, giving doctors a sense of certainty that the brackets are on the teeth in exactly the correct spot.
"When you're talking about fractions of a millimeter, obviously we can't be that perfect," she says. "But we know that when we place a 3D printed jig on a tooth and it snaps on, that bracket placement is where we want it."
Patients notice this, too. "The day that they get their braces on and know what their teeth are going to look like, it's motivating for them. And that helps us with our efficiency because we know that they're going to cooperate."
Parisi says having the patient's confidence from day one and making treatment as efficient as possible are important to both the practice and Ormco.
"They've really stepped up to say, we want you to be able to have all these things, and we're going to offer you the best product that we can."
Parisi, who also teaches residents at Temple University in Philadelphia, adds, "I try to take what I'm learning from Ormco and experiencing in my practice to the residents and share as much of that as possible."
Moreover, she says that working with engineers at Ormco really helps spark the orthodontist to constantly be thinking about the future and what is possible. She likes that Ormco is willing to consider any idea that an orthodontist has no matter how crazy or impossible it sounds.
"They'll tell us when we're seeing our patients, we're the ones thinking ahead," she says. "Because we need to be thinking about things that don't exist today that could be life-changing for our patients or for our practices."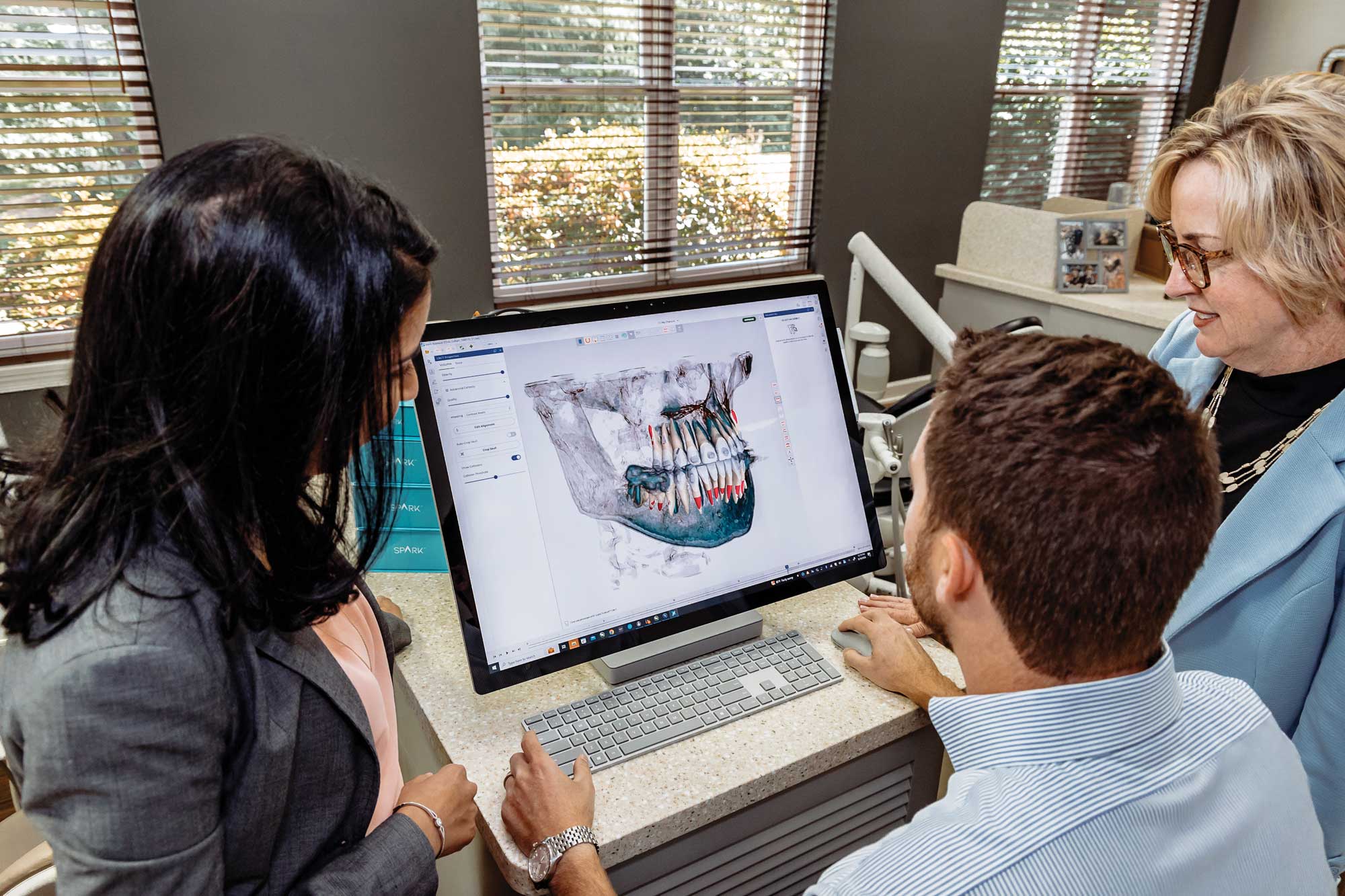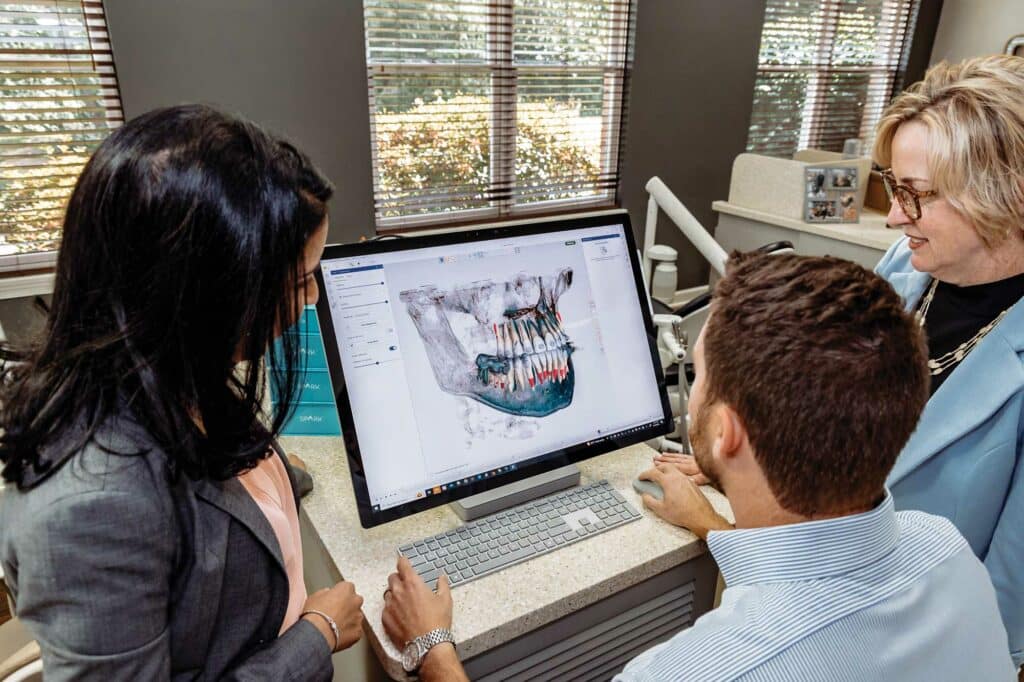 No stranger to innovation
Jeff Alba, DMD, MS, of Alba Orthodontics, is no stranger to innovation. When he took over the family practice in his hometown of Mechanicsburg, Pa, he was already in a place that stayed ahead of the technology curve as early adopters of full intraoral scanning, 3D printing, and cone-beam computed tomography (CBCT).
When Ormco was looking for sites to test Spark Clear Aligners, they turned to this tech-savvy practice. Alba serves as a key opinion leader for Spark Clear Aligners and is involved in many of Spark's research and development projects.
"It's really been nice to work with a company that likes to collaborate and is consistently innovating in the clinical space," Alba says. "I think it's easy to have a product and just kind of sit back and let it ride, but Spark is constantly coming up with new ideas or listening to doctor feedback and making changes and improvements."
That was the case with Ormco's inclusion of CBCT data into its Insignia software. Accurate diagnostic and treatment planning relies on getting a large amount of data. However, too much data can bog things down. One issue with CBCT was walking the line between too much and not enough data. Based on feedback from testers, Ormco developed Insignia software to get results from CBCT efficiently without being overwhelmed by data.
"As far as diagnosis, for me, CBCT has been a game changer. When we started using it maybe 10 years ago with Insignia, it was really eye-opening. I wouldn't be able to practice without it at this point."
He likes many of the enhanced software features that help with diagnosis and treatment planning. For example, the TruRoot feature uses the patient's real root shape captured from the CBCT scan, allowing orthodontists to gain a comprehensive understanding of root movement and identify potential collisions.
Alba was part of the trial testing and remembers that the feature was something that orthodontists started asking for over the past year or so.
"It's really collaborative, and it's really nice to see some of those wish list items come to reality and get to see them and use them in everyday practice," he says.
Another game changer for Alba has been the Integrated Hooks on Spark Aligners, which he says have been wonderful for treating gummy smiles or severe anterior open bites. A set-up involving the Integrated Hooks, elastics and pads can deliver force directly to the aligner.
"I don't think in orthodontics there's any one silver bullet that's the end-all, be-all treatment tool, but Integrated Hooks are giving us another tool at our disposal in our armamentarium," he says. "Now that we have the freedom to select the size of the integrated hook, I'm starting to use them a little bit more in the anterior or the front because it's not as obtrusive and annoying to patients at a smaller size," he says.
Alba also uses Ormco Digital Bonding in his practice, which makes bracket bonding consistent. Alba says orthodontists can use their digital workflows for all patients and easily make choices across multiple treatment options in the software. Doctors will also have increased flexibility to treat patients with even more treatment modalities, according to the company's data.
Alba also feels that patients like to know the practice is using brand-new technologies.
"Most are excited that they're able to participate in these cutting-edge treatments that are not really done anywhere else," he says.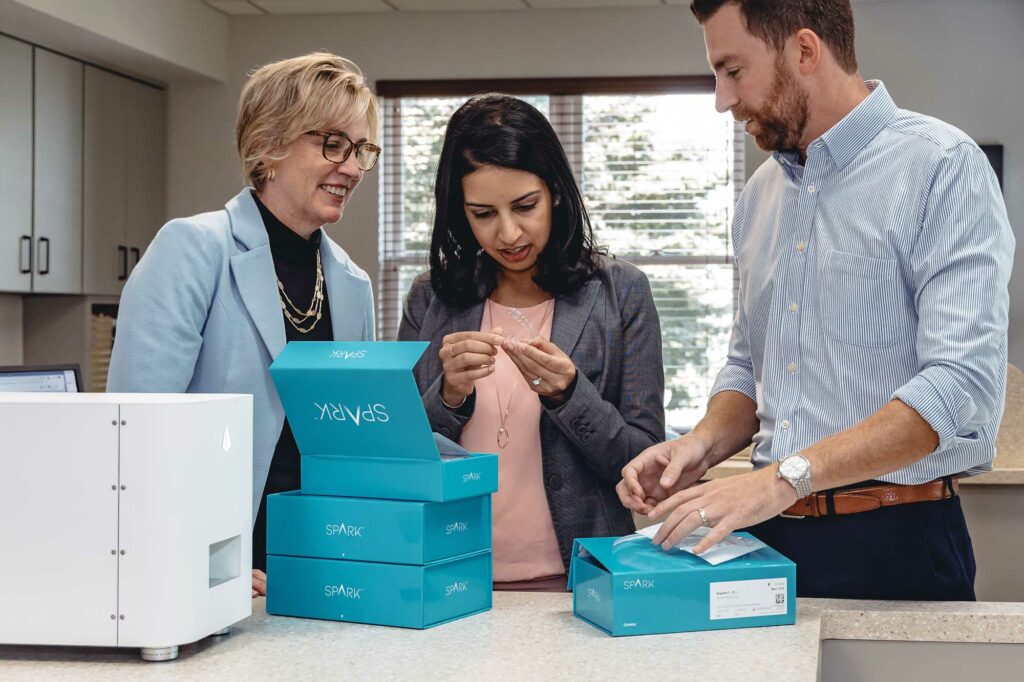 Eye-opening experiences
Six and a half years ago, Manika Agarwal, DMD, MS, went straight from residency to a practice that used Ormco Damon Ultima braces. And over the past 3 years, the practice started using Ormco's Spark Aligners, ultimately transitioning to using only Ormco products. Now one of Ormco's associate doctor members, she has gotten to work closely with them and a group of orthodontists on a regular basis.
"One of the things that really stands out to me, working not only at an office that uses all Ormco products, but working with Ormco itself, is that they invest a tremendous amount of time and energy into research and development into their products," she says.
Agarwal, who is in private practice at Advanced Orthodontic Specialists in Illinois, is impressed with Ormco's commitment to not only making their products better but looking at all aspects of how a product impacts everyone involved—from the doctors to the patients and the practice as a whole.
"I think it's humbling to be part of an organization that really prides itself on advancing the profession," she says.
Agarwal says her partnership with Ormco has given her a platform to share her thoughts and ideas with other like-minded doctors and connect with other practitioners on a deeper level.
"Everyone has a little bit of a different approach to treating cases, running their practices, and training their teams," she says. "So, I think just having the opportunity to connect with these other practitioners opens your eyes to the different ways to get better at doing your job."
By exchanging ideas, the group identified challenges and helped Ormco better understand how innovative technologies could address these challenges.
"One of the things that Ormco is constantly trying to do is make the lives of doctors easier and also lives of the patients and the teams," Agarwal says. "And they do that by taking the biggest challenges that the doctors have had previously and trying to address those in their new line of products."
Take traditional passive self-ligation brackets and wires, for example. Doctors were having difficulty finishing their cases—getting over the last leg—because of the amount of play between the bracket and wire, which would result in poor control, manual adjustments, and extended treatment time. Ormco came out with a new wire and bracket system, The Damon Ultima. Re-engineered to greatly reduce play and give more precise control of rotation, angulation, and torque, these design improvements allow doctors to finish cases faster and easier, according to the company's data.
Similarly, she says, Ormco took the most challenging aspects of treating clear aligner cases and tried to address them when they developed the Spark Clear Aligners. Specifically, the design allows for more efficient and effective tooth movement compared to the leading aligner brand, and the aligners themselves are clearer and more comfortable, which patients really like.
Partnering with Ormco to improve the products orthodontists rely on every day has been a big part of her professional development, Agarwal shares.
"If you're using those products, you're going to end up being more successful because your treatments will go a little bit faster, your patients will be a little bit happier, and ultimately you can help grow your practice as well," she says. OP
Jane Kollmer is a contributing writer for Orthodontic Products.