Orthodontic Products – November 2007
Focus on Radiography
The machines and materials you need to capture clear images of your patients
PracticeWorks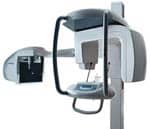 PracticeWorks offers its 8000C Digital Panoramic and Cephalometric System. The 8000C system allows orthodontists to make fast, accurate diagnoses, streamline practice workflow, and improve communication with patients.The 8000C system uses "one shot" technology to capture high-quality cephalometric images in about 1 second. "One shot" technology reduces the risk of blurred images because of patient movement. Its dual-sensor design eliminates the need to swap sensors for panoramic and cephalometric images, reducing the time a patient must wait. The sensors are built into the unit, minimizing wear and tear and eliminating the possibility that the staff will damage the sensors by dropping them.
PracticeWorks Inc – Exclusive Maker of Kodak Dental Systems
1765 The Exchange
Atlanta, GA 30339
(800) 473-4355
www.kodakdental.com
---
Planmeca USA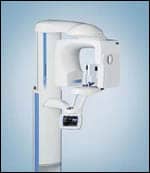 Planmeca USA introduces its ProMax 3D cone beam volumetric tomography (CBVT) x-ray machine, which features 3D imaging, digital panoramic imaging, digital panoramic bitewings, and digital cephalometrics. According to the company, the ProMax 3D CBVT has a small footprint for use on-site in any orthodontic office. The ProMax 3D CBVT x-ray's exposure time is 6 seconds, with a scan rate of 16 to 18 seconds per image. The orthodontist may choose the required region of interest (upper jaw, lower jaw, or upper right quadrant) through segment selection. This feature reduces the image scan time and the patient's radiation dose. The system's flat-panel, semiconductor-based sensor provides high-sensitivity and image resolution that can be used for implantology, maxillofacial surgery, orthodontic planning, and TMJ analysis.
Planmeca USA Inc
100 N Gary Ave
Roselle, IL 60172
(630) 529-2300
www.planmecausa.com
---
Sirona Dental Systems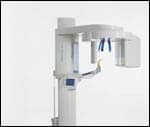 Sirona Dental Systems offers the Orthophos XG Plus, a digital pan/ceph imaging system, that features 20 or more programs. The XG Plus automatically adjusts (x-ray diaphragm and orbital curve) to each patient and ensures accurate images each time. Its intuitive Easypad full-color touch screen makes operating the system simple and lets you view the images directly on the screen immediately after the exposure. Patient positioning is simple and consistent due to the three-point patient stabilization and two laser light lines.
Sirona Dental Systems LLC
4835 Sirona Dr – Suite 100
Charlotte, NC 28273
(800) 659-5977
www.sirona.com
---
Imaging Sciences International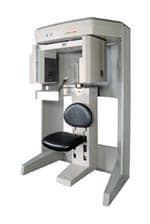 Imaging Sciences International introduces its Next Generation i-CAT® Cone Beam 3D dental imaging machine. The i-CAT offers 5-, 8.5-, and 26-second scan times with standard reconstruction taking less than 30 seconds. A rotating, amorphous silicon flat-panel sensor accurately captures small and extended fields of view with control over radiation dosage. The sensor adjusts to capture data in portrait and landscape views. It has the ability to collimate for a range of volumes (4 to 17 cm high x 16 to 23 cm wide). Portrait view captures extended-field-of-view data in 8.5 seconds. Landscape view offers full resolution and detail for smaller fields of view. The i-CAT also includes an extended field of view (17 cm high x 23 cm wide), which can create cephalometric 3D images of the entire skull. A rotating, flip-panel sensor captures smaller fields of view. Typical file sizes are 50MB per file. The i-CAT features smooth, rounded corners for aesthetics and ergonomics. Its chair/head support reduces movement and optimizes image quality.
Imaging Sciences International
1910 N Penn Rd
Hatfield, PA 19440
(215) 997-5666
www.imagingsciences.com
---
Panoramic Corp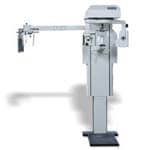 Panoramic Corp offers its PC-1000/Laser 1000, a panoramic and cephalometric x-ray system that delivers high-quality diagnostic images. The PC-1000/Laser 1000 includes a warranty that provides years of reliable performance. A "pay as you play" rental program—free installation with a $30 per image fee—is also available.
Panoramic Corp
4231 Goshen Rd
Fort Wayne, IN 46818
(800) 654-2027
www.pancorp.com
---
Schick
Schick introduces its CDR PanElite digital panoramic imaging system, which provides clinically diagnostic images generated from eight panoramic or four cephalometric imaging modes. Vertical travel allows proper positioning for patients of virtually any height, including those in wheelchairs, while laser alignment beams allow precise patient positioning. Pan and ceph models are available. The pan model can be upgraded to cephalometric imaging at any time. The PanElite seamlessly integrates with CDR intraoral sensors and software.
Call your Patterson representative at (800) 873-7683 or visit www.schicktech.com.
---
Air Techniques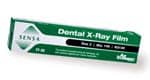 Air Techniques introduces Sensa, a D-Speed film manufactured by Air Techniques, with materials supplied by Fujifilm Corp. Sensa works with every type of processor. It is available in sizes 0, 1, 2, 3, and 4, plus panoramic and cephalometric.
Air Techniques Inc
1295 Walt Whitman Rd
Melville, NY 11747
(800) AIR-TECH
www.airtechniques.com
---
Gendex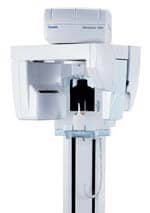 Gendex introduces its Orthoralix® 9200 DDE (Direct-Digital Pan and Ceph), which combines the imaging technology of the Orthoralix 9200 AEC+ with a next-generation sensor. At the core of the system is the CCD sensor module, which replaces the traditional film cassette, eliminating the hassles and cost of a processor, film, and chemicals. The Orthoralix 9200 DDE includes basic and advanced imaging programs, automatic exposure control, and high-quality images. Available upgrades include cephalometric imaging and Transcan cross-sectional tomography.
Gendex Dental Systems
340 E Route 22
Lake Zurich, IL 60047
(888) 275-5286
www.gendex.com
---
Instrumentarium Dental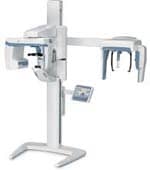 Instrumentarium Dental introduces its Orthopantomograph OP200 and OC200 digital panoramic systems. The OP200 combines the latest digital technology with an integrated on-board computer and SmartPad touch-panel control. The SmartNav software's navigation program allows selection of imaging programs, arch selections, and lateral scanning start position. The optional pan/ceph model offers selectable one- or two-sensor configurations for efficient workflow and an adjustable horizontal lateral scan for optimized results with minimized patient dose. The New VT option for digital Orthopantomograph units is a narrow-beam volumetric tomography imaging tool that provides digital tomography with reliable measurements and image quality for implant-site evaluation.
Instrumentarium Dental Inc – a subsidiary of the PaloDEx Group
300 W Edgerton Ave
Milwaukee, WI 53207-6025
(800) 558-6120
www.instrumentariumdental.com
---
Dexis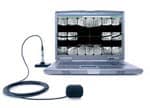 Dexis is a digital x-ray system that features "One-Click FMS" and ClearVU™ image enhancement. According to the company, the PerfectSize™ sensor has three advantages: a smart design that places the electronics on the sensor's back so the active imaging area is almost 100% of the total sensor size; an ergonomic design that features four rounded corners, a slim profile, and a seamless casing, allowing precise sensor placement; and a patented cord placement that allows vertical and horizontal bite-wings and periapicals with a single sensor, which eliminates the cost and inconvenience of multiple sensors of different sizes. Dexis integrates with all practice-management programs, digital pan systems, and digital and video cameras.
Dexis LLC
2550 Northwinds Pkwy – Suite 100
Alpharetta, GA 30004
(888) 883-3947
www.dexis.com
---
360 Imaging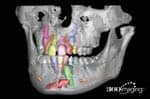 360 Imaging introduces its Digital Lab portal technology, which allows owners of in-office CT equipment to send, track, and receive their DICOM files securely to 360 Digital Labs. 360 Digital Labs also offers OMF radiology review, DICOM conversion to SimPlant, Dolphin Imaging, Nobel Guide, and easyGuide. The Tx Vision™ planning service provides a virtualized implant-planning service to practices for review and approval. According to the company, the Tx Vision service provides time savings and increased patient acceptance, while facilitating communication with the restoring doctor.
360 Imaging Inc
One Concourse Pkwy – Suite 645
Atlanta, GA 30328
(866) 360-6622
www.360imaging.com
---
AFP Imaging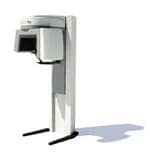 AFP Imaging offers its NewTom™ VG Cone Beam Computed Tomography Scanner, which provides clear resolution of hard and soft tissue. The NewTom VG (for vertical generation) offers flexible seating options to allow patients to stand, sit, or remain in a wheelchair while being scanned. The system features NewTom's proprietary technology that allows 3D renderings for diagnostic evaluation. The system uses patented Safe Beam™ technology to ensure a low dose of radiation, automatically sensing the size of the patient and adjusting the dosage accordingly. According to the company, the vertical unit takes up 60% less space than a comparable horizontal system and delivers 3D imaging through a small, precise focal spot.
AFP Imaging Corp
250 Clearbrook Rd
Elmsford, NY 10523
(914) 592-6100
www.afpimaging.com