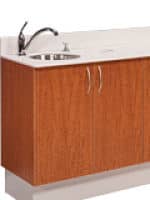 Pelton & Crane, Charlotte, NC, has introduced a new line of dental cabinetry, the Pelton Classic. The Classic line of cabinetry includes a selection of rear cabinets, side cabinets and center island cabinets.
The Pelton Classic rear cabinet offers a range of options: orthodontists can choose from 36-inch or 42-inch widths, with fixed or gliding countertops on the 42-inch version, and multiple delivery system integration solutions. The fixed countertop versions are designed to accommodate Pelton & Crane's Spirit 2500 or 2800 delivery systems, while the gliding countertop version works with the Spirit 1538 or 1522 delivery systems. A large upper module is available to accommodate the most commonly used CPUs, and door or drawer modules are available below to make the most of storage space.
The center island cabinets are available in 72-inch or 88-inch height, and side cabinets come in 30-inch, 50-inch, and 62-inch widths. Orthodontists can choose between fixed and slide-out shelves. Wilsonart® Gibraltar solid-surface countertops are standard on all cabinets, and high-pressure laminate is used on all vertical surfaces. For center island and side cabinets, stainless steel undermount sinks are standard, as are chrome faucets, soap dispensers, and undermount waste drops.
For more information about this and other orthodontic companies, visit our Buyer's Guide.