by Brad A. Chvatal, DMD, MS
How one orthodontist made his new practice a place where patients and parents could relax
Brad A. Chvatal,
DMD, MS
When I decided to move my orthodontic practice, I knew that I wanted it in a growing area of town. At the time, I anticipated that my patient base would thrive as the surrounding community evolved.

After I selected the new site, the next step was to develop a highly functional floor plan. First and foremost, I wanted the reception room to make a great impression on my guests, so I approached the project with the vision of making my office feel like a "third home." Most people consider their actual home their first home and their office their second home, so I wanted to design a third familiar place—much like a Starbucks®—for staff, patients, parents, and siblings to enjoy.
To make an office with this atmosphere, I understood that achieving this goal would take a significant amount of time and unique design ideas. With that in mind, I made the decision to hire a professional design team.
Think Before You Build
I initially considered using a local architect to handle the project, but when I asked him how he would go about designing an orthodontic office, he said, "We would just sit together and dream." This ambiguous reply made me very nervous, so I opted to contact an interior design firm with years of industry-specific experience in orthodontic office design.
The design firm I selected responded with a floor-planning questionnaire that provided many ideas for patient flow and orthodontic-specific design elements that I may not have thought of on my own. I also participated in an interactive floor-planning session, which gave me the opportunity to directly develop the plans alongside the designers. During the session, the design team and I used a computer program to fine-tune the floor plan in real time. This session made me feel involved in the design process and gave me the confidence that my plan was exactly what I wanted. It was a very helpful and exciting part of the design process.
After deciding on a final floor plan, the firm's designers helped me select colors, textures, and patterns to bring the project to life. I appreciated how they helped me to blend together a unique interior that is a mixture of the warmth of a Starbucks and the contemporary, clean feel of an Apple® Store.
We decided to use curved hallways, soffits, and circular elements to create a more dynamic feel in the office. The curves break up the rectangular shape of my office and make the long hallways appear shorter. The use of various colors, fabrics, and materials acts to further add dimension to the office.
The reception room has a neighborly and contemporary look.
A Welcoming Space
One of my goals was for the areas most used by patients and parents (the reception and treatment areas) to be very inviting and to provide a unique atmosphere. Open ceilings and ductwork help to add to the expansive feeling of these rooms. We used backlit patient photos, hanging from the ceiling, to give the reception area a hip and trendy feel. To add warmth to the reception area, we used maple wood for the front desk, furniture trim, and reception chairs. These elements contrast with a black-tiled entryway, a logo wall with metallic lettering, and metallic accents throughout the office to create the feeling I was hoping to achieve. This was instrumental in unifying the look and feel of my new office with the new logo and brand that we had created.
To make the reception area relaxing and welcoming for people of all ages, we separated it into several areas. To the right of the main entryway into the office is a secluded corner in the reception area, which has soft, cushy couches. This area appeals to many of our adult patients or parents who are waiting for their children. To the left of the entryway is the main reception area. Here, guests can relax on either reception chairs or on one of the black, polished acrylic bar stools while they sip refrigerated bottled water, coffee, or gourmet tea at the "S-curve" coffee bar. While I was initially skeptical of this bar-height seating, it has turned out to be a big hit with both patients and parents.
The coffee bar is a place where parents can relax and sip a drink.
To add to the environment in the reception area, there is a plasma screen television that I use to show before-and-after photos of patients, and there is also a built-in sound system to play a mix of modern and classical music. In my previous office, there was no ideal place for small siblings to be entertained. In this office, on the other side of the coffee bar is a children's area that contains paper, coloring books, and other activities, including an Etch-a-Sketch® and Pin Art. Facing this area is a curved, padded bench where mothers can enjoy their coffee or tea while keeping an eye on their toddlers in the designated area.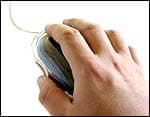 For a complete list of companies that can help build your dream office, go to the Office Design section of our online Buyer's Guide.
To appeal to adolescents and adults, we created a separate arcade and Internet area. It has charcoal gray walls, laminate flooring, and a cable-railed ramp-designed to convey an industrial image. This area features several machines such as a Sony PlayStation® and a Microsoft® Xbox, as well as classic arcade games such as Pac-Man. I like to rotate the games frequently to keep it interesting for the patients. Two Internet kiosks, set at two different heights in the arcade area, have been a big hit with patients and parents. Younger patients often use a kiosk to print out their homework or check their MySpace pages.
All in all, the most popular area in my office is the coffee bar, and I would expand it if I had the chance to do it again: Every time somebody leaves a seat at the bar, there is somebody else ready to take it over.
I had a vision for my new office that I feel we were able to achieve. People who see my office often comment that I did a really nice job without going overboard. The collaborative effort of working with an experienced design team helped to create a celebratory mood and a sense of community throughout the office.
Brad A. Chvatal, DMD, MS, is in private practice in Eugene and Cottage Grove, Ore. He is a Diplomate of the American Board of Orthodontics. He can be reached at