Focus on Digital Photography
Lester A. Dine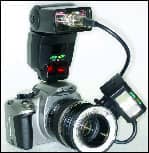 Lester A. Dine now offers a TTL ring and point flash for the Nikon line of digital SLR cameras. The Dine flash provides through-the-lens (TTL) flash metering. The flash features a ring flash for intraoral photography and a point flash for facial picture-taking, and is available for the Nikon, Canon, Fuji, and Pentax lines of digital SLR.
The Dine Digital System features Nikon's latest Digital SLR camera, the 6-MP D50, as well as a 105-mm or 6-mm macro lens to go along with the Dine ring and point flash. The system does intraoral photography from 1:1 posterior intraoral quadrants to anterior, lateral, occlusal, and facial photography.
The complete Dine Digital Camera kit includes an intraoral mirror and cheek retractors; a 256-MB memory card; a memory-card reader; a hard carrying case for the camera; and Dine's Pixelease Imaging Software, a program designed for image management, cosmetic imaging, and printing in such layouts as the typical orthodontic template.
For more information, contact Lester A. Dine, PGA Commerce Park, 351 Hiatt Dr, Palm Beach Gardens, FL 33418; (800) 624-9103; www.dinecorp.com.
Clinipix

Clinipix introduces the Pentax ist-DS-2 Digital Dental camera, which provides high resolution and color accuracy. A new and larger 21¼2-inch rear LCD screen provides immediate review of images. The 6.1-MP camera functions as a true SLR and is supplied with a Sigma 105-mm macro lens imprinted with dental settings for consistent images as close as 2 times life-size. Settings are indicated for the buccal, anterior, occlusal, and facial views. A through-the-lens dual flash provides correct lighting for all views and accurate exposures. The package includes a Pentax ist-DS2 body, a lens, a dual flash, a 256-MB card, a USB card reader, a stainless-steel mirror, retractors, a NiMH recharger, a hard carrying case, and imaging and printing software. The batteries are installed in the camera, and all functions are preset for immediate use.
For more information, contact Clinipix Inc, 11924 W Forest Hill Blvd, Suite 22, PMB #228, Wellington, FL 33414; (866) 254-6749; www.clinipix-on-line.com.
Dolphin Imaging & Management Solutions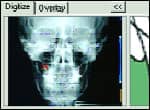 Dolphin Imaging & Management Solutions offers Imaging 10 software that supports the Windows XP "Theme" attributes. Imaging 10 features improved security and accurate ceph-tracing superimpositions. The patient-search dialog quickly searches and sorts through the patient database with a variety of criteria, including name, age, gender, address, telephone number, referring orthodontist, treating orthodontist, and specific ceph measurements. With Imaging 10, you can calibrate and print any image in a 1:1 size ratio and add objects/images to any document using the Dolphin Layout Object feature. Imaging 10 also integrates with digital x-ray systems and other third-party practice-management systems. ABO Electronic Case Submission software is also available.
Canon USA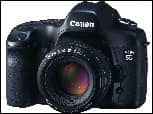 Canon USA introduces the EOS 5D digital SLR camera, which offers a full-frame CMOS sensor with 12.8 MP of resolution. The EOS 5D model features the DIGIC II Image Processor, which allows users to shoot up to 3 frames per second and record up to 60 full-resolution JPEGs and 17 RAW images in a single burst. The camera includes a 9-point autofocus (AF) system with six supplemental AF points for fast and precise focusing. The 21¼2-inch LCD/TFT screen with 230,000 pixels is viewable at extreme angles.
For more information, contact Canon USA Inc, One Canon Plaza, Lake Success, NY 11042; (516) 328-5000; www.usa.canon.com.
PhotoMed International

PhotoMed International introduces the Canon Digital Rebel XT dental camera system, which is designed for dental/orthodontic photography. The Rebel XT system includes a 60-mm Canon macro lens that allows close focusing up to 1:1 and a Canon ring flash that ensures even illumination across the field as well as controlled exposure. The ring flash works with the metering system in the camera to provide the proper amount of illumination for every shot. The camera package is completely assembled and set up for dental photography. The system includes a 256-MB memory card, a USB 2.0 memory card reader, and a hard case. Custom instructions, unlimited phone support, and a loan-equipment program for the life of the camera are included.
For more information, contact PhotoMed International, 14141 Covello St, Suite 7C, Van Nuys, CA 91405; (800) 998-7765; www.photomed.net.
Fuji Photo Film USA

Fuji Photo Film USA offers the SLR-styled FinePix S9000 digital camera, which boasts 9 megapixels that capture up to 3.488 x 2,616 recorded pixels. The camera can take pictures at ISO 1600 at full resolution, and reduces the amount of graininess or noise in digital pictures. It features a high-speed start-up time of 0.8 seconds, a shutter lag of 0.01 seconds, and a long battery life. The camera also features a Fujinon 10.7x wide-angle optical zoom lens, antiblur, auto mode with flash, and an in-camera highlight warning function that alerts the user to overexposed areas of just-taken pictures.
ss, NY 10595; (914) 789-8100; www.fujifilm.com.
Pentax Imaging

Pentax Imaging introduces the Pentax Optio S6 digital camera, which features 6.0 MP, has an innovative powerful 3x zoom sliding lens system, and is a slim 7¼10 of an inch thick. The camera has glass-molded aspherical lenses that are concave on both sides, and a thin CCD that reduces the depth of this model by 1/5 of an inch. The camera's 21¼2-inch LCD monitor offers low reflection with a built-in backlighting mechanism, enabling images to be viewed clearly. According to the company, the Optio S6 makes it easy to compose shots, play back recorded images for confirmation, and select functions with smooth menu navigation.
For more information, contact Pentax Imaging, 600 12th St, Suite 300, Golden, CO 80401; (800) 877-0155; www.pentaximaging.com.
Kodak Dental Systems

Kodak Dental Systems offers the DX7590 Dental Digital Photography System, which is designed specifically for dental photography. The Kodak DX7590 system features innovative ring flash technology and a close-up lens for shadow-free images. The flash and lens system easily attaches to and detaches from the camera body, ensuring smooth operation. The distance guide helps users position the camera so all images are taken from the same distance, and the large LED screen's positioning grids help attain consistent image alignment.
The EasyShare printer dock makes it easy to create high-quality 4- x 6-inch dye-sublimation prints directly from the camera. With a touch of the transfer button, the Kodak digital-imaging transfer module downloads images directly into a patient's file within Kodak orthodontic-imaging software.
For more information, contact Kodak Dental Systems, 1765 The Exchange, Atlanta, GA 30339; (800) 944-6365; www.kodak.com/dental.
Masel

Masel introduces Riofoto intraoral photographic mirrors in standard and extra-long sizes. The extra-long intraoral photographic mirrors make it easier to keep fingers out of the photo. Riofoto mirrors are rhodium-coated to give them twice the life of one-sided mirrors. Eight styles are available: X-long Palatal Adult, X-long Palatal Child, Palatal Adult, Palatal Child, Lingual Narrow, Lingual Wide, Buccal Narrow, and Buccal Wide. Masel also offers an X-Long Kit of 3, which includes one of each X-long mirror style and one Standard Buccal Narrow mirror. A Standard Kit of 6 includes one mirror of each standard size.
For more information, contact Masel, 2701 Bartram Rd, Bristol, PA 19007; (800) 423-8227; www.maselortho.com.