Focus on Digital Photography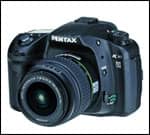 Pentax Imaging
Pentax Imaging introduces the 10.2MP K10D digital SLR camera. The K10D features a Pentax-developed Shake Reduction (SR) system that offers a 2.5- to 4-stop advantage for sharp, blur-free images, even under difficult shooting conditions, such as macro and telephoto photography or low-light settings without a flash. The SR minimizes camera shake by oscillating the CCD image sensor vertically and horizontally using magnetic force, while adjusting the speed of oscillation in proportion to the amount of camera shake detected by built-in sensors. The system does not require special antishake lenses. A newly developed Pentax Real Image Engine (PRIME) designed for Pentax digital SLR cameras produce well-balanced, true-to-life images. To meet the performance requirement in handling 10MP data, the company also incorporates a high-performance 22-bit A/D converter that quickly transfers images with accurate color tones and rich gradation from the CCD to the imaging engine. A Dust Removal (DR) system incorporating Pentax-original Special Protect (SP) coating keeps the CCD surface dust-free. The camera's body is weather-resistant and features 72 seals throughout the camera that allows photographers to shoot in dusty or rainy environments. The camera uses Pentax K-, KA-, KAF-, and KAF2-mount lenses; screw-mount lenses with an adapter; and 645- and 67-system lenses with an adapter.
For more information, contact Pentax Imaging Company, 16163 W 45th Dr, Unit H, Golden, CO 80403; (800) 877-0155; www.pentaximaging.com.
---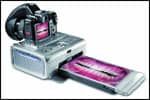 Kodak Dental Systems Group
Kodak Dental Systems Group introduces the P712 Dental Digital Photography System, a 7.1MP system. The higher lens magnification (12x optical zoom and 3.3x digital zoom) yields improved image quality. The system comes preprogrammed with two dental settings: one for portraits and intraoral photographs, and another with enhanced lighting for mirror shots. The Kodak P712 system also features full integration with Kodak Dental, Orthodontic, and OMS Imaging Software; image stabilization; a Kodak Dental Flash and a Close-up Lens 2 that provide even illumination for dental macro photography; a 32MB internal memory; a 256MB SD memory card; a distance guide; and a 2.5-inch LCD screen with a positioning grid. The included printer dock allows fast, 4- x 6-inch dye-sublimation prints and the transfer of images to a computer or network. The printer dock also includes a battery charger. The system is backed by Kodak customer support and a unit-replacement warranty: If your camera is found to be defective within 1 year of purchase, it will be replaced.
For more information, contact Kodak Dental Systems Group, 1765 The Exchange, Atlanta, GA 30339; (800) 944-6365; www.kodak.com/dental.
---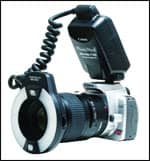 PhotoMed International
PhotoMed International offers the Canon Rebel XTi Digital Dental System. Lightweight and compact, the PhotoMed Rebel XTi system offers 10MP resolution, a fast start-up time (0.2 seconds), and a RAW=JPG mode. PhotoMed offers the camera system with either a 60-mm or a 100-mm macro lens. The camera also features color adjustment controls and custom functions for personalized operation. The system is shipped completely assembled in a hard case, and it includes PhotoMed custom instructions, unlimited phone support, and the PhotoMed loan-equipment program for the life of the camera.
For more information, contact PhotoMed International, 14141 Covello St, Suite 7C, Van Nuys, CA 91405; (800) 998-7765; www.photomed.net.
---

Lester A. Dine
Lester A. Dine offers the 7MP Dine Digital Solution, a small handheld camera that is modified for dentistry. The camera provides a complete range of orthodontic photography—from intraoral quadrants, anteriors, and laterals, to occlusals using mirrors. The camera is capable of photographing full-facial and profile pictures. No external attachments are required for the camera to work intraorally. The camera weighs less than a pound and fits into the palm of your hand. The system is preset for ortho­dontics. The Dine Digital Solution also includes a software package for image management, cosmetic imaging, and printing. The kit includes an intraoral mirror, cheek retractors, a 256MB memory card, rechargeable batteries and a battery charger, full instructions geared toward orthodontics, and free lifetime telephone support from Dine.
For more information, contact Lester A Dine, PGA Commerce Park, 351 Hiatt Dr, Palm Beach Gardens, FL 33418; (800) 624-9103; www.dinecorp.com.
---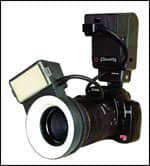 Clinipix
Clinipix introduces the Canon Rebel XT-i Digital SLR camera, a 10.2MP, CMOS-sensored system that is compatible with all Canon EFS lenses. The Rebel XT-i is almost 35-mm quality in digital format and features high levels of resolution, with a maximum of 3388 x 2592. Other features include a rear 2.5-inch LCD screen and com­pact flash memory cards. The camera is powered by a Lithium Ion battery and comes with an external re­charger, which charges the battery in 50 minutes. Included in the package are a 512MB CF card, a USB Card reader, a NiMH recharger, a stainless steel mirror, retractors, a fitted hard case, and imaging and printing software.
For more information, contact Clinipix Inc, 11924 W Forest Hill Blvd, Suite 22, Wellington, FL 33414; (866) 254-6749; [email protected]