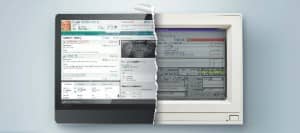 Carestream Dental, Atlanta, has rolled out its latest software releases—CS OrthoTrac v14 practice management software and CS Model+ software. The goal of both software offerings,  according to the company, is to "minimize clicks, automate processes, and simplify everyday tasks."
The rollout comes as the American Association of Orthodontists (AAO) Annual Session begins in Washington, DC.
CS OrthoTrac v14 is the latest update to the company's orthodontic practice management software. It includes a new treatment card that aims to improve practice efficiency with features such as patient compliance monitoring. Users are given an overview of broken or rescheduled appointments, damaged wires, and broken brackets, for example. With this knowledge, the company contends that clinicians will be able to have conversations with patients and their parents about why treatment may be taking longer than expected and how to get it back on track.
The treatment card also includes a "first-of-its-kind" universal aligner tracking. The tracking system is designed to help practices manage clear aligner therapy with a designated place within the treatment card to track how many aligners are given to a patient and document the prescription instructions and duration—regardless of manufacturer, brand, or if made in-house.
CS OrthoTrac v14 is available as either an on-premise or cloud option.
Meanwhile, CS Model+ is geared for the back office. CS Model+ sets up, segments, analyzes, and presents digital models. Once a model is set up, the software automatically analyzes the level of difficulty of the case and generates orthodontic reports, ranging from Bolton Analysis to ABO Discrepancy Index. The software can also provide visual simulations of treatment to present to patients, which can aid in case acceptance.
CS Model+ is compatible with digital models acquired using the CS 9300, CS 8100 3D, or CS 8100SC 3D imaging systems or the CS 3600 intraoral scanner.
Both products will be on display at the company's booth at the AAO Annual Session, May 5 to 8, 2018.