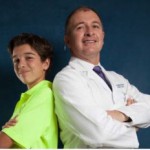 The Hatfield, Pa-based company i-CAT™, a brand member of the KaVo Kerr Group, recently introduced a marketing microsite called "Their Story." The platform showcases a growing collection of stories, told by the doctor, and in some cases their patients, using case reports, videos, images, and more.
The first Their Story—submitted by orthodontist Juan-Carlos Quintero, DDS, DMD—describes how he was able to deliver successful clinical outcomes for a 7-year-old child suffering from both dental and medical issues. Quintero utilized an i-CAT scan and Tx STUDIO™ treatment planning software to determine how to treat him orthodontically, and in the process discovered a significant blockage of his airway. After collaborative treatment with medical professionals, the results were dramatic.
To view the case studies, including videos and images, visit the company website. I-Cat welcomes clinicians to share their life-changing stories on the "Their Story" microsite and to join the i-CAT conversation on the company's social media pages, including Facebook, and on Twitter, using the hashtag, #Their3Dstory.