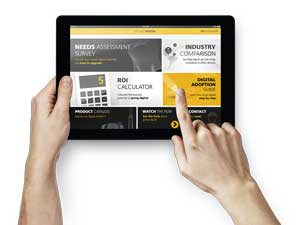 Carestream Dental, Atlanta, introduces its app, CS Digitalizer, a customized, step-by-step guide to building a digital practice. The guide is designed to address the main concerns of clinicians looking to incorporate digital equipment into their practices, such as the investment, ease of use, and cost.
The app offers each practice a needs-assessment survey, industry comparison, ROI calculator, user guide, recommended products, and more. The needs assessment enables to clinicians to determine their needs and learn how to upgrade, while the survey takes into consideration practice size, services performed, and where the practice is in its digital journey.
Upon completion of the survey, clinicians receive a personalized report that tells them where they currently stand digitally and where potential lies for their practice to upgrade. Once a clinician has a better idea of the practice's needs, the digital adoption guide serves to help them adopt digital technology by highlighting business potential, patient benefits, where to start, information on training and integration, and more.
The CS Digitalizer also enables clinicians to see how they compare to other clinicians around the world and calculate the business potential of going digital. The CS Digitalizer is available on the company website or can be downloaded for the iPad® in the Apple® iTunes® store.