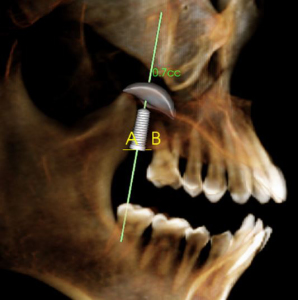 i-CAT, a brand of the KaVo Kerr Group, Hatfield, Pa, released its new Tx STUDIO 5.4 treatment planning software at the American Association of Orthodontists (AAO) Annual Session in San Francisco. Fully integrated and exclusively for the i-CATTM cone beam 3D imaging products, Tx STUDIO features a number of new treatment tools for clinicians working with implants, airway, TMD, orthodontics, and surgical procedures.
In addition to its already existing capabilities for implant planning and restorative planning capabilities, Tx STUDIO 5.4 offers treatment planning and patient communication, including an enhanced abutment design that allows the crown to be placed onto the abutment and prepped teeth, as well as simulation of pontics and bridges.
For airway analysis, the new tools allow for 2D analysis of the airway with quantitative information on the anterior posterior distance and left and right distance. The airway can now be created and visualized in the variable quadrant. Changes in the parameters and area of the cross-sectional area along the airway are displayed graphically.
Other tools now available with Tx STUDIO 5.4 offer the opportunity to simulate a sinus bone graft in two clicks while gaining the approximate graft volume; create bitewing radiographs from 3D data and evaluate those bitewings in all three dimensions; replicate jaw articulation as well as offer control of the translation and rotation; and provide 3D analysis using orthognathic advanced cuts and movement that also show tissue change in profile.
Tx STUDIO treatment software is included with new i-CAT cone beam 3D scanners.