The digital era in orthodontics is moving at lightning speed, ushering in new digital products designed to increase practice efficiency, improve patient care, and save money. The latest to leave an impression: digital intraoral scanning systems.
By replacing PVS impressions, digital intraoral scanning systems offer orthodontists more control and more accurate impressions, while simultaneously providing patients with a more comfortable experience and the opportunity for a real-time education about their own treatment. With digital intraoral scanning, no longer do you have to ship that PVS impression to the lab and wait for the lab to digitize it before an appliance can be created. With a digital file, getting from impression to treatment is both expedited and streamlined.
Orthodontic Products decided to look at six digital intraoral scanning systems on the market to help you decide which system is right for your practice.
3M True Definition Scanner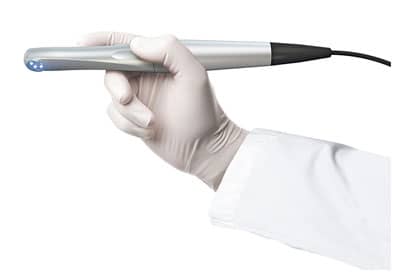 3M, Monrovia, Calif, introduced the 3M™ True Definition Scanner for orthodontic use in May, following the system's introduction to the dental scene last fall. Utilizing 3D-in-motion video technology, the digital impression system creates "a true replica of the oral anatomy," delivering full arch scanning using real-time video data. Upon completion, orthodontists can immediately view the resulting digital impressions for analysis and treatment planning.
The 3M True Definition Scanner allows for secure cloud-based storage of unlimited patient scans using the 3M Connection Center, and access to open STL files that can be imported into a variety of digital workflows and viewed on the orthodontist's own computer. In addition, the 3M Connection Center allows for secure transfer of digital impression files from the scanner to the Unitek™ Treatment Management Portal (TMP). The system is also integrated with Unitek™ Digital Models and the Incognito™ Appliance System, which features 3D setup review, overlay capabilities, and enhanced measurement and analysis tools. Unitek TMP also features a messaging system, allowing for direct communication between the user and 3M Unitek Customer Care. The 3M True Definition Scanner allows for full case management and direct interaction with 3M Unitek. For orthodontists who wish to work with a lab or appliance of their choice, the system's open architecture allows them to do so.
The 3M True Definition Scanner platform features a lightweight, ergonomic, intraoral scanning wand; an HP® Workstation with touch-screen display and high-performance CPU; and a rolling cart for transport. The cart base has a footprint of 25 x 29 inches. The cart measures 16.5 inches high and weighs 72 pounds. Weighing about 7 ounces, the stainless steel wand is designed like a dental handpiece, contains no moving parts, and can be turned off/on by touch. Scanning requires powder, and scans take about 2 to 3 minutes per arch. Users can expect proficiency after approximately 30 scans, according to the company.
Carestream Dental's CS 3500
At the American Association of Orthodontists (AAO) Annual Session in May, Atlanta-based Carestream Dental showcased its CS 3500 intraoral scanner. The CS 3500 is designed to be completely portable, requiring no trolley system to move from chair to chair. The wand can be plugged into any laptop via USB 2 connection. The CS 3500 is designed to give orthodontists the ability to scan a patient's teeth and acquire a color, full arch 3D image.
According to the company, the CS 3500 "offers high-angulation scanning up to 45 degrees and a depth of 16 mm, and it features a light guidance system that navigates users through the image-acquisition process." The light guidance system allows users to look into the patient's mouth during an image capture, rather than at the screen. It glows green when a scan has been successful and amber to indicate that rescanning is needed. A full impression takes about 5 minutes.
Image accuracy measures up to 30 microns. The CS 3500 produces still image resolution of 1024 x 768 pixels and video resolution of 640 x 480 pixels.
The scanner requires no external heater to prevent fogging during image capture or powder for use. Measuring 9.6 x 1.5 x 2.4 inches and weighing 10 ounces, the wand features a slim head and an 8.2-foot cable. The wand can be fitted with different tip sizes.
According to the company, the CS 3500 can work as part of its CS Solutions CAD/CAM restoration portfolio or as a standalone system. It is compatible with open system CAD software, and with CS Connect—the company's online portal—digital impressions can be sent to a lab directly.
Carestream Dental will launch the CS 3500 in the United States at the end of the year.
Align Technology's iTero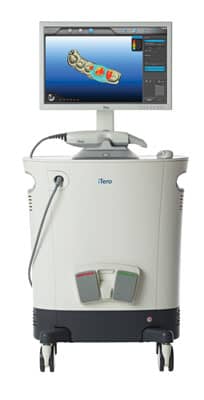 In January, Align Technology Inc, San Jose, Calif, introduced its redesigned iTero imaging system as a single hardware platform with software options for orthodontics. According to Timothy A. Mack, vice president and general manager of iTero, "The new iTero has been engineered with advanced optics and enhanced algorithms that substantially increase the speed of capture to reduce the overall scanning time. Additionally, the new scanning wand and fiber-optic cord are lighter and ergonomically designed to improve the user and patient experience."
The iTero trolley has an adjustable flat-screen monitor, a built-in raised keyboard, a wireless mouse, and a large working surface. Weighing 116.85 pounds, the iTero platform measures 53.1 inches in height, 25.8 inches in width, and 15 inches in depth. iTero features click to capture and continuous scan modes; color model and traditional stone color model rendering; and optional voice prompts to guide the user through the scan.
A thin fiber optic cable connects the wand to the cart and allows for fast data transfer. The wand can hover or rest on the teeth during scanning. The wand comes with a gray protective and diagnostic sleeve for use between patients and to enable the iTero's remote diagnostics program. Additionally, patient scanning sleeves are available in boxes of 25.
iTero produces open STL files that can be used by any lab with an open CAD/CAM system. For Invisalign practices, the iTero scanner features the Invisalign Outcome Simulator, which allows orthodontists to demonstrate treatment using Invisalign.
Ormco's Lythos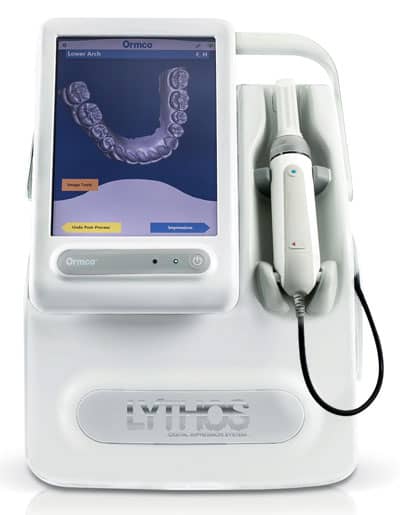 Ormco Corp, Orange, Calif, launched the Lythos™ Digital Impressions System at the AAO Annual Session in May. Lythos uses AFI Technology to capture data in real time, rather than post-process stitching, meaning an entire high-resolution, dual-arch scan can be completed in approximately 7 minutes.
Lythos features an open platform format—using STL files, which allow data to be easily shared with orthodontic labs and appliance manufacturers to produce a variety of custom appliances and study models. Digital impressions for every patient can be stored on Ormco's cloud for up to 10 years through ormcodigital.com. Lythos charges no click fees or storage and management fees. Additionally, Lythos includes Ormco's DigiCast eModels, an online portal for digital study models that helps eliminate the cost of physical model storage.
The system is compatible with Insignia™ Advanced Smile Design™, Clearguide™ Express, and AOA lab. When Lythos scan data is used for Ormco and/or AOA products, practices earn rebates toward the payment of the impression system.
The device is portable, weighing less than 30 pounds, making transport between chairs or operatories easier. Lythos can be placed on a chairside table or on the ground. When on the ground, the screen can extend up to make the device 30 inches tall. When the screen is fully condensed, Lythos measures 15 inches tall. In addition, it features a touch screen monitor, as well as wireless Internet connectivity, which allows for patient data to be uploaded to the cloud where it can be accessed from any computer in the practice. Lythos is compatible with Apple™ products.
The Lythos wand is small, compact, and ergonomically designed, weighing 0.6 pounds. It features a small disposable tip. No powder coating is required for scanning.
3Shape's TRIOS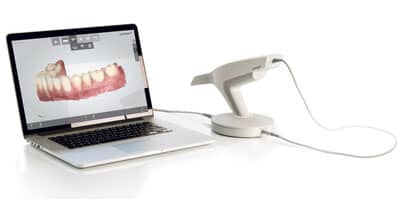 3Shape's TRIOS PodThis spring, 3Shape, Copenhagen, Denmark, unveiled the TRIOS® Color digital impression system. The intraoral scanning system features the company's TRIOS Ultrafast Optical Sectioning Technology and RealColor Technology, creating scan images that have the appearance of real teeth and gingival. The system combines hundreds to thousands of 3D pictures to create the final 3D digital impression. TRIOS is designed to integrate with a practice's current practice-management system and work with its established lab-order procedures. A full scan takes approximately 5 minutes.
TRIOS Color builds on the company's TRIOS standard noncolor system. Both systems are available in TRIOS Cart or TRIOS Pod configurations. The TRIOS Pod allows for scanning with the TRIO handheld scanner and software using selected laptop PCs, giving users working in multiple locations or in a limited space more mobility and flexibility. With the TRIOS Pod configuration, users can control scanning from an iPad or mirror the 3D view on other displays in the practice, such as monitors integrated in the chair.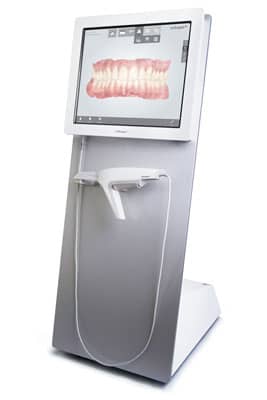 3Shape's TRIOS CartThe cart configuration features a Smart-Touch screen, allowing full control without the use of a trackball or mouse. In addition, the TRIOS Cart configuration is Wi-Fi and Bluetooth enabled, allowing for the cart to be moved throughout the office and for easy connectivity of third-party devices like wireless keyboards and cameras. The cart base dimensions measure 45 x 18 x 23 inches. The TRIOS Cart features an integrated training center and remote support.
The TRIOS system does not require the use of powder to conduct the scan. The wand has an autoclavable tip with anti-mist heater. The interchangeable tips can be flipped for upper and lower scanning.
TRIOS captures full arches and the occlusal situation as input for digital study models, treatment planning, and appliance design. The orthodontic configuration includes 3Shape's Ortho Analyzer software, allowing practices to perform treatment simulations, virtual set-ups, and analyses on the scanned model. Scans are saved in the standard STL file format.
Sirona's CEREC and Apollo Systems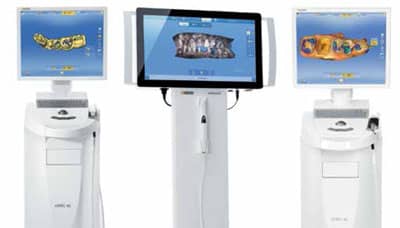 Siron Dental's CEREC Bluecam (left), Apollo DI (center), and CEREC Omnicam (right)Sirona Dental Inc, Charlotte, NC, offers a full range of digital impression systems, including the CEREC® AC Connect with Omnicam, CEREC AC Connect with Bluecam, and Apollo DI.
Designed for the chairside, the CEREC AC with Omnicam produces full-color, 2D and 3D images and captures half-arch and full-arch impressions. Featuring ColorStreaming technology, the CEREC Omnicam allows for continuous video capture of the oral cavity. Weighing 11 ounces, the handpiece has a rounded camera tube for easier rotation of the camera and a small camera tip. According to the company, the camera has an anti-shake feature and provides a uniform field of illumination. During scanning, the camera must be moved between 0 and 15 mm over the tooth surface. No powder or opaquing agent is required during the scan.
Meanwhile, CEREC AC Connect with Bluecam features a blue light-emitting diode with a specific wavelength that is designed to capture better detail. Using a single image-acquisition technique to complete the scan, the CEREC Bluecam can be used on a single tooth or quadrant. A full jaw image is possible. The camera wand, which weighs approximately 9.5 ounces, must be placed directly on the teeth during use. A powder agent must be used during scanning.
Both CEREC Bluecam and Omnicam models can be used with CEREC Connect Software 4.2. Additionally, Sirona Connect is a free service—with no annual or incremental fees and unlimited usage—that can be utilized to send cases from the practice to a lab using Sirona inLab software. Once there, model information can be exported to a variety of software applications.
Rounding out the line of digital impression systems is the Apollo DI. Described as an "economical entry into the world of digital impressions," the system includes an imaging unit, APOLLO DI software, and the APOLLO DI intraoral camera. Scans using the Apollo are black and white, but like the CEREC Omnicam, they are captured using continuous video imaging. The camera wand, which weighs approximately 3.5 ounces, is moved 2 to 20 mm over the tooth surface during scanning. Like the CEREC Bluecam, the Apollo DI requires a powder coating during scanning. OP