by Alan Ruskin
Three father-and-son teams combine family and business in unique ways
It's no secret that many sons follow their fathers into orthodontics. But why? And how do they make it work?
As a look at three multigenerational collaborations shows, a harmonious family relationship is crucial to a successful business partnership. If there is plenty of love and mutual respect, then other requisites such as patience, tolerance, and forgiveness are likely to follow without much difficulty, paving the way for a productive working arrangement. For the son entering the business, there is the assurance of joining forces with an experienced, successful, and admired practitioner as well as a close family member. For the senior partner nearing retirement, to cap his career knowing that his offspring is taking over his beloved practice is a fulfilling and joyful culmination.
---
The Dischingers: Letters and Love
Of course, professionalism dictates that, family notwithstanding, there will always be occasions for a tweak here and there. For Terry G. Dischinger, DDS, Lake Oswego, Ore, the most important thing to understand about a father-son orthodontics team is that "outside the office, it's father and son. Inside the office, it's a peer relationship."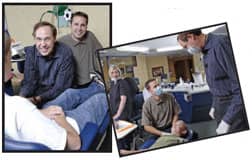 At left: Terry and Bill Dischinger. Right: The Dischingers share a patient.
Establishing a method of clear communication has been key to succeeding in the office for Dischinger and son Bill M. Dischinger, DMD. For the Dischingers, the answer has been a system of written notes and photographs. As Terry explains, "We take pictures of patients at various intervals in their treatment. Then I do a letter about goals, accomplishments, changes I feel need to be made, and so on. The letter is printed and sent to Bill, who responds with his own letter. This method saves a lot of time and headaches for both of us."
As for formulating the business aspect of the relationship, the elder Dischinger prefers to leave that to others. "I feel there are people out there who are experts at setting up the financial side of things. I've always tried to find people I can trust, who won't be biased toward either of us." He uses a consulting firm that specializes in orthodontic practice management, to which he was referred by other orthodontists. "The succession plan is almost completed, and I've been easing off, not working full-time."
Bill comments further on their business relationship and what the future holds. "We have had a 9-year process of first, an associateship, followed by a definite practice purchase/buyout plan set up by an outside third party. At the end of this year the buyout will be complete and we will no longer be partners, although my dad plans to continue working in a part-time capacity."
Terry freely admits that his son is better than he is at the business end of things. "I love to train staff, while Bill is good at controlling costs and other financial matters that I could care less about. He is actively improving the financials."
But the senior Dischinger gets the deepest satisfaction from working with a member of his family at a job that he did solo for more than
2 decades. "It's been the greatest experience in my life, a fantastic growing experience. So much personal growth is required. You're giving up control of something you've controlled for 23 years. It's very different from merely delegating control to your staff."
Reflecting on how they got started together, Terry recalls how Bill always would hang around his office during summer breaks from school. As Bill remembers it, "It was just before I started college, and he needed someone to fill in for the lab position. I realized that summer that being an orthodontist was more than just working in people's mouths: it was working with people, and it was running a business, both of which intrigued me."
Terry knew for sure that his son had the right stuff when, after his first day working in the office, Bill declared, "I want to run my own chair," eschewing the normally obligatory chair manager.
Of course, there are growing pains. Terry says, "How soon do you share responsibility? Naturally, I've been there; he hasn't. As a new orthodontist, you have to earn your spurs. Interaction with staff is important. Bill would see how I do it, then come in with his own knowledge and ideas. We would seldom disagree on treatment plans, so why not work together? We share all our patients."
Bill concurs. "We have worked really well together over the years. When I came into the business, my dad really allowed me to be an active participant in all the decision-making, treating me as an equal partner. Not everyone is like that—I know because I've talked to some who did not have a similar experience. My father and I have shared almost all our patients, only having a select few that would rather see just one of us over the years."
In the end, there's no substitute for homegrown family values. "If your profession is something near and dear to you," Terry says, "who would you want to take over but your own family? It's a joy to see your son grow in his skills. The key to any relationship is love, wanting the best for the other person, trying to get yourself out of the way."
He feels equally benevolent toward his patients and other orthodontists as well. "Orthodontics isn't just about straightening teeth. It's about helping people change their lives, helping them feel good about themselves. I feel it's a very special service, and it's a dream for a dad to have his child go into practice with him. I want others to enjoy that kind of success and happiness."
Bill concludes that, while it hasn't always been easy, "I wouldn't have changed it for the world. It's great to work with your dad, and what a terrific example it's been for my kids to see as well. Hopefully, someday I can have the opportunity to work in a father-and-son relationship, but from the other side next time."
---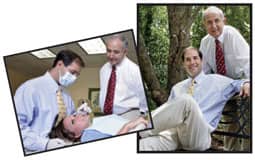 Ched Smaha says of his dad, "We're more like best friends."
The Smahas: You Say Invisalign, I Say Lingual
For Charles N. Smaha, DDS, and son Charles E. ("Ched") Smaha, DMD, MS, Macon, Ga, the family relationship has given them both professional peace of mind as well. As Ched puts it, "Dad and I have a great relationship. We're more like best friends, and we get along and sometimes argue just like friends should. Our communication is excellent, very clear and precise."
Smaha senior adds that, "I just think it's a great type of relationship. For a senior doctor thinking of stepping down, to have a family member coming in to help with that transition is a blessing."
Smaha says he never pressured his son to join him at his offices in Macon and the nearby town of Warner Robins. After completing the predental program at the University of Tennessee, Ched, who, as a result of his family experience, "was always intrigued with the practice," headed north for his orthodontic residency, attending Temple University in Philadelphia. "I felt that for a young, single man," Charles says, "a big city was a good place to be. I wanted him to have the social opportunities that a small town like Macon might not be able to provide."
But Ched decided on his own that he wanted to return to Georgia, and has been working with his dad for the past 21/2 years. "We work as partners on the treatment level," Ched says. "On the business end, he has more ownership." Upon entering the business, Ched admits to having been concerned that his father would be a little behind the times. "I was worried that Dad might be practicing outdated techniques, but to my surprise and relief he was right on top of things. We're actually very similar in our treatment plans."
Charles adds that, "There's a great deal of trust and sharing. You're much more willing to accept things that you might not be so willing to accept with a nonfamily associate." That's not to say that there are never any problems. "Of course, you have to conduct it as a business, but you can be more flexible because of the relationship."
Except for a handful of patients that one of them will follow throughout their treatment, the two share about 75 patients per day, 4 days per week. Sometimes they work at different offices, and other times they are together at the same location. There is one distinction they both enjoy: Ched likes to work with Invisalign, while his dad specializes in lingual braces. Their practice, says the elder Smaha, is about 70% children and 30% adults. "Of those adults, about 10 percent prefer the cosmetic-type braces."
As for the future, the senior partner expects to be slowing down in the next couple of years. A succession plan is currently being formulated by a third party, but as far as Ched is concerned, "I hope he sticks around as long as possible. We love having him here."
---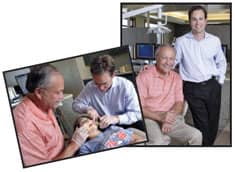 Dwight Damon (left) allowed Paul (right) to make management decisions for the practice starting early in their partnership.
The Damons: Systems and Smiles
Dwight Damon, DDS, MSD, and Paul Damon, DDS, Spokane, Wa, show that a family relationship based on love and trust is a strong foundation, but to build on it, you need a strong work system.
Son Paul notes that he, his dad, and their partner, Shannon Magnuson, DDS, MSD, have always "been on the same page" as far as how they want to treat their patients. Paul attributes this to the work system his father spent years developing: the Damon System (which, by the way, the Dischingers also use). Paul says, "My dad, our partner, and I were able to get on the same page early on with how we wanted to treat patients. I think this is one of the great qualities of the Damon System that my dad has continued to perfect over the years. It has allowed us to simplify our mechanics and the way we treat patients. We all share treatment planning and work on the same patients for the most part, and the system has really made this easy."
Paul comments on the strong tradition in the family: "My dad and both of his brothers went into the profession, and then one son from each family worked at some point with his dad. I knew pretty early on that I wanted to work with my dad. I worked in the office lab during the summers through high school and some of college. I saw how my dad had such a passion for what he does, and there was an energy in the office that made me want to be a part of it."
Regarding the smoothness of the transition, Paul relates how his father never got in the way. "My dad was great about letting us take over the day-to-day operations early on. He was always there to help when I had questions, but let me figure things out a lot on my own and wasn't always telling me what to do. An amazing operation was already in place, and basically, it was my job to keep it moving in the right direction."
Paul has some sage advice for other orthodontists considering a family partnership. "I think that there are a few things that are very important when you're considering a partnership. First, as the saying goes, you can't sweat the small stuff. We are all so lucky to be in this great profession and have the opportunities that we have."
Another key is to bring in the right outside party to handle the business end of the partnership. "I think it's important to get a third party that both of you trust to do the buy/sell agreement. Do this early in the transition so that everyone knows where they stand."
For the junior partner, knowing his or her proper place is also very important. "Third, for the younger orthodontist, it's crucial to use that time when you start in the practice to learn as much as you can from the senior partner. Don't come into a practice thinking you know it all or try to change everything at once. My dad has been such a great mentor to me and has taught me so much. I owe so much of where I am to him."
The bottom line, Paul believes, is appreciation for his good fortune, an attitude that his patients can sense. "I feel lucky to be able to work with my dad. I look forward to the days that he is in the office. We have a lot of fun together and with the staff and patients. I think patients feel this family atmosphere when they walk into the office, and that has helped to create the success that we have had."
The senior Damon recalls the moment when he felt a deep satisfaction with his choices. "One of the great thrills I have had as a father was after practicing for over 4 years together, I finally asked Paul why he decided to specialize in orthodontics. My son said, 'Dad, when I was growing up, I would watch you come in the door at night from the office and you were always happy. I figured you must be doing something very special every day at the office. The decision to head that way was easy.' "
Dwight believes that control issues can make or break the partnership. "Over the years, I have observed that many professional partnerships did not always work. It was apparent that often the senior partner was reluctant to give up control in the office." Right from the beginning, he was determined to avoid that pitfall. "I decided very early in our relationship to allow my partners to make the management decisions for the practice. I tried so hard to keep my opinions to myself unless asked for advice. I always kept reminding myself that it was far more important to have happiness in the office than to teach or control one more thing. Solving the control issue along with being very fair on the financial side are very key elements to successful partnerships."
The senior Damon concludes in a folksy and heartfelt manner: "If the above issues can be resolved in family partnerships, there is nothing more gratifying than to walk in the office and hear your son say, 'How you doing, Pops?' "
And so, as these successful father-son teams demonstrate, the real bottom line is not money but love and happiness.
---
Alan Ruskin is a staff writer for Orthodontic Products. For more information, contact