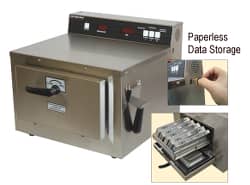 The COX Rapid Heat Model 6000 from CPAC Equipment Inc, Leicester, NY, is now available to dental professionals. The instrument management system features an easy-sliding chamber tray and cassette rack that can accommodate up to seven instrument cassettes per cycle.
The technology's high-velocity, high temperature sterilization system uses natural air—no water, steam, or toxic chemicals are required. What's more, the typical drying cycle has been eliminated, as has the use of water, steam, and chemicals. As a result, instruments within are not susceptible to corrosion, pitting, or dulling.
In addition to rapid dry heat sterilizers, CPAC Equipment offers a full line of complement instrument pouches, cassettes, holding racks, spore test kits, incubators, and indicator strips.