by CHARLENE N. WHITE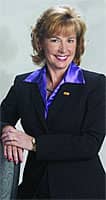 I often receive calls from both orthodontists and staff asking what the average hourly rate for various positions in an orthodontic practice is. In our last newsletter, we sent out a survey request regarding this subject. We are happy to report that we received an excellent response from various states across the country. The data was compiled according to the various positions in the practice. In addition to hourly rates, we asked for experience and longevity in the position. Our goal was to provide you with some general information that may help you with your decisions regarding staff wages.
In this article, I will show you how to systematically approach your staff wages. Personnel-management systems are often overlooked in many offices. Quite often these systems are approached with a "wing it" philosophy. This can lead to poor decision-making and less-than-desirable results.
Overall Analysis
To determine what percentage of your annual collections you spend on staff wages, use the following formula:
Total staff wages recorded on your W-2 for the past 12 months ÷ Total collections for the past 12 months = _____% spent on staff wages.
Annual Salary Summary
Total Wages
$28,483
Uniforms Provided
$250
Health Insurance Benefits
$2,400
Retirement Benefits
(include Social Security Contribution)
$1,500
Continuing-Education Benefits
$950
Vacation Hours Paid
108
Sick & Personal Hours Paid
48
Bonuses Paid
$1,250
Total Hours Paid
1,872
(Do not list gifts, birthday gifts, lunches, parties, etc.)
Current hourly rate
$17.10
New hourly rate
$_________
Total Annual Benefit
Package
$5,100
Changes in
Bonuses this year
($0.75 per hour)
$1,250
Date_____________
Signed___________
Do not include lab technicians or people on the payroll who do not truly work in the office. See how you rate compared to the following results of our survey. Spending 12% to 17% of total collections on wages puts you in the "lower than average" category. The average practice in our survey spent 18% to 20% of its total collections on staff wages. If you spend 21% to 25% on wages, your are on the high end of average, and any expenditure 26% or above marks you as well above average. These percentages do not include staff benefits. On average, benefits run about 2% of gross collections.
The orthodontist decides where he or she wants to position his or her practice. Some orthodontists prefer to be overstaffed to reduce their stress level. Some practices offer higher salaries to attract and keep quality people. Clinically efficient practices need fewer assistants, which results in a lower percentage of revenue spent on salaries. Many factorscan affect the percentages in each practice.
Hourly Versus Salary
The majority of staff is typically paid an hourly wage, since on average they work 32 to 36 hours per week. Administrative staff members who work a 40-hour week quite often are paid a set amount every 2 weeks. Technically, very few orthodontic staff members qualify under state labor laws to be "salaried." This means most employees must be paid for each hour they work. Check with your state labor board for specific information.
Typically, it is easier to pay staff by the hour. Full-time staff should be guaranteed the hours per week they were promised. For example, if they were promised 32 hours per week most often, they are budgeting their personal expenses basedon that figure. However, if patients are not scheduled, they may request time off without pay if all their vacation days have been depleted. This also enables staff members to check out early at lunch and the end of the day if all of their duties have been completed. Potentially, this can be a win/win. It reduces the percentage of overhead spent on staff salary and allows employees flexibility if they want it. However, if the practice "requires" members of the staff to take off when patients are not being seen, the employees may not be able to work the number of hours per week that they were promised.
Wages Versus Benefits
Current Salary-Range Guidelines
The current salary rate range for an orthodontic assistant in our office is as follows (all figures in dollars per hour):
Entry-level/no experience
$9
After 6 months
$10 to $11
After 1 year
$12 to $13
Currently, the assistant salary range caps out at $__________
per hour in our office. For long-term staff, the salary ranges are evaluated annually.
Increases are evaluated at
3 months, 6 months, 12 months, and each year thereafter.
Taking responsibility for a special project or additional duties may be compensated by an increase or a bonus. This is evaluated on a case-by-case basis.
Date_______________________

Signed_____________________
Some staff members prefer a higher hourly rate and no benefits, while others would rather earn a combination of benefits and salary. For example, when a person is hired, she may be offered an option of $12 per hour plus $200 per month paid toward a health insurance plan—or $13 per hour and no health insurance. Some practices prefer to offer a full benefits package and hire full-time staff. They like to promote a "career-oriented" philosophy of management. Each practice should design a philosophy that works well for it.
A comprehensive benefits package can equate to a considerable amount per hour. The employee needs to have a clear understanding of the value of her wages plus benefits. I recommend compiling an annual report for each employee. In addition, the pay stub should also keep the employee updated monthly. An example of an annual summary is on page 50.
Salary Ranges
When new staff members are hired, they should be given a current written statement of the hourly range for their position. An example is on page 50.
Copies of all forms should be placed in personnel files.
Out-of-Balance Indicators
The following conditions suggest that you need to take a closer look at how much you are paying members of your staff.
1) When the staff is getting annual increases and the orthodontist is taking a decrease annually. This occurs when production is dropping. Production drops when the number of starts decline.
2) Staff are quitting and seeking out employment in another office in town because the "pay is better."
3) Staff are staying, but feel underpaid for the area. Low morale is prevalent.
4) Some long-term staff members on the team are making high annual incomes, but are taking on fewer responsibilities than other staff members who are paid much less. Morale is low for the younger staff.
Salary Increases
A cost-of-living raise is typically 3%. A good raise is 6%. An excellent raise is 10% or more.
A "smart raise" often includes a desired benefit that saves both parties on taxes. Talk with your CPA or financial adviser about maximizing pretax-dollar benefits. Staff members are pleasantly surprised at how much they can benefit from a well-structured plan. Unfortunately, a raise can sometimes kick you into the next tax bracket, which results in less take-home pay.
Additional Key Points
1) Problems often occur if a new person is hired in at a rate higher than the long-term staff are being paid.
2) Low wages do not attract and keep quality people.
3) Salary reviews should always be done in a timely manner, even if an increase is not going to occur.
4) The majority of women who work in orthodontics have children. The flexibility of a 4-day workweek and the option to take off for child-related needs is a highly valued benefit. Cross-training and overstaffing by one person enables the orthodontist to be flexible and incur little stress.
5) Staff members who focus on being true professionals and do more than their boss expects normally never have complaints about their salary. They are well paid.
6) Smart employees keep records of their accomplishments and the added value they have brought to the practice each year. They prepare for their evaluation.
7) Discussing salaries with other team members will get you in trouble with the boss.
8) Additional surveys on wages can be found on the Dental Assisting National Board Web site.
9) You can log on to CharleneWhite.com to download the complete salary survey that we conducted this year. The survey is organized according to staff position. It also includes length of employment, years of experience, average hours per week, annual bonuses, and state.
In addition to maintaining a full consulting schedule, Charlene N. White has authored 18 training products, a quarterly newsletter, and numerous articles published in dental journals.Prior to starting her ownconsulting firm, Progressive Concepts Inc,Charlene worked for 5 years as a registered dental hygienist and office administrator. She can be reached at [email protected].
Summary
Staff Position
Length of Employment (Yrs)
Years of Experience
Average Hours/Week
Hourly Rate ($)
Est. Annual Bonus ($)
Office Manager
9.01
16.12
36.76
20.97
1,958.72
Clinical Coordinator
13.5
15.97
34.17
19.73
1,6600.00
New Patient Coordinator
6.60
9.83
32.94
18.42
1,392.32
Appointment Coordinator
5.44
6.78
33.89
14.71
966.61
Financial Coordinator
6.41
9.75
33.63
16.74
1,259.06
Orthodontic Assistant
3.56
7.02
32.32
15.27
1,104.11
Certified Orthodontic Assistant
5.56
10.71
32.44
16.79
1,516.43
Records Coordinator
5.68
7.86
31.64
15.22
1,518.18
Lab Technician
7.86
10.22
29.61
16.22
769.44
Sterilization Assistant
2.25
3.09
24.45
9.59
218.18
Registered Dental Hygienist
9.40
13.80
29.60
19.57
1,710.00
Marketing Coordinator
1.88
4.25
16.75
17.00
62.50
Office Manager
Length of Employment (Yrs)
Years of Experience
Average Hours/Week
Hourly Rate ($)
Est. Annual Bonus ($)
State
Cost of Living
19
27
32
21.96
1,000
TX
Average
1.5
19
40
17.50
1,000
VA
High
17
17
36
27.00
1,000
TX
Average
7
12
38
21.65
1,500
AL
Low
1
1
40
20.00
–
WA
High
2.5
14
40
18.75
10,000
CA
High
10
13
36
25.00
6,000
CA
High
10
18
34
19.50
–
OR
High
7
7
40
20.00
–
MA
Average
2
12
32
18.00
1,200
SC
Average
18
20
38
28.50
–
MI
Average
6
9.5
36
22.00
–
CT
High
7
18
34
20.95
1,000
AL
Average
7
39
34
30.00
2,000
VA
Average
2
15
32
16.50
1,200
TN
Average
10
20
36
25.00
2,500
OH
High
15
16
37
29.00
–
MN
Average
7.5
7.5
28
25.00
2,100
WA
High
20
20
38
29.00
7,500
AL
Average
2
2
32
11.40
3,000
AL
Low
3
5
36
22.00
1,000
MD
Average
1
12
36
18.00
300
TX
Low
7
15
40
20.50
1,000
CA
High
30
30
40
14.15
–
WI
Average
6
22
35
25.25
–
AZ
High
17
17
34.5
17.61
1,825
VA
Average
8
19
36
22.05
500
SC
Average
2
15
32
17.50
2,000
TX
Average
2
7
40
20.00
–
WA
Low
19
25
46
19.00
1,000
MT
High
3
17
36
24.00
–
IL
High
24
24
36
15.00
–
TX
Average
2
2
40
14.00
–
TX
Average
12
16
35
27.00
–
NJ
High
9
15
40
23.00
–
NJ
High
16
20
40
22.00
1,000
OR
Average
11
11
32
22.00
800
OK
Average
4.5
27
36
28.20
6,800
FL
High
6
20
32
16.50
11,500
AL
Low
16
18
35
11.25
14,000
CA
Average
6
22
45
19.00
–
MO
Average
5.5
5
40
17.79
1,500
SC
Average
6
22
45
19.00
–
MO
Average
Financial Coordinator
Length of Employment (Yrs)
Years of Experience
Average Hours/Week
Hourly Rate ($)
Est. Annual Bonus ($)
State
Cost of Living
4
6
37
17.00
2,000
NC
Average
10
20
37
15.45
1,100
NE
Average
8
16
24
19.75
3,000
OR
High
9
9
30
15.25
2,000
TX
Average
9
9
33
18.35
1,400
NJ
Average
12
12
34
17.00
600
VA
Average
2
12
31
15.18
1,000
AL
Average
3
11
36
17.09
1,500
OH
High
10
15
37
23.00
–
MN
Average
8
8
40
14.83
2,500
AL
Average
6
6
39
16.00
500
WI
Average
14
14
30
17.65
3,000
VT
Average
3.5
3.5
24
16.50
–
IL
Average
4
5
16
15.00
300
TX
Low
1
1
36
13.50
–
MO
Average
8
8
32
16.00
2,400
OH
Low
3
3
40
20.00
2,200
NV
Average
1
21
32
18.00
–
AZ
High
5
5
38.34
15.16
1,750
VA
Average
22
22
31
17.61
1,640
VA
Average
6
6
36
15.00
1,000
CO
Low
2
3
36
13.10
–
WA
Low
3
3
36
15.00
500
ID
Average
4
5
36
14.49
800
TX
Average
11
15
36
22.00
–
NJ
High
10
10
40
21.00
500
OR
Average
13
25
38
17.75
2,300
CO
Average
7
30
20
18.75
–
CO
Average
6
6
33
19.00
1,400
FL
High
3
7
37
16.19
1,899
FL
Average
1.5
7
32
12.50
6,250
AL
Low
3
6
37
17.00
680
MD
Average
2
2
32
13.00
–
MI
Average
4
37
15.91
589
SC
Average
Lab Technician
Length of Employment (Yrs)
Years of Experience
Average Hours/Week
Hourly Rate ($)
Est. Annual Bonus ($)
State
Cost of Living
12
23
32
16.54
1,000
TX
Average
1.5
1.5
33
16.21
1,000
VA
High
1.5
1.5
33
14.35
1,000
VA
High
1
1
5
18.00
1,000
OR
High
5
3
35
21.25
1,400
NJ
Average
12
16
34
18.25
–
MI
Average
2
1
14
13.00
–
WA
High
14
14
32
14.50
500
WI
Average
18
25
5
20.00
200
TX
Low
9
9
30
18.00
3,000
NV
Average
3
3
36
15
500
ID
Average
8
8
40
25.00
–
NJ
High
1
1
40
11.50
500
OR
Average
0.5
13
30
12.00
500
CO
Average
6
10
33
18.50
1,700
FL
High
34
34
36
14.41
500
FL
Average
1
35
10.00
350
SC
Average
12
20
30
15.45
700
NM
Average