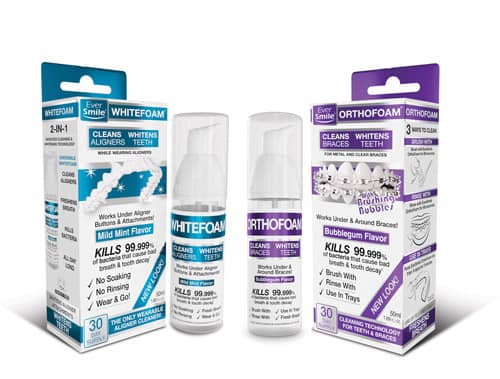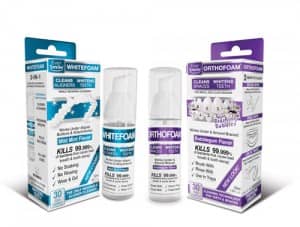 EverSmile Inc, Los Angeles, founded by Los Angeles-based orthodontist Michael Florman, DDS, has released a number of products, including an aligner cleaner and teeth whitener, aimed at orthodontic patients. The products are intended for patients with braces, aligners, and retainers.
EverSmile WhiteFoam is a patented foam cleaner that is applied to the inside of the aligner or tray and can work in the mouth without soaking. According to the company, the foam cleans the aligners and gradually whitens teeth over time, while also freshening breath. It can be used up to four times per day.
EverSmile OrthoFoam is intended for those wearing braces to clean under and over the dental appliances, brackets, and wires. It also whitens the teeth and can be used up to four times a day without causing tooth or gum sensitivity, according to the company.
EverSmile WhitenFresh is a patent pending cleaning, freshening, and tooth whitening spray that is designed to kill bacteria that cause bad breath and tooth decay. It is available in a mint flavor and can be used up to six times per day.
EverSmile products use patent pending EverClean™ technology which cleans and whitens using proprietary surfactants, solvents, and hydrogen peroxide. It reportedly breaks up organic stain particles that discolor the teeth and dental appliances.
While EverSmile WhiteFoam and OrthoFoam are available in over 3,800 CVS stores in the United States, EverSmile WhitenFresh is only available online.