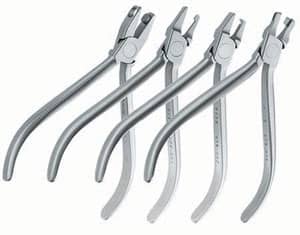 Hu-Friedy, Chicago, recently announced the North American launch of the Clear Collection, the company's new line of orthodontic clear aligner instruments. According to the company, the Clear Collection, set to launch globally later this year, offers orthodontists four instruments designed to "help accent, individualize, and optimize the biomechanics of clear aligners in the office."
Each instrument within the collection is designed with a unique function. The instruments include:
The Tear Drop – An instrument that creates a notch at the gingival margin of clear aligners where elastic hooks are required within the arch. It also provides a reservoir to hold the elastics in place, permitting easy manipulation of elastics by the patient.
The Vertical – Focuses on the overcorrection of rotations by producing an indentation at the mesial or distal angles of a tooth.
The Horizontal – Creates an indentation to accent individual root torque. Retention of either the clear aligners or retainers is enhanced by placing this indent into a tooth's undercut or below a bonded attachment.
The Hole Punch – creates a half moon cutout for relief of clear aligners around bonded buttons used for elastics. It also can nip away plastic to provide soft-tissue clearance to prevent aligner impingement of tissue.
The collection was designed in partnership with S. Jay Bowman, DMD, MSD, a Hu-Friedy Thought Leader. "Hu-Friedy's Thought Leader program enables us to create cutting-edge products inspired by professionals that are leaders in their field of dental expertise," says Ken Serota, president of Hu-Friedy Mfg Co LLC. "The Clear Collection is an example of this relationship. Our collaboration with Dr. S. Jay Bowman led to the launch of a new generation of innovative orthodontic instruments designed to help ease the clear aligner experience for both the practitioner and the patient by allowing on-the-spot aligner modifications."
For more information about this and other orthodontic companies, visit our Market Guide.