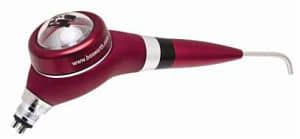 The Bosworth Company, Skokie, Ill, has rebranded its Bosworth Air Polisher to the ProphyBrite™. The ProphyBrite delivers a fine sodium bicarbonate and water slurry to help remove plaque and stains. The device is designed for cleaning and preparing teeth prior to placement of orthodontic brackets, sealants, bleaching, and fluorides.
The device connects to most four-holed handpiece coupler/air and water connections and has an autoclavable nozzle that rotates 360°. It is available in red or black.
Standard kits include two nozzles; an air polishing body; two powder chamber caps; cleaning files (2.5 cm, 8 cm, and 10 cm); cap, powder. and water o-rings; and a 3-ounce sample of Bosworth Prophy Powder. The powder is available in three new flavors: strawberry, raspberry, and lemon-lime.
For more information about this and other orthodontic companies, visit our Buyer's Guide.