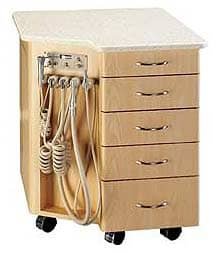 Boyd Industries
Boyd Industries, Clearwater, Fla, offers the BOYD Model CSU356FLM Computer Ready Delivery Unit, which provides a platform for both functional instrumentation delivery and computer access at the chairside. The BOYD CSU 356 is 24.6 x 27.4 inches. Its features include a two-handpiece automatic delivery system; extra wide 13.75-inch, dovetailed, all-maple drawers; under-mount full-extension soft-close drawer glides; ETL and FDA 510(k) approvals to ensure compliance with local building codes; a separate compartment for utilities and computer equipment to isolate electronics from any potential water hazard; 3/4-inch-high cabinet-grade plywood construction; and four GFCI fuse-protected electrical outlets for electronics and other ancillary devices. Various colors are available, and the delivery system can be customized to augment how you work.
Boyd Industries
(800) 255-2693
boydindustries.com
---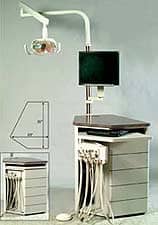 Craftmaster Contour Equipment Inc
Craftmaster Contour Equipment Inc, Fort Worth, Tex, offers its Vista Unit. The unit features a standard pullout instrument tray that brings accessories close to the patient's head and retracts back when not in use. It also has an optional HVE, a saliva ejector, a high- and low-speed handpiece system with a three-way syringe, an electrical outlet in the back of the unit, pole mounts for lighting options and trays, a keyboard tray, and five storage drawers.
Craftmaster Contour Equipment
(800) 475-9260
ccei.net
---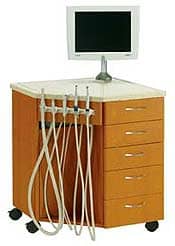 Biotec Inc
Biotec Inc, Zeeland, Mich, offers the Biotec N7500 Mobile Treatment Center, which is designed for specialty applications—orthodontic, pediatric, and hygiene. Standard features include a slide-out handpiece control system; automatic controls for two handpieces; self-contained patient water with City/Bottle selector switch; assistant's instrumentation including HVE, SE, and syringe; foot control with coolant on/off; coolant air/water adjustments; full extension drawers with inserts; and a CPU module that includes a duplex outlet with a cooling fan.
Biotec Inc
(800) 678-9235
royaldentalgroup.com
---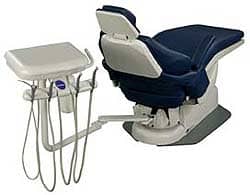 Proma Inc
Proma Inc, Carson, Calif, offers the A5420 North Mounted Unit. Standard features include three automatic piston-valve handpiece controls, an air/water syringe with quick-change, a sterilizable tip, disc foot control, wet/dry with seven feet of tubing, a self-contained patient water system, coolant air valve and adjustment, a stainless steel instrument tray with a nonskid pad, a rear-mounted vacuum arm, a utility center with five feet of umbilical cord, and a chair adapter for rear delivery.
Proma Inc
(800) 447-4324
royaldentalgroup.com
---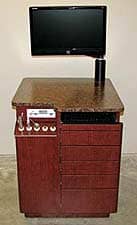 Ross Orthodontic Equipment
Ross Orthodontic Equipment, Midlothian, Tex, introduces the Model Phoenix V-2, from the "Elite" line of Ross delivery systems. The radius-cornered cabinet constructed of cabinet-grade plywood with birch plywood drawers includes a high-quality instrumentation package featuring a high-volume evacuation tip, saliva ejector, three-way syringe with quick disconnect nozzle, and a two-handpiece control. The new "Elite" cabinets from Ross all come with two GFCI-protected duplex outlets, a dedicated and vented computer storage area, a clean bottled water system, and self-closing soft-close doors and drawers on full-extension ball bearing drawer slides. Silestone tops, computer brackets, and a USB cooling fan are just a few of the options.
Ross Orthodontic Equipment
(800) 247-4109
rossorthodontic.com
---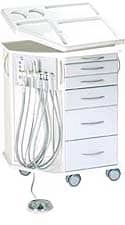 Summit Dental Systems
Summit Dental Systems, Fort Lauderdale, Fla, offers the SDS 900SH cart, which includes two automatic handpieces and a three-way syringe and vacuum package (SE+ HVE). The unit measures approximately 25 ¼ x 18 ½ x 33 ¼ inches. It can either be rolled on dual-wheel casters or kept on a fixed base in the optimal position.The 900SH is available in four standard door/drawer front colors, with either a flat or sectioned removable plastic surface. It contains a breadboard, two small drawers, a medium drawer, and a large drawer. Additional options include a water bottle system, custom laminate, solid surface top, and duplex outlet.
Summit Dental Systems
(800) 275-3368
summitdental.com
---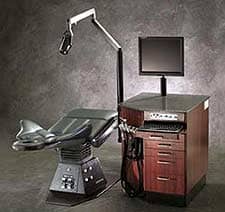 Dexta Corp
Dexta Corp, Napa, Calif, offers the CR Cabinet Delivery system. The handpieces are specifically placed so that they do not interfere with the delivery control panel yet are conveniently available. Five drawers offer substantial storage. The self-contained water system includes a trap door to allow access to the air and/or water valves. Side units also offer space to house a computer system from a mini to a full-size tower. An adjustable, thermostatically controlled cooling fan evacuates waste heat from the CPU unit. The water compartment and electrical compartment are physically separated.
Dexta Corp
(800) 733-3982
dexta.com
---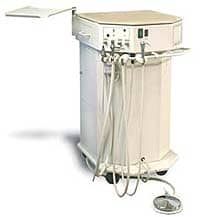 ASI Medical Inc
ASI Medical Inc, Centennial, Colo, offers the Triton™ 2021 Dual Self-Contained System, which provides the capability to set up a dental treatment room without any plumbing or connections. Plug the system into a standard electrical outlet and the internal air compressor, vacuum, and water provide the necessary utilities for all dental procedures. The angular design of the instrument bar and controls allows for ergonomic use by either a single operator or for full four-handed dentistry. One pneumatic handpiece connection, an air/water syringe, a titanium saliva ejector, and a straight high-volume evacuator are included. Options and upgrades are available.
ASI Medical
(800) 566-9953
asimedical.net
---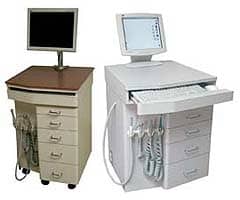 Dome Inc
Dome Inc, Tarzana, Calif, offers side delivery units designed to hold a computer, with built-in keyboard trays and space for the CPU. The keyboard tray and countertop are angled to allow access to the handpieces, syringe, and vacuum. The drawer face for the tray provides wrist support while typing. A large, vented service door on the back allows access to the CPU. An internal plywood partition and a side access door isolate the CPU from the plumbing utilities. Adjustable, pivoting, articulating arms are available for the flat-screen monitor. The countertop can vary from 20 to 26 inches wide. If operatory space is limited, a smaller-size CPU and a 2/3-size keyboard can be installed.
Dome Inc
(800) 423-5767
domeortho.com
---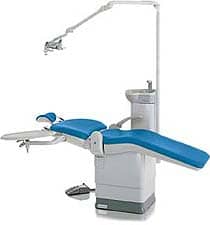 J Morita USA
J Morita USA, Irvine, Calif, offers the Spaceline EMCIA patient support and delivery system, which is designed to promote a balanced posture while reducing operator stress and fatigue. The handpieces are positioned on the back of the chair below the headrest, while soft-touch switches are located on both the backrest and tray. These features are designed to help decrease unnecessary movements and body contortion. The chair's thin design enables the clinician to work closer to the operating field and promotes a stable posture. Additional features include warm air/water and a low chair height setting (approximately 18 inches). A cuspidor, a piezo electric scaler, and many other options are available.
J Morita USA
877-JMORITA (566-7482)
jmoritausa.com