Orthodontic Products – April 2006
Focus on Brackets
GAC International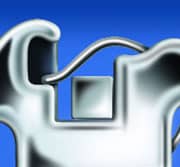 GAC International offers In-Ovation-R self-ligating brackets, which offer significant benefits over traditional ligated bracket systems, including better oral hygiene and patient comfort, shorter wire changes, greater interbracket distance and appointment intervals, lower friction, and shorter treatment time. In-Ovation-R brackets are passive, providing a tube through which the archwire is free to slide. As archwire size increases, In-Ovation-R offers a passive tube, but provides critical control as well. The clip contracts the archwire to provide initial torque and correction of rotations only when needed. It provides interactivity for greater control in treatment, while requiring no change in treatment technique. The brackets are available in a wide variety of prescriptions.
For more information, contact GAC International Inc, 355 Knickerbocker Ave, Bohemia, NY 11716; (800) 645-5530; www.gacintl.com.
ClassOne Orthodontics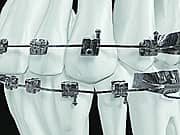 ClassOne Orthodontics introduces the CarriÈre self-ligating bracket, which is 100% nickel-free and features wider centrals and cuspids for torque expression and rotation control. Its unique sliding gate provides passive engagement, reducing friction and improving sliding mechanics. The bracket is easy to place and provides patient comfort. Its simple design allows clip movement, reducing the possibility of clip malfunction. Because the CarriÈre opens with the explorer and closes with a finger, wire changes are quick and easy. The clip stays securely closed and locked during treatment.
For more information, contact ClassOne Orthodontics, 5064 50th St, Lubbock, TX 79414; (877) 797-1199; www.classoneortho.com.
Glenroe
Glenroe offers the Bracket Stacker Tray, which is ergonomically designed to fit into the palm of your hand. The tray holds up to 20 cases of brackets and can be color-coded with different bracket prescriptions. It features 20 individual compartments that are labeled for easy bracket identification. Customizable hot-stamping labels are available.
For more information, contact Glenroe, 1912 44th Ave E, Bradenton, FL 34203; (800) 237-4060; www.glenroe.com.
Ortho Organizers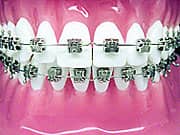 Ortho Organizers introduces the CarriÈre LX™, a self-ligating bracket system that provides improved archwire-sliding mechanics and faster treatment. The CarriÈre LX features a sliding cap with a snap-latch closure that works like a ball and socket. Located in the face of the bracket, the sliding cap opens easily with an explorer or similar instrument and closes securely with the touch of a finger. Its low-profile, Mini-Twin® rhomboid shape facilitates easy placement. Its design features a microetched surface that enhances bond strength. Color coding on each bracket ensures precise bracket identification and placement. A full archwire sequence uses round and rectangular dimpled Bio-Kinetix™ Thermal archwires, CNA™ Beta III rectangular archwires, or Multi-Force archwires, which offer increased forces in three regions. The bracket is currently available in the McLaughlin, Bennett, and Trevisi prescriptions. It can be ordered individually or in Quick Pac (5 x 5) sets.
For more information, contact Ortho Organizers, 1619 S Rancho Santa Fe Rd, San Marcos, CA 92078; (800) 547-2000; www.orthoorganizers.com.
Comfort Solutions
Comfort Solutions offers soft caps, made from mouthguard material, that fit over Herbst screws to cover ceramic or metal brackets, Class II correcting springs, HTH appliances, TP flip-lock appliances, and transpalatal arches. The soft caps provide instant relief and quick healing to intraoral ulcers caused by impinging appliances. They also provide comfort to patients who play musical instruments and protect incisal edges that occlude against ceramic brackets
For more information, contact Comfort Solutions, 305-20897-57 Ave, Langley, BC, Canada, V3A 8L5; (604) 532-2078; www.comfortsolutions.ca.
3M Unitek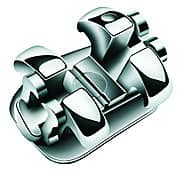 3M Unitek introduces the SmartClip™ self-ligating appliance system, which has no doors or other mechanisms to open or close. The integral nickel-titanium clips allow archwire insertion and removal, and hold the archwire with a preprogrammed force that avoids unintentional disengagement. The appliance features a twin-bracket design that provides optimum rotational control and familiar bracket-placement ability. It may be used on individual teeth to provide an "active on-demand" system that gives you the control you need. The SmartClip is available in hybrid rectangular and dimpled archwires.
For more information, contact 3M Unitek, 3M Center, St Paul, MN 55144-1000; (800) 423-4588; www.3munitek.com.
Ortho Classic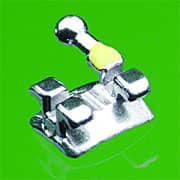 Ortho Classic offers Ultimate MBT prescriptions of its nickel-free bracket line, including Hilgers and Ricketts, Roth, and Edgewise. Ultimate MBT is manufactured using a process that removes the nickel from the stainless steel. Low profile and anatomically contoured with smooth, rounded edges, these one-piece metal-injected brackets may be used on patients who are sensitive to nickel.
For more information, contact Ortho Classic, 1800 E Sahara Ave, Suite 107, Las Vegas, NV 89104; (866) 752-0065; www.orthoclassic.com.
Fairfield Orthodontics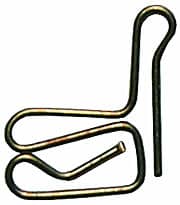 Fairfield Orthodontics introduces Add-A-Hook™, a fast and easy way to add an auxiliary hook when and where one is needed. Its patented "slide and grip" design holds tight behind the archwire and bracket, and it does not need to be tied in like other auxiliary hooks. The hook can be placed anytime during treatment—even with the archwire in place. The hooks are made from 100% Vectorloy™ that is heat-treated to retain its shape and configuration while giving it flexibility and force control. Add-A-Hook is easy to place using only a hemostat or Mathieu plier. Hooks are available in two configurations: the standard Add-A-Hook, which works with all bracket types; and the Add-A-Hook "D3," which works with self-ligating bracket systems.
For more information, contact Fairfield Orthodontics, 158 Research Dr, Suite F, Milford, CT 06460; (800) 321-0331; www.fairfieldorthodontics.com.
Gestenco International AB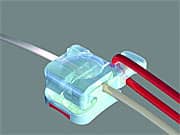 Gestenco International AB offers the Oyster ESL self-ligating bracket. Small changes in its design, including the use of a copolymer, has made the bracket stronger, with better bonding capacity and greater hydrolysis and chemical resistance. The Oyster bracket is nonligating, transparent, and allows faster treatment time with less friction and fewer wire changes. The indent in the bracket door allows full control and locks in heavier wires. The system includes brackets, wires, buccal tubes, and a cap-opening instrument. All parts can be purchased separately.
For more information, contact G&H Wire Co, PO Box 248, Greenwood, IN 46142; (800) 526-1026; www.ghwire.com.
Ormco

Ormco introduces the Damon™ system of brackets featuring Damon 3MX. The brackets are self-ligating and provide light forces for minimally invasive treatments. According to the company, the system is clinically proven to provide results in an average of 6 months' less time, with fewer appointments. The Damon 3MX ensures reliability and ease of use. Its stainless-steel 17-4 metal-injection-molded construction provides strength and durability. It also features four solid walls for fast, low-friction tooth movement, an easy-to-use slide mechanism for quick wire changes, and ultrasmooth contours and rounded edges for patient comfort.
For more information, contact Ormco Corp, 1717 W Collins Ave, Orange, CA 92867; (800) 854-1741; www.ormco.com.
Gold'n Braces Inc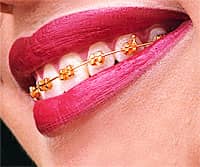 Gold'n Braces Inc offers Midas™ brackets, which are made by an extensive plating process that uses a 24K gold alloy with hardeners and brighteners for durability and shine. Abrasion-tested, the Midas bracket provides a durable finish with no alteration of slot size and a surface that does not alter bonding properties. Gold'n Braces also offers a modified Roth prescription bracket, available in both .022 and .018 slot size. The modifications are 0-0 on the lower 1 and 2 and 0-0 on the upper 4 and 5. Straight-wire Roth appliances and direct-bond molar tubes (for patients with nickel allergies) are also available.
For more information, contact Gold'n Braces, 2595 Tampa Rd, Suite I, Palm Harbor, FL 34684-3131; (800) 785-1970; www.goldnbraces.com.
Forestadent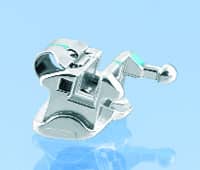 Forestadent introduces the Forestadent-Quick® self-ligating bracket system, which provides minimal friction and faster treatments due to rounded slot edges, a four-contact-point slot, and smooth clips. The ligating clip can be opened in two ways: by sliding open from the gingival aspect or by using the hole in the clip. It features a 30% increase in bond strength. The one-piece body construction, made from nickel-free steel, is suitable for all patients.
For more information, contact Forestadent USA, 2301 Weldon Pkwy, St Louis, MO 63146; (800) 721-4940; www.forestadentusa.com.
Dynaflex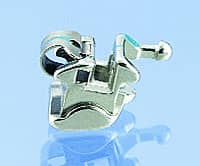 Dynaflex offers the Self-Ligating Extreme™ (SLX) bracket, which is the smallest self-ligating bracket on the market, according to the company. The low-friction bracket is nickel-free and provides great bond strength. The SLX is a one-piece bracket, which means there is no way for the clip to become unhooked or fall out. There are two ways to open the bracket: by using the gingival side, or by using the hole in the buccal side. Its unique design means that it requires no ligatures, which allows less chairtime and increased patient comfort.
For more information, contact Dynaflex Laboratories, PO Box 142399, St Louis, MO 63114; (800) 489-4020; www.dynaflex.com.
Ortho Technology
Ortho Technology offers a complete line of stainless-steel, ceramic, and composite aesthetic brackets. The brackets are available with or without nickel-free, metal-lined archwire slots for enhanced sliding mechanics. Many prescriptions are available, including Ortho Technology's version of McLaughlin, Bennett, and Trevisi. The Bionic™ stainless-steel bracket system features smooth, rounded facial contours; is ample under the tie-wing area; and has chambered lower-anterior occlusal tie wings, accurate in and out compensations, and fully integrated ball hooks. Gingivally offset bicuspid brackets are available. The Reflections™ ceramic bracket system is translucent and has a slot design that enhances sliding mechanics, reliable retention for fewer bond failures, and a dovetail grove base that provides a mechanical lock.
For more information, contact Ortho Technology Inc, 17401 Commerce Park Blvd, Tampa, FL 33647; (800) 999-3161; www.orthotechnology.com.
TP Orthodontics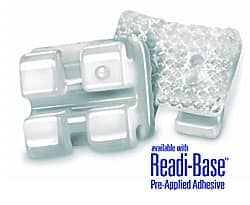 TP Orthodontics introduces the patented InVu ceramic bracket, which features Readi-Base®. Placing InVu brackets is simple with Readi-Base—just prep, place, and cure. Readi-Base improves efficiency and provides a uniform application of adhesive. The entire process of placing brackets is simplified, reducing overall chairtime and increasing productivity, according to the company. InVu's patented mesh polymer base makes debonding simple, eliminating the need for special tools or the risk of bracket fractures. In addition, InVu brackets have a natural look that blends with patients' teeth. Orthodontists confirm that InVu does not stain or discolor during treatment time. InVu brackets come in two convenient packaging options: individual brackets and full patient kits. InVu is available in several prescriptions, including Roth, MBT, and Standard Edgewise.
For more information, contact TP Orthodontics, 100 Center Plaza, La Porte, IN 46350-9672; (800) 348-8856; www.invu-ortho.com.
G&H Wire
H Wire offers nickel-free Apollo™ brackets for patients who are sensitive to nickel-bearing products. G&H also offers the Apollo series in Roth, Bioform, and Standard Edgewise prescriptions. The metal-injection molded Apollo stainless-steel brackets feature a dependable presandblasted bonding surface that is compatible with all orthodontic adhesives.
For more information, contact G&H Wire, PO Box 248, Greenwood, IN 46142; (800) 526-1026; www.ghwire.com.
Ortho-byte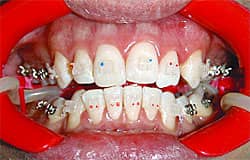 Ortho-byte introduces Integra™ ceramic brackets, which are resistant to stains. Their low-profile, rounded-corner design guarantees patient comfort. Mechanical bonding prevents any pop-offs due to the increased contact surface area of the adhesive. The brackets are coated with silane, which provides chemical bonding for increased retention. The brackets also feature a compound contoured base that matches the tooth and hooks on cuspids and bicuspids. Integra ceramic brackets are fully visible in x-rays and opaque to radiation. Ortho-byte also offers Brajen Unibond Self-Etching adhesive, which can be used with Integra ceramic brackets. Brajen Unibond contains a color-changing primer. Seeing where the primer has been placed allows for precise bracket placement and easy cleanup. When you order Brajen Unibond self-etching adhesive, you get a case of Integra ceramic brackets free.
For more information, contact Ortho-byte, PO Box 9627, Wilmington, DE 19809; (302) 798-1234; www.ortho-byte.com.
LingualCare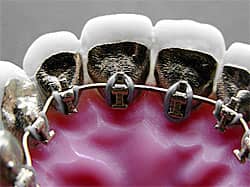 LingualCare offers customized iBrackets™, which are part of the iBraces™ system. iBrackets are designed one tooth at a time, and ensure aesthetics, comfort, and performance. The brackets feature customized pads, which mold to the surface of each tooth for precise fit to reduce bracket loss; vertical anterior slots for better torque and rotation control; an .018 slot with easy wire insertion; and second- and third-order correction built into the brackets. They are easy to bond and remove, and they are made from a gold alloy that is safe for patients sensitive to nickel.
For more information, contact LingualCare Inc, 5304 Beltline Rd, Dallas, TX 75254; (800) 401-3001; www.ibraces.com.
Ortho Specialties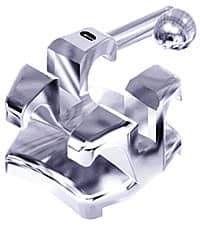 Ortho Specialties introduces the M.B.T.™ prescription to its O.P.C. Bracket System. The bracket system features a patented, integrated base design that provides adaptation to the tooth surface, resulting in a superior bond. The O.P.C. Bracket System also features a full-sized mesial and distal width for rotational control, a chambered slot to facilitate archwire insertion, a torque-in-base design that provides level slot lineup during the final phase of treatment, scribe lines that ensure accurate bracket placement, and permanent ID marks for easy identification.
For more information, contact Ortho Specialties, 7707 W 99th St, Hickory Hills, IL 60457; (800) 637-1237; www.orthospecialties.com.
Masel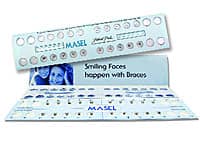 Masel offers Patient Packs, a ready-to-use bracket system. The packs keep 5-5/5-5 cases of brackets in individual, preset storage packs in a tweezer-ready position for bonding. Two free case setups are included with every purchase of 10 packs. The packs contain a 5-5/5-5 case of Bravo Excel Roth brackets, with or without hooks. The brackets, made from tarnish-resistant stainless steel, feature rounded wings, a low-profile design, torque in base, a 45° bevel on lowers and anteriors, clear identification marks, and integral ball hooks.
For more information, contact Masel, 2701 Bartram Rd, Bristol, PA 19007; (800) 423-8227; www.maselortho.com.