by Rich Smith
Anoop Sondhi, DDS, MS, harnesses high technology to maximize his efficiency
Around and about the spacious Indianapolis office of Anoop Sondhi, DDS, MS, are video-game screens for patients to use to pass the time before and during treatment. But patient beware: do not challenge Sondhi to any electronic game depicting aerial dogfighting. You are likely to lose, because Sondhi knows a thing or two about aerial combat.
Sondhi did not acquire his Top Gun skills by spending endless hours in front of a PlayStation console. He is, in fact, a licensed commercial pilot and, as a hobby, he flies an Italian-made SIAI Marchetti SF-260 single-engine, twin-seat military trainer. He goes aloft in this rented plane as part of an organized recreational activity with other like-minded pilots from across the country.
"There are companies that provide the aircraft and arrange 'missions' for you to fly, missions that allow two otherwise normal adults to try 'downing' one another," he says, stressing that the combat is completely mock. "Instead of using machine guns, you fire at each other with a laser sighting system. If your beam of light hits the tail of your opponent's aircraft, it disables his laser and causes a plume of smoke to trail out from behind him." In addition to the lasers, each aircraft is equipped with video cameras, making it possible for Sondhi and his duel-in-the-sky comrades to review and analyze their performances after the mission is over. "We go through a post-mission debriefing in which we watch the tapes and talk about what we did right and what we did not do so right."
PRACTICE PROFILE
Name: Sondhi-Biggs Orthodontics
Location: Indianapolis
Owner: Anoop Sondhi, DDS, MS
Specialty: Complex malocclusions and disorders of the temporomandibular articulation
Years in practice: 21
Office square footage: 7,800
This process of constant quality control is one that he has applied throughout his orthodontic career as well.
Effectiveness and Efficiency
Sondhi was born and raised in New Delhi, India, and immigrated to the United States in 1975. By then he had already received an undergraduate dental degree and so was admitted to the graduate orthodontic program at the University of Illinois in Chicago. Sondhi emerged with a master's degree in orthodontics in 1977, and, that same year, accepted an offer to join the orthodontic faculty at Indiana University in Indianapolis (one of several such offers he received).
Like a number of his colleagues at the university, Sondhi supplemented his teaching by operating an off-campus private practice. "It was located in the office of an established full-time Indianapolis orthodontist who let me use his space one or two days per week," he recounts. The private practice eventually became so successful that Sondhi found himself holding, in essence, two full-time careers. "I had to choose between continuing in my academic appointment at the university or breaking away to devote myself entirely to the private practice." In 1988, he opted for the latter.
Sondhi's practice today—as then—emphasizes interceptive treatment in the management of complex malocclusions, and he performs a significant amount of clinical work in the diagnosis and management of patients with disorders of the temporomandibular articulation. But what truly distinguishes Sondhi in his Indianapolis market is efficiency and effectiveness in delivering orthodontic treatment.
What is the significance of effectiveness and efficiency? "Effectiveness is a consequence of doing the right thing; efficiency comes from doing things right," he says. "To be effective and efficient, therefore, we must do the right things right. For example, most patients, if you ask them, will readily tell you that they like having straight teeth, the enhanced dental health that they enjoy after orthodontic treatment, and so forth. But they also will tell you that treatment was something of a chore involving a lot of appointments over a long period of time. There isn't a patient in the world who will ever say to you, 'Gee, I wish I could have my braces on longer.' The fact of the matter is that it should not be a significant chore for patients to receive orthodontic treatment today. With technology being where it is today in terms of self-ligating brackets, indirect bracket placement, and digitally enhanced diagnosis and treatment planning, orthodontic treatment can be very efficient, while being very effective."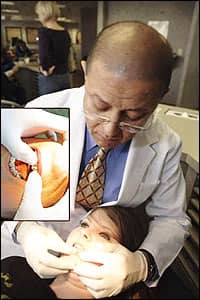 Sondhi says, "Wiith technology being where it is today in terms of self-ligating brackets, indirect bracket placement, and digitally enhanced diagnosis and treatment planning, orthodontic treatment can be very efficient, while being very effective." Here, he demonstrates the efficient insertion of an archwire into the SmartClip self-ligating system.
Sondhi says he prizes efficiency and effectiveness for the reason that they translate into cost savings for practice and patient alike. "Each time a patient comes to my office, it costs them something, be it the gasoline used in travel or the time lost from school or work. We want to make sure these costs are as minimal as possible," he says.
Furthermore, efficiency and effectiveness contribute to patient satisfaction, which, in turn, pays back in the form of referrals. "Every doctor who sends a patient to a specialist colleague's office wants to make sure that this patient comes back happy. If the specialist does not deliver excellent treatment results and a good patient experience, then it reflects as poorly on the referring doctor as it does on the specialist."
Sondhi's efficient and effective approach extends to his communications with referring dentists. "Nobody wants to read through reams of unnecessary information to get to the pertinent details," he says, explaining that, instead of using form letters, he customizes every letter and includes a highlighted text box including "specific, must-see recommendations, instructions, or requests" so that busy referrers can "know in a flash what they need to do." Sondhi concludes, "I have yet to come across a referring doctor who isn't appreciative of this level of communication."
Fine-tuning Treatment
Patient convenience ranks right alongside patient satisfaction, in Sondhi's estimation. "We try to make sure that treatment is delivered in a way that it does not become an ongoing source of difficulty for the patients," he says. "The overwhelming majority of patients we treat come from families where both parents work. Therefore, every time I want to see a child for an adjustment appointment, one of those parents must on that day leave their place of work, pick the child up from school, bring the child to us and then, afterward, return the child to school and get back to their place of work. That process takes up half a day for the working parent. They don't want that inconvenience any more than is necessary, and neither do I. And, thanks to our effectiveness and efficiency of treatment, we can see the patient once every 8 to 10 weeks and still be able to complete treatment in almost half the conventional amount of treatment time that is generally estimated by a majority of our colleagues."
Achieving the requisite level of efficiency and effectiveness does not come easily, Sondhi concedes. He draws heavily on the help of superior technologies, such as preadjusted, self-ligating appliances. "These appliances provide tremendous control over the movement of the teeth, they contribute to shorter treatment time, and they dramatically reduce the amount of time the patient spends in the chair at each appointment," he says.
"Within the self-ligating universe, there are over a dozen different systems. But all have in common the need for some type of engagement mechanism that has to be opened and closed so that you can insert the archwires into the brackets. I'm particularly impressed with the SmartClip™ Self-Ligating Appliance System developed by 3M Unitek. I've clocked myself with it and can report that, with this technology, it's possible to remove two wires, reinsert two wires, and be done in less than 3 minutes."
Having done this type of analysis gives Sondhi a great deal of confidence when dealing with patients. "Because we settle for nothing less than excellence," he says, "I can confidently look the patient in the eye and tell them to expect a magnificent treatment result." Sondhi also credits his adoption of preadjusted, self-ligating appliances with helping him control costs so that his treatment fees can be kept at reasonable levels, all the while enhancing the level of service he can offer patients—both of which contribute to the market appeal of his practice.
But while patients hail such technology, Sondhi's staff was at first apprehensive. "We had in place very well-organized clinical systems, and my team was accustomed to them," he says, "so there was resistance to change. But as the staff recognized the value of this change, they quickly embraced it. Now, they can't remember how they ever got along without preadjusted, self-ligating brackets."
Improvements have been made to the 3M Unitek product since Sondhi began using it—improvements he helped bring about. "I worked closely with designers from 3M Unitek to make the archwire insertion and placement instrumentation easier," he spells out. "We've also provided input for refining bracket placement instruments."
Traveling the World, Returning Home
Sondhi is a visiting professor for several graduate programs in orthodontics, and he has presented numerous seminars and continuing education courses to dental and orthodontic organizations in the United States. Counterparts to those associations in Canada, Australia, New Zealand, and the countries of Central America, South America, Europe, the Far East, and South Africa have hosted him for similar events as well. "In 2009, I'll be lecturing again on every continent except the Arctic and Antarctic," he says, adding that his lectures most often focus on efficient treatment with self-ligating bracket systems, effective and efficient indirect bonding, successful interception of difficult malocclusions, and the care and feeding of a successful orthodontic practice.
As to his own practice, in 2000 its care and feeding required the addition of a partner, Jeffery Biggs, DDS, MS. Together, Sondhi and Biggs have since structured their practice in ways that, when patients come to the office, "they are given every reason from the outset to believe that they will be receiving the finest level of clinical care and personal attention," Sondhi asserts. "Some orthodontists believe it's possible to build a base of referrals by being conveniently available—working evenings and Saturdays, for example. Nothing wrong with that. But my own belief is that the way you build a viable base is by concentrating on delivering what's been promised—in other words, you offer the highest possible level of service and treatment."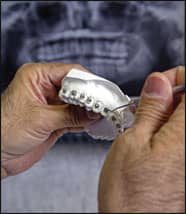 Sondhi credits the incorporation of variable prescriptions, SmartClip Self-Ligating Appliances, and precision bracket positioning as keys to effective and efficient treatment.
Sondhi's office is open 4 days per week, 7:30 am to 4 pm. It is supported clinically and administratively by a staff of 22. There also is an on-site lab. The office occupies nearly half the leased top floor of a three-story, northside Indianapolis commercial building. The 7,800 square feet allotted to their office have been configured as an open-bay clinic with a total of nine chairs (two of which are situated in private rooms intended for the treatment of adults and TMJ patients). At each of the chairs is a pair of computer monitors. One screen is behind the patient and for clinician use only.
The second screen is attached to a swing arm that can extend in front of the patient. It is used for patient education. "Whatever is shown on the clinician screen can be simultaneously displayed on the patient screen," Sondhi says. "We can also use the patient screen separately to display live-action videos—a demonstration of proper hygiene technique, for instance."
Most often, however, the patient-viewable display monitor is used to keep the patient's mind occupied with video games. "A click of the mouse button and the monitor becomes a PlayStation screen," Sondhi says. "There's also a kill switch so that, when we really need to have the patient's attention, we can freeze the video game action and black out the screen."
As for Sondhi's attention, it is firmly focused on the future of his profession and his practice. "Five years from now, I hope to be able to say that we have sustained the level of growth we've enjoyed up to this point. That's going to be a challenge, given the recent economic changes in our society. But we still feel confident that there remains a place for high-level orthodontic service and treatment."
---
Rich Smith is a contributing writer for Orthodontic Products. Please send questions and comments to
The Future of Orthodontics
Cone-beam imaging will become increasingly common as an orthodontic diagnostics tool over the next several years, Anoop Sondhi, DDS, MS, believes.
"This particular technology provides far greater versatility and image detail, both of which will be very helpful in the management of complex cases," he says. "Cone-beam imaging will also allow us to see things we couldn't before—impacted teeth in three dimensions, for instance."
As for orthodontic technique, the coming big thing is likely to be the incorporation of variable prescription modules in conjunction with self-ligation, he predicts. "I know something about their value to orthodontists because I had a hand in refining 3M Unitek's recently unveiled Variable Prescription Modules," Sondhi says.
In the past, he explains, "preadjusted appliances came with certain prescriptions: Bioprogressive, MBT™ System, and other types, for example. But these were all of a static nature, meaning the same prescription was used for all patients. And, as we all know, the human organism shows far too much variation for the degree of generalization inherent to these static prescriptions. In fact, we found that the type of prescription you want to use for a Class II, Division 1 patient is quite different from the type you want to use in a Division 2 patient.
"So what we had to do was construct the spectrum of clinical possibilities and develop the prescriptions that would allow the clinician to customize the prescription to that specific case. For example, let's say you have two patients with a Class II Division 2 malocclusion. One has lingually inclined lateral incisors, and the other presents with the more classic labially inclined lateral incisors. What we know is that the bracket torque value you use for the first patient will not be optimally effective for the second because of the differences in incisor inclination.
"Variable Prescription Modules solve this problem. They make the treatment of these two different patients much more efficient and precise."
—RS