by Greg Thompson
Renewable energy and clinical creativity fuel the San Antonio-based practice of Robert Norris, DDS
At Stone Oak Orthodontics in San Antonio, the power fueling whirring instruments and computer screens comes from the sun, via solar panels. Or to be more precise, solar panels and windmills. Thanks to rebates and tax incentives, the move toward renewable energy makes financial sense while also fitting nicely with the environmentally friendly sensibilities of practice owner Robert (Tito) Norris, DDS.
Patients can't see the roof-based solar panels that nourish Norris' 2,900-square-foot practice, and until the summer of 2008, the photon-sucking solar cells were an unrealized dream. That all changed when the local utility company offered a substantial rebate program, making the $100K price tag a bit easier to swallow. "They essentially rebated about 40% of the cost," says Norris, who also relies on wind electricity to make up any shortfalls from his solar grid. "When you took into consideration the lower cost of the system, at least compared to what it used to be, and then put a tax incentive on top of that, it actually became financially feasible."
Stone Oak Orthodontics is a suite within a large building, but the solar panel does not fuel all the tenants—just Norris, who chose to buy the solar unit (a 16-kW system that supplies roughly one-third of his annual energy needs) rather than renting or leasing. As a complement to the wind power that Norris had relied on for the previous 4 years, Norris expects the solar option is expected to pay for itself in about a decade.
For orthodontists looking to take the solar plunge, payback varies depending on where you are in the country. In San Antonio, where energy is relatively inexpensive (between $.07 and $.09 per kilowatt hour), payback takes longer. One misconception is that the hotter the climate where you live, the better the solar panel works. "That is not actually true," Norris explains. "You do need sun, but the heat does not necessarily make it work more efficiently. In fact, it works best around 70°F. We have more than 300 sunny days a year in San Antonio. Manufacturers actually rank areas of the country on a 1-to-10 scale, and we are about an 8.5."
PRACTICE PROFILE
Name: Stone Oak Orthodontics
Location: San Antonio
Owner: Robert (Tito) Norris, DDS
Specialty: Adult interdisciplinary treatment
Patients per day: 60
Starts per year: 450
Years in private practice: 10
Days worked per week: 4
Office square footage: 2,900
Web site: stoneoakortho.com
Plenty of Texans share Norris' commitment to the environment, and patients sometimes choose Stone Oak Orthodontics based on the practice's earth-friendly ways. Norris knows because they tell him. Word of mouth spreads because existing patients get the message via a 45-inch monitor in the waiting room that flashes pertinent facts about the practice.
Additional new-patient gifts drive home the green theme, giving the unmistakable feeling of a business with 21st-century sensibilities. "When patients sign on for a new treatment, we give them five reusable grocery bags, and that all goes with the green theme of our practice," says Norris, who served in the Air Force for 3 years prior to starting his private practice. "We call it the 'love your mother' movement, and we have a little logo with the colors of earth in the shape of a heart, and that is on the grocery bags that we give out. The logo also has the name of my practice on it."
An electric Porsche 911 parked outside completes the picture for a clinician who talks the talk and walks the green walk. Norris plugs in the electric car at home or at the office, where it is powered with renewable energy. Norris' other vehicle runs on biodiesel, which is made from recycled cooking oil.
Does it end there? Not quite. Hot water heaters in the sinks provide instant hot water with much less energy usage than standard systems. Office staff use "Glut-Neut" to neutralize the gluteraldehyde sterilization solution before it is disposed. The Stone Oak team uses electronic communication whenever possible to reduce paper and ink usage, and all nonclinical items in the office (including paper, glass, and plastic) are recycled.
As for the global warming skeptics, they stick with Norris because he gets their teeth straight in an efficient and cost-effective manner. "So far, my green commitment has not cost me any patients, either," Norris says with a chuckle. "People who think that global warming is just a big myth or a scam may just think, 'Hey, that idiot has wasted his money on wind and solar energy,' but that is likely the extent of their gripe."
For a small business, the green way of life has tax advantages that could someday mark a trend. For now, however, Norris is a bit of a pioneer, a fact he hopes will change. "As solar energy becomes cheaper and cheaper, it will increasingly become an economic decision," Norris says. "When we can do alternative energy cheaper than coal or nuclear energy, that is when it will take off. Even without the subsidies, the rebates, and the tax incentives, it will take off. It is just a matter of time."
The local community is also a priority for Norris, who routinely sponsors local sports clubs, teams, and organizations, offering a special program for those patients who lose or break their retainers. "Rather than paying for a new one, we allow them to bring in 10 items for the Charity of the Quarter which we currently sponsor," Norris says. "This quarter happens to be the Battered Women's Shelter."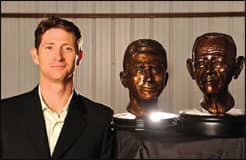 "Sculpting really does help my orthodontics, because facial proportion and facial anatomy are such a big part of my job," Norris says.
Power of the Mind
The elements driving the kilowatt hours at Stone Oak Orthodontics are ultimately less important than the considerable mind power that flows in the form of Norris' orthodontic knowledge. As a mechanical engineering major in college, the Air Force veteran brings a keen analytical approach to the forces, moments, and vectors that go into the design of a new smile.
To augment his expertise using the many technologies of the modern orthodontist—self-ligating brackets, SureSmile, Invisalign, soft-tissue lasers, temporary anchorage devices, and i-Braces are among the items in his armamentarium—Norris went a step further and developed what he calls a "differential anchorage system." The technique is a way to offer limited treatment without the side effects traditionally associated with the "halfway" approach. "Essentially, we bond the well-positioned teeth with a heavy retainer wire and use them as anchors against teeth that need to be moved," Norris says. "It is extremely efficient, and it is the most profitable thing I do in my practice."
The technique took shape when Norris continued to get a lot of new adult patients who came in wanting limited treatment—for example, asking for just their lower anterior teeth to be straightened. What usually ended up happening was that an initial four brackets turned into six. Soon he was treating the whole arch—which often led to fitting problems with the upper arch. The snowball began, and Norris admits it was frustrating.
To help these patients, who essentially had a good bite but had a minor relapse of crowding, Norris borrowed a concept developed by Invisalign. Invisalign could hold an occlusion fairly well, he explains, while moving just the target teeth that needed to be moved. "I decided to use that concept and came up with this differential anchorage system," Norris elaborates. "It is essentially taking teeth that are in a good relationship and splinting them together with a heavy stainless steel wire. You turn them into a bridge or an anchor unit that is splinted together, and pit that anchor unit against individual teeth that I want to move. And just like tug-of-war, if you have big strong guys on your team, you are usually going to win."
Breaking the procedure down by appointment yielded a startling conclusion: on a per-appointment basis, the process immediately came back as his most profitable. "Unfortunately, it is really not marketable," Norris says with a wry smile. "I do plan to share it, and I have talked about it at a couple of small meetings. The people who have adopted it and use it love it."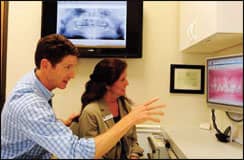 An early adopter of emerging technologies, Norris also applies his military training to practice management, employing a reservist who can lend a hand when he needs one.
People Power
Norris has never been shy about diving into the latest technologies and staying ahead of the curve. The philosophy extends to his early adoption of SureSmile and his embrace of practice-management software such as Oasys. However, his most vigorous investment is in people power. "I took a concept from my military training into private practice, and that is to always have a reservist," Norris says. "Everyone has a patient's mom, or a former patient with a flexible schedule, who says the practice seems like such a fun place to work. Bring her in and get her trained. In a pinch, you could call on her to come in and help out."
With the start of the 2009 to 2010 school year and the inevitable crush of patients, Norris did just that and his trusty reservist (who is on a retainer—all puns intended) helped the office run smoothly despite the intense workload. Norris uses two treatment coordinators, so he never has a bottleneck in what many deem the most important appointment—the new patient examination. A clinical assistant on reserve completes the picture of chairside efficiency.
The final ingredient is a personal assistant who does a variety of tasks that allow Norris to focus almost solely on orthodontics. Flight reservations, picking up dry cleaning, and car maintenance are all fair game. "My assistant does marketing for our office, gets muffins for the office, orders uniforms, schedules doctor appointments for me, and many other things," Norris says. "I want to do what I'm good at, and that is orthodontics. She started off as one of my clinical assistants, and she has now been with me for 9 years."
At the end of a hectic day, it's unlikely that Norris and his staff will have to deal with a complex procedure, because they make sure of it. Observation recall appointments and routine checks are the norm at late hours, a fact that office personnel truly appreciate. "Those 5-, 10-, or 15-minute appointments generally do not allow you to open up a can of worms when you are trying to get out of the office," Norris says. "If you do a full bonding right at 4 o'clock, you run a much higher risk for opening that can of worms. So the office staff appreciates this, and my family appreciates it also."
With a wife, three children, and a busy practice, Norris still makes time for monthly travel. In fact, he is out of the office 1 week per month, going to continuing education meetings, study clubs, and skiing in the winter. Sometime during all of this, he also finds time for sculpture, a passion uniquely appropriate for someone who prides himself on molding smiles.
Norris discovered the art of sculpting after commissioning an artist to sculpt his children. In the process, he took a class and discovered a hidden talent. Now, influential professors and family members often receive bronze busts courtesy of Norris. "You could say that sculpting really does help my orthodontics, because facial proportions and facial anatomy are such a big part of my job," says Norris, who molds his busts in clay, then takes the final product to a bronze foundry where copies can be made. "I am now in the process of sculpting my children yet again. It is a wonderful way to capture their youth through a work of art."
---
Greg Thompson is a contributing writer for Orthodontic Products. For more information, contact