Vision USA, Cherry Hill, NJ, offers its new telescope glasses, which can be worn over prescription, safety, or safety laser glasses. The glasses work like sunglasses that are worn over prescription glasses. They are available in 2.5x and 3.5x magnifications. The glasses feature a titanium frame, a flip-up function, and nose pads. The telescope angle is adjustable.
Vision USA
(800) 257-5782
visionusasupplies.com
---
DentaPod UV Dental Appliance Sanitizer
Practicon , Greenville, NC, now offers a personalized version of its DentaPod UV™ Removable Appliance Sanitizer and Storage Case. The unit can be imprinted with up to five lines of text with 26 spaces per line. DentaPod UV disinfects and protects removable dental appliances. According to the company, the unit's patent-pending, low-wattage bulb and reflective inner tray emit ultraviolet light to kill 99.9% of common bacteria and other microorganisms on appliance surfaces. The DentaPod UV holds most orthodontic appliances, aligners, retainers, whitening trays, mouthguards, and nightguards. The unit features an autotimer and safety shutoff. Batteries are included.
Practicon
(800) 959-9505
practicon.com
---
SteriSURE Dry Heat Sanitizers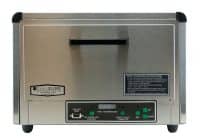 CPAC Equipment Inc, Leicester, NY, offers SteriSURE Dry Heat Sanitizers. Models 2100 and 3100 of the microprocessor-controlled units are for use with all metal and steam-sensitive instruments. The machines automatically start the sterilizer cycle and set the temperature at 320°F and time at 60 minutes. The time and temperature (in Celsius or Fahrenheit) are displayed throughout the cycle, providing the operator updated sterilization information. SteriSURE Dry Heat Sanitizers feature a USB printer output to provide a permanent record of the sterilization cycle data.
CPAC Equipment Inc
(800) 828-6011
sterisure.com
---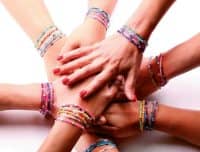 Bracedlets
New York-based orthodontists Marc Lemchen, DMD, and Jennifer Salzer, DDS, and jewelry designer Lisa Salzer have created Bracedlets, bracelets for patients that are fabricated out of brand new, authentic orthodontic materials. Each bracelet is accented with metal brackets and contrasting elastic rubber bands. The bracelets are designed to be mixed and matched.
Bracedlets
(516) 495-1371
bracedlets.com
---

ContacEZ Serrated Dental Strips
ContacEZ, Vancouver, Wash, offers ContacEZ Serrated Dental Strips. The strips are available in two versions: Serrated Dental Strip I and Serrated Dental Strip II. The 0.035-mm Serrated Dental Strip I is designed to cut and clean out excess cement in the interproximal space after cementation. The 0.065-mm Serrated Dental Strip II is a heavy-duty dental saw and is designed for more rigorous cutting and cleaning. The company is currently offering a package including eight of each strip for $82, with free shipping.
ContacEZ
(360) 694-1000
contacez.com
---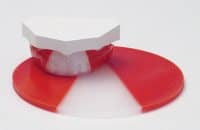 Bioplast Xtreme Hard/Soft Mouthguard Material
Great Lakes Orthodontics Ltd, Tonawanda, NY, offers Bioplast® Xtreme Hard/Soft Mouthguard Material. The Bioplast Xtreme provides two degrees of hardness in one material. According to the company, the Bioplast Xtreme material features a transparent, rigid, v-shaped section, which creates extra anterior protection and allows users to control the number of teeth they want to cover by changing the position of the model. Available in blue, black, and red, it comes in 4- or 5-mm thickness.
Great Lakes Orthodontics
(800) 828-7626
greatlakesortho.com
---

Wondersoft Aloe Vera Lotion
Dental Creations Ltd, Waco, Tex, now offers Wondersoft Aloe Vera Lotion. Available in 16- and 32-fluid-ounce pump bottles, Wondersoft Aloe Vera Lotion contains 88% aloe, and can be used to soften skin, relieve dryness and itching, and soothe tension and aches. The nongreasy formula is petroleum- and lanolin-free and latex compatible.
Dental Creations Ltd
(254) 772-4661
wonderfill.com
---
DiamondClean Power Toothbrush

Philips Sonicare, Stamford, Conn, has added DiamondClean to its power toothbrush product line. DiamondClean features five brushing modes, allowing users to customize their brushing to their needs. Modes include Clean, White, Polish, Gum Care, and Sensitive. DiamondClean brush heads have a diamond-cut shape and 44% more bristles than the company's standard ProResults brush heads. DiamondClean can be charged in a glass cup that doubles as a drinking glass and comes with a travel case that allows for charging via USB port.
Philips Sonicare
(800) 676-7664
sonicare.com