New Products
CliniPix Canon Rebel T3i Digital SLR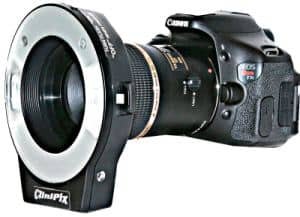 CliniPix, Wellington, Fla, offers the Canon Rebel T3i Digital SLR camera for orthodontic use. The 18-megapixel camera features a 3-inch vari-angle LCD screen and high-definition movie capability. The Canon Rebel also features a wireless ring flash that is E-TTL dedicated and battery-powered. The Tamron 90-mm macro lens can be used in manual or auto-focus modes. According to the company, the 90-mm focal length allows for a comfortable working distance when taking 1:1 views of the posterior region and will focus to distortion-free full-face or profile shots. The camera package includes a 2 GB SD card, a USB card reader, a stainless steel mirror, retractors, and imaging and printing software. The system comes preset with all functions for dental use, and includes specific instructions and unlimited toll-free telephone support.
CliniPix
(866) 254-6749
clinipix-on-line.com
---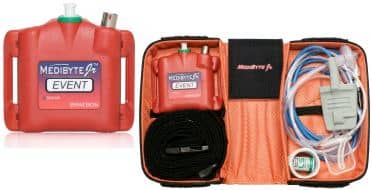 MediByte Junior
Great Lakes Orthodontics Ltd, Tonawanda, NY, offers Braebon's MediByte Junior, an oral appliance monitoring device for snoring and sleep apnea. This home sleep-testing device captures oral and nasal breathing. MediByte Junior detects positional apnea, is CPAP-compatible for hybrid therapy, and uses technology similar to that found in sleep laboratories. Designed for 1- or 2-night studies, MediByte Junior can be used for both adult and pediatric patients. MediByte Junior is approved by the US Food and Drug Administration and Health Canada, and is CE Certified.
Great Lakes Ortho-dontics
(800) 828-7626
greatlakesortho.com
---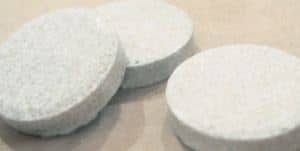 Ultrasonic Enzyme Cleaner
OrthoEssentials,xxxx Southampton, Pa, introduces its new Ultrasonic Enzyme Cleaner. The anticorrosive, dual-enzyme detergent solution can be used in the ultrasonic presoak. The solution can also be used as a general-purpose cleaner around the orthodontic office and as a secondary evacuation system cleaner.
OrthoEssentials
(866) 517-3257
orthoessentials.net
---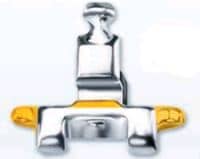 Fastbraces Bracket System
Fastbraces®, Plano, Tex, offers its Fastbraces bracket system, developed by Anthony Viazis, DDS. According to the company, the system uses a triangular bracket that typically allows orthodontists to use just one wire throughout treatment, thus completing the movement of both crown and root of each tooth at the same time. Since the root is moved from the beginning of treatment, the company says, treatment with Fastbraces can be completed in 1 year.
Fastbraces
(888) 867-9473
fastbraces.com
---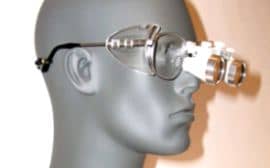 Task-Vision Lana Telescope Loupes
Vision USA, Cherry Hill, NJ, offers Task-Vision Lana Telescope loupes. Dust-resistant and waterproof, the loupes feature a new design that includes a platinum-style frame. They are available in 2.5x or 3.5x magnifications with side shields. The Task-Vision loupes feature a flip-up function, a fully adjustable viewing angle, and an adjustable nose bridge. They can accommodate users' prescriptions, and come with a travel case.
Vision USA
(800) 257-5782
visionusasupplies.com
---
Invisalign G4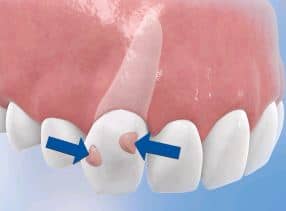 Align Technology Inc, San Jose, Calif, has introduced Invisalign G4, an updated version of its clear orthodontic aligner system. Using a new multitooth approach for open-bite treatment and improved Optimized Extrusion Attachments, Invisalign G4 is designed to improve clinical outcomes when treating anterior open bites. In addition, new Optimized Multi-Plane Movement features are designed to improve control of upper laterals undergoing extrusion along with rotation and/or crown tip. Invisalign G4 also includes new Optimized Root Control Attachments to provide greater mesiodistal root control for canines and central incisors.
In addition to these new features, Optimized Attachments that were introduced with Invisalign G3 can now be used in conjunction with Precision Cuts when treating Class II and Class III patients with Invisalign.
The expanded Invisalign G4 product features are available on Invisalign Full, Invisalign Teen, Invisalign Assist, Invisalign Express 10 (previously Invisalign Express), and Invisalign Lite (for international markets) at no additional cost to Invisalign-trained doctors worldwide.
Align Technology
(408) 470-1000
aligntech.com
---
ClearVision Digital Sensor System by Progeny
Midmark, Versailles, Ohio, has introduced the ClearVision™ digital dental sensor system by Progeny. The new sensor system features rounded corners, contoured surfaces, and a flexible cable that allows the sensor to be positioned as needed for more accurate image acquisition and patient comfort. ClearVision uses USB 2.0 technology to connect to a PC and comes with a quick calibration flash drive to prepare the sensor for installation. The system's Kevlar® reinforced cable and hermetically sealed, waterproof design were created for durability during repeated routine cleaning. ClearVision uses CMOS technology to optimize resolution while reducing noise and is compatible with leading practice-management systems, according to the company. The new sensor system also comes standard with Progeny Imaging software.
Midmark
(800) 643-6275
midmark.com
---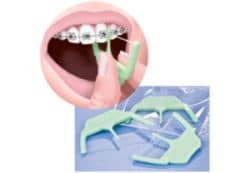 FlossBow Orthodontic Flossers
Practicon, Greenville, NC, now offers FlossBow™ Ortho Flossers. Designed to help patients floss behind braces without a threader, FlossBow improves orthodontic flossing compliance and patient care, according to the company. FlossBow features secure end points to keep floss from coming loose, as well as a double-ended design. Featuring a mint flavor, FlossBow Ortho Flossers come individually wrapped.
Practicon
(800) 959-9505
practicon.com
---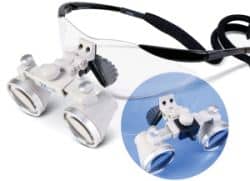 CHF-Series Galilean Loupes
Practicon Inc, Greenville, NC, now offers CHF-Series Galilean loupes. The loupes feature a water-tight lens seal, which allows for spray disinfection and rinsing. A flip-up, double-hinge design allows orthodontists to set the intrapupillary distance, convergence, and viewing angle. The CHF-series Galilean loupes have a snap-on mount, enabling attachment to most LED headlamps. The loupes are available in 2.0x, 2.5x, and 3.0x magnifications, and are premounted onto a wraparound safety frame.
Practicon
(800) 959-9505
practicon.com
---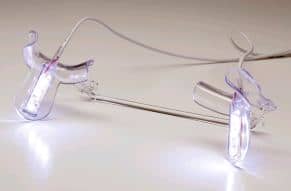 Molar Bond Illuminated Cheek Retractor
Molar Bond LLC, Mentor, Ohio, offers the OralEnlight™, an illuminated cheek retractor. Available with white or orange light, the OralEnlight provides illumination from inside the mouth to help orthodontists with posterior bracket placement. The OralEnlight Clear has a white light and is recommended for orthodontists who place brackets one at a time. The OralEnlight Orange is recommended for orthodontists who have their assistants place all the brackets prior to the orthodontist's final positioning. OralEnlight Orange is also recommended for residency programs where students need instructor input prior to final cure.
Molar Bond
(800) 577-0010
oralenlight.com