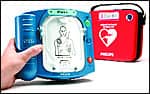 Defibrillation Unit
Great Lakes Orthodontics offers the Phillips HeartStart Onsite Defibrillator, an automated external defibrillator that allows a minimally trained responder to provide treatment for sudden cardiac arrest. HeartStart is compact and weighs 3.3 pounds. Using natural voice instructions, the defibrillator guides the responder through each step of defibrillation and CPR, and reminds him or her to call for emergency help. Integrated SMART Pad technology senses a responder's actions and automatically adjusts the pace of the voice instructions to match the responder's needs. The defibrillator can be used on infants and children with specially designed infant/child pads that reduce energy output to an appropriate level.
For more information, contact Great Lakes Orthodontics, 200 Cooper Ave, Tonawanda, NY 14151-5111; (800) 828-7626; www.greatlakesortho.com.
---

Ceramic Brackets
LeoneAmerica introduces Aqua™ ceramic brackets, which are manufactured with a sintering process to achieve an alumina and polycrystalline structure with a uniform particle size. Aqua's slot has a Crystalgloss™ finish that eliminates friction, according to the company. The bracket features a mechanical lock and is made without a metallic slot, eliminating allergic reactions. Aqua may be used with the Slide ligature system to decrease treatment time. It is available in extra small, small, and medium sizes.
For additional information, contact LeoneAmerica, 501 W Van Buren, Suite S, Avondale, AZ 85353; (800) 242-9986; www.americantooth.com.
---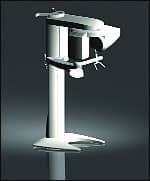 X-ray System
Sirona Dental Systems introduces Galileos, a 3D x-ray imaging system. The system features cone-beam technology, which calculates a large-volume 3D image set with more than 200 exposures in a single low-dose 3D scan that lasts 15 seconds or less. The image set is processed and presented in Galileos software, an advanced extension of the SIDEXIS XG imaging software. Galileos allows clear navigation and diagnosis in the traditional pan, ceph, and TSA displays. GALILEOS is an all-in-one diagnostics and planning system that is controlled via its EasyPad Touchscreen and is integrated with its GALAXIS 3D imaging software. It comes with integrated hardware and software.

For more information, contact Sirona Dental Systems, 4835 Sirona Dr, Suite 100, Charlotte, NC 28273; (800) 659-5977; www.sirona.com.
---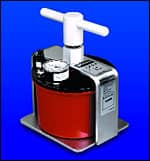 Curing Unit
Lang Dental Manufacturing offers the Aquapres®, a hydraulic pressure-curing unit that needs no heat, electricity, or compressed air. According to the company, the unit gives self-curing resins greater color stability and density. The Aquapres is used when repairing, relining, or rebasing a denture and when fabricating an orthodontic appliance, bite plane appliance, or temporary crowns and bridges. It is maintenance-free and easy to use. The Aquapres comes with a 1-year unconditional guarantee.
For more information, contact Lang Dental Manufacturing Co Inc, 175 Messner Dr, Wheeling, IL 60090; (800) 222-5264; www.langdental.com.
---

Aligner Treatments
OrthoClear offers three products for orthodontic treatment. OrthoClear FT is a full-treatment product, appropriate for molar adjustments. It is used for moderate to severe treatments and includes 2 years of aligner treatment. OC 4 x 4 is a midtreatment product, appropriate for minor crowding and spacing within the anterior. It is used when moving only the eight most anterior teeth on either or both arches and includes 2 years of aligner treatment. OC 10 is a limited-treatment product, appropriate for minor amounts of crowding and/or spacing, and it includes 10 stages, or 30 weeks, of aligner treatment.
For more information, contact OrthoClear Inc, 580 California St, Suite 1725, San Francisco, CA 94104; (866) 675-7600; www.orthoclear.com.
---

Flash Drive
Kanguru Solutions introduces the KanguruMicro Drive AES, which has completed Federal Information Processing Standard (FIPS 140-2) Certification testing, ensuring that it is secure for storing sensitive data. According to the "Federal Information Processing Standards Publication 197," AES is a symmetric block cipher that encrypts data into an illegible form called ciphertext, making it impossible for outsiders to reach the data. The KanguruMicro Drive also meets Sarbanes Oxley and HIPAA standards. It offers 256-bit AES encryption and is available in green, red, and yellow housings for custom security applications. It can be programmed with unique identifiers and may be imprinted with custom logos. The drive is available in capacities ranging from 128 megabytes to 8 gigabytes.
For more information, contact Kanguru Solutions, 1360 Main St, Millis, MA 02054; (508) 376-4245; www.kanguru.com.
---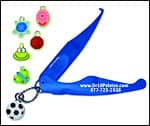 Palatal Cleaner
Big Palette Enterprises offers the L'il Palates™ sweeper, which features a hooked end that cleans between a palatal expander and the palate. It is thin and flexible, and it bends with the palate's curvature to reach areas where food becomes trapped. It also can be used with lingual bars, Nance, Herbst, MARA®, pendulum, and distalizing appliances. The cleaner is individually packaged and is stored within its own handle (like a pocketknife) when not in use. It is available in lavender and blue, and it includes an attached key chain with a rubberized emblem that is available in six designs. L'il Palates sweepers can be custom-imprinted with your practice name, Web address, and/or phone number.
For more information, contact Big Palette Enterprises, 34 Berkley Rd, Suite 100, Devon, PA 19333; (877) PALATE8; www.lilpalates.com.
---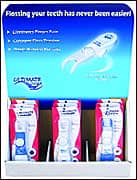 Flosser Device
Almore International introduces the Ultimate Flosser. The floss-advance button provides a clean piece of floss each time it is pressed. This feature reduces the risk of transferring bacteria that may be present in a contaminated area. It also prevents gingivitis and gum disease and facilitates one-handed flossing. Patients place the floss spool, thread into place, and use. No restringing is needed. The package includes two 30-yard refill spools.
For more information, contact Almore International Inc, PO Box 25214, Portland, OR 97298; (800) 547-1511; www.almore.com.
---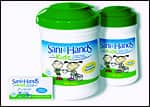 Antimicrobial Hand Wipes
PDI introduces Sani-Hands® for kids, which are hand wipes that contain an antimicrobial alcohol gel. The premoistened wipes reduce the risk of cross-contamination and infection. The wipes, which may also be used by adults, contain aloe, glycerin, and vitamin E to minimize the drying effects of alcohol and to moisturize the skin. Sani-Hands are available in 220- and 135-count canisters and in individual "on-the-go" packets.
For more information, contact PDI, 2 Nice-Pak Park, Orangeburg, NY 10962; (800) 999-6423; www.pdipdi.com.