by Lori Sichtermann
Dustin Burleson, DDS, donates his time to treat kids with cleft palate
Photography by Susan McSpadden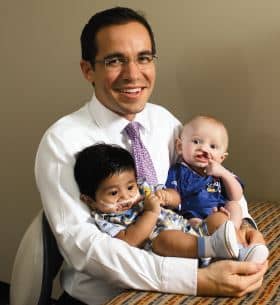 Burleson holds his patients Bryan Mojica (left) and Thomas Coen.
Dustin Burleson, DDS, was born into orthodontics. "There are 12 dentists in my family, so I grew up in the profession," he says. "I had an interest in the field since I was a little kid, and I kept following through on that throughout my education."
Burleson was 9 years old when he began spending time in his father's dental practice as something more than just a guest. "I helped out in the office from a very young age, and I've been in love with the profession ever since," he adds.
Burleson's child-like amazement with dentistry and orthodontics is something he retains today, and with good reason. As the owner of two private practices in the Kansas City area—one of which he shares with his wife, Amy Burleson, DDS, a pediatric dental specialist—Burleson has come to excel in the area of pediatric care. In fact, between the two practices, the patient load is 80% adolescents. "I love working with younger patients. It keeps the day exciting and keeps me on my toes," Burleson says.
In addition to providing top-of-the-line orthodontic treatment, Burleson has become a regional celebrity of sorts for his work with cleft palate and craniofacial patients. As one of only three doctors in the state of Missouri to provide a specialized cleft palate treatment to children in need, Burleson further dedicates himself to the cause by performing much of the work pro bono.
Whether working out of the office or during his lunch breaks, Burleson's dedication to helping those in need has shaped his career as an orthodontic provider.
PRACTICE PROFILE
---
Practice name: Burleson Orthodontics
Location: Kansas City, Mo
Office square footage: 2,200
Number of chairs: 4
Years in practice: 6
Education: University of Missouri, Kansas City
Average patients per day: 80
Starts per year: 35 (cleft palate),
20 (Smiles Change Lives)
Days worked per week: 5
Top five products used: American Orthodontics Empower Brackets, topsOrtho, Planmeca Digital x-rays, Sesame Communications, OrthoCAD
Web site: burlesonorthodontics.com
A Free Spirit
After earning his DDS at the University of Missouri, Kansas City, Burleson worked as an associate general dentist for 2 1/2 years with Gloria Roberts, DDS, at Grace Dental in Overland Park, Kan. "I enjoyed general dentistry, but I liked orthodontics just a little bit more," he recalls.
Burleson was drawn to orthodontics because it offered the ability to create dramatic, cosmetic improvements without having to use a drill or porcelain. "Having a cosmetic specialty without having to cut on teeth was very promising to me," he says.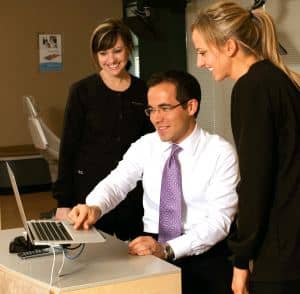 Burleson plans another busy day with Becky McBride (left) and Anna Sloan.
In 2006, he opened his own orthodontic practice in Kansas City's Briarcliff Village. Five years later, in 2011, Burleson opened another one in nearby Raymore.
As a practicing orthodontist, Burleson also had the desire to explore various avenues where he could apply his talents. This eventually led him to Children's Mercy Hospital and Saint Luke's Hospital in Kansas City, where he joined the cleft palate and craniofacial teams.
"Once a week, my wife and I work as staff at Mercy Hospital, providing pediatric dentistry and orthodontic services," Burleson explains. "Over time, we found that we had an interest in working with kids who had cleft palate and craniofacial issues."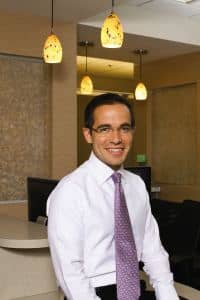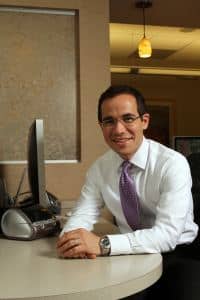 Burleson and his wife also discovered that many of the patients who needed dental, orthodontic, or cleft palate treatment at the hospital were in difficult socioeconomic situations. "We found that there was more need for kids in Missouri and Kansas who were falling through the cracks," Burleson says. "These kids had parents who had jobs, yet made just enough to not be on Medicaid or afford orthodontic treatment."
With a sense of compassion for those in need, Burleson took on much of the orthodontic work at Children's Mercy Hospital as pro bono cases. News of what he was doing began to spread, and the demand increased for Burleson during the 1 day a week he would spend at the hospital.
"I'd apply nasoalveolar molding to infants at the hospital who needed the care. This is a time-consuming technique, and the hospital only has five chairs. Therefore, if we had eight babies going, I was tying up all their space," Burleson explains. "So, my wife and I actually switched the work we were doing with the kids to private practice so that we see them in both of our private practice locations."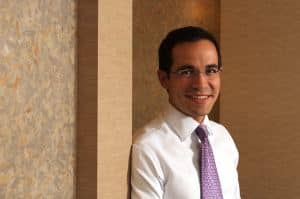 Moving the pro bono work to the private offices required a shift in workloads for Burleson and his wife. When the work first began, Burleson and his then associate Terra Cash, DDS, saw cleft palate kids any time they could—including during their lunch hours. Soon, what started as a small area of specialization for Burleson Orthodontics turned into a major professional focus for the practice.
"Today, a large part of our practice, and a large part of our week, is open for cleft palate kids, or kids who have craniofacial abnormalities," he explains. "We do a significant amount of interceptive treatment or appliances for kids with crossbites or thumb-sucking habits."
Cash has since relocated to her hometown of Springfield, Mo, but Burleson continues the pro bono work for families in need, single-handedly and with an unbridled sense of dedication.
Cleft Palate Treatment Specifics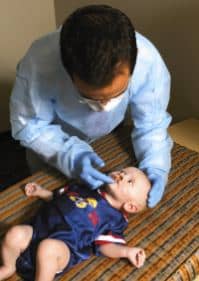 Each pro bono cleft palate case requires an enormous amount of precision and time. "In nearly all the cleft palate kids we see, I start as early as one week of life," Burleson says.
To begin cleft palate treatment, Burleson does presurgical orthodontics to reduce the size of the cleft. "Mostly, the research shows the benefit is to form the nasal cartilage or create symmetry," he explains. "Basically, I provide a symmetrical nose for the surgeon to repair."
According to Burleson, for the first 3 or 4 months of a young patient's life, he slowly reapproximates the cleft segments and then stretches the cartilage in hopes of creating aesthetics that are more long-term.
In some of the more severe cases, infant patients will undergo nasoalveolar molding (NAM) treatment. "NAM is not something that everybody goes through," Burleson explains. "The parents have to be really committed. Because the baby is growing so rapidly, we have to adjust the appliance every 7 to 10 days. It's a labor-intensive process."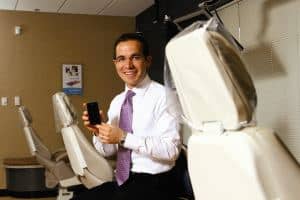 The technique Burleson uses was developed by Barry Grayson, DDS, a craniofacial orthodontist at New York University's Langone Medical Center and the Institute for Reconstructive Plastic Surgery. "Because I'm not a craniofacial orthodontist, and because these types of techniques aren't taught in orthodontic residency, I trained under Dr Grayson to learn how to apply the treatment," Burleson says.
Burleson also earned a certificate of advanced graduate study in Orthodontics and Dentofacial Orthopedics at the UMKC School of Dentistry, and he applies this knowledge along with what Grayson recommends.
Grayson's system for treatment wasn't developed until roughly 15 years ago. When Burleson received his training and started working with cleft palate kids in 2009, Grayson's techniques and theories of treatment for cleft palate care were still under the radar for many orthodontists. Three years later, Burleson continues to be the only orthodontist in Kansas City offering the treatment.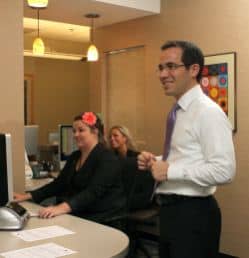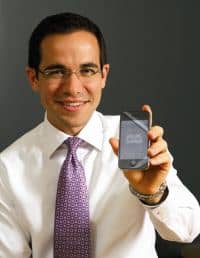 "Part of the reason for the limited amount of orthodontists offering the treatment is because they want to be sure that the technique has been productive over the course of the patient's life," Burleson explains. "However, studies are beginning to come out regarding patients who received Grayson's treatment when they were newborns. Now that these patients are done growing, we're able to get a firm realization of the lasting effects of the work that was done years ago. And, so far, the current studies show the treatment has been a tremendous success for these patients."
Between his two practices and the work he continues to do at Children's Mercy Hospital, Burleson and his cleft palate team see 120 babies a year. What's more, since 2006, Burleson has provided more than $258,000 worth of pro bono medical care to children in need.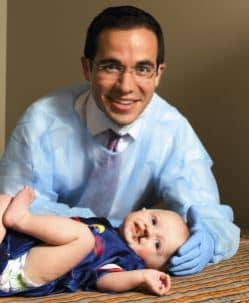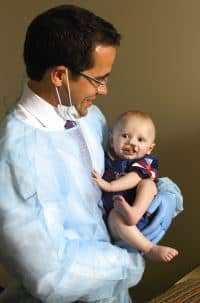 "Each year we take on more children, and all without the help of advertising or marketing of any kind," Burleson says. "Our patients come to us—some from hundreds of miles away—based on word of mouth that we do this kind of work, and for free. It's an intensely satisfying experience to know we're making such a difference for so many people."
Improving the Profession
In addition to his pro bono work for patients and families in need, Burleson also devotes a sizable amount of his time to teaching. Since 2006, he has taught pediatric dentistry to graduate students at Children's Mercy Hospital. "It's a 2-year program where I demonstrate interceptive orthodontics, such as growth and development and things like eruption patterns and interceptive guidance inclusion," he explains. "It's very simple and straight-forward orthodontics."
Burleson also shares his time with graduate students in the School of Dentistry at his alma mater, the University of Missouri, Kansas City. "Since 2008, I've been a part of the graduate department at UMKC," Burleson says. "For those students, I teach graduate orthodontic residents, comprehensive orthodontics, and cleft palate care. I also teach practice-management in the graduate orthodontics department."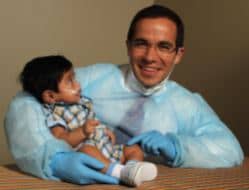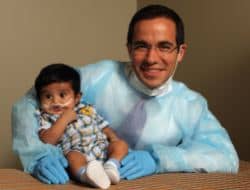 As a successful, albeit busy, orthodontist with two practices and a growing patient load of individuals needing specialized care, it would appear that Burleson has discovered how to get more than 24 hours out of each day. Add to that mix the demands of being a husband and father of three, and it's downright inspiring to note his success as a graduate professor. "I really just can't say no," Burleson admits. "I've always believed that it's important to give back to my specialty and teach part-time."
Burleson admits he happily walks in the footsteps of his dental school professors. "They were all in private practice, yet they gave back a half of day to teach a different perspective of the profession," he explains. "I had such respect for these professors, and I was honored to be asked back to teach."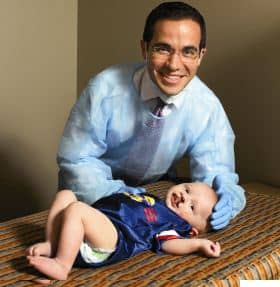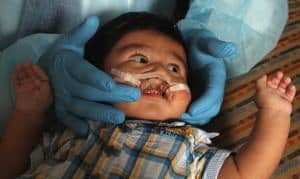 It's obvious that Burleson enjoys a challenge. And, as he explains, working with the next generation of aspiring orthodontists has piqued his interest in a number of ways. "It keeps me current and on my toes. The residents have a very fresh outlook—their views are totally new to the specialty. I like that they really do think individually and present treatment plans that maybe I wouldn't have thought about."
Burleson's career so far has been based on applying his knowledge and technique and watching as his work unfolds. When it comes to teaching, that sense of accomplishment is even more satisfying. "I like seeing the transition of a first-year resident to someone who is about to graduate—to really see the development of that professional," he says. "For me, it's one of the many things that make this profession really special."
---
Lori Sichtermann is a contributing writer for Orthodontic Products.
A Solid Foundation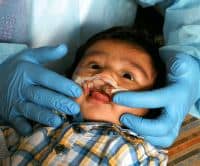 In 2009, Dustin Burleson, DDS, and his wife, Amy Burleson, DDS, (a pediatric dentist) began work at The Children's Mercy Hospital in Kansas City, Mo. In their joint efforts working with patients at the hospital, primarily children, the Burlesons recognized a number of children who were unable to afford orthodontic treatment in private practice.
"A lot of our patients couldn't afford orthodontic care," he says. "The hospital would take these kids on and handle their interceptive treatment—they could get their expansion done prior to the bone graft—but, for the remaining orthodontic work, or for kids who needed orthodontic surgery but couldn't afford braces, there wasn't a resource for these patients."
At the time, Burleson had been donating a large amount of his time and resources to Kansas City-based Smiles Change Lives, a nationwide nonprofit organization that provides medically necessary orthodontic treatment for children from low-income families.
The Burlesons acted on their experiences with the nonprofit, and developed the Leo H. Rheam Foundation in an effort to bring cleft palate care to a more localized level. The foundation, which is named after Burleson's grandfather, helps kids in Kansas and Missouri receive orthodontic treatment prior to cleft palate or orthodontic surgery. Burleson explains that his grandfather was not one of the 12 dental practitioners in his family. Instead, he gave a lifetime of service to others as a State Trooper and volunteer for many children's programs in the Pennsylvania area.
"The Rheam Foundation provides pro bono orthodontic care for children who need medical treatment," Burleson explains. "A large part of the foundation is providing support financially for those families who can't afford the treatment, yet they don't qualify for Medicaid."
To date, the total amount of free orthodontic treatment provided by Burleson Orthodontics to deserving children through the Leo H. Rheam Foundation has totaled more than $258,000. "My wife and I decided to start the Rheam Foundation based on a need we identified years ago," Burleson notes. "It's been exciting to watch it grow and to witness the success of patients who have benefited from the organization."
In addition to leading his own nonprofit foundation, Burleson remains a devoted member of Smiles Change Lives. "I've been with them since I started practicing in 2006," he notes. "I support the organization financially and through my work as an orthodontist in the Kansas City area."
In late 2011, Smiles Change Lives honored Burleson with the Ginny award for his service with the organization. "Each year, we take on more kids as patients via Smiles Change Lives," Burleson adds. "And, we're eager for that number to continue growing." —LS