On the Market
Practice-Management Software

Ortho Computer Systems Inc has added 10 new features to ViewPointTM 4.0 practice-management software. ViewPoint Fingerprint is a biometric fingerprint-recognition feature that allows patients to sign in from on-deck or employees to log into the time clock with the touch of a finger. ViewPoint Credit Card works with all major credit cards and allows swiping or manual entry of credit card information from within ViewPoint. ViewPoint Signature provides digital signatures for document archiving without scanning signed documents. ViewPoint Imaging allows offices to capture, enhance, and present patients' digital records. ViewPoint Reminder automates both phone and email patient-appointment reminders. ViewPoint Messaging helps communicate via on-screen text to each workstation, while ViewPoint Document stores exact copies of anything the office scans or prints. ViewPoint Remote provides safe access to office applications from anywhere. ViewPoint To Do helps prioritize and track office tasks, and ViewPoint Timeclock tracks staff time for payroll and displays staff work status.
For more information, contact Ortho Computer Systems Inc, 1107 Buckeye Ave, Ames, IA 50010; (800) 678-4644; www.orthoii.com.
Night Guard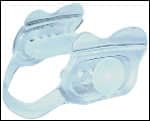 Splintek offers the SleepRight Rx Adjustable Night Guard, which is one-size-fits-all and has four adjustments for customizing to different arch lengths. Orthodontic treatment can proceed uninterrupted even when treating bruxism or TMJ/TMD. The SleepRight Rx unlocks the occlusion and unloads the TMJ, allowing the mandible to seek a comfortable position for preorthodontic treatment. Elastics can be worn while wearing the guard, which can help correct Class II occlusions, open a deep bite, or correct a crossbite. Wide bitepads are available for patients wearing braces. SleepRight Rx comes with a 30-day money-back guarantee and a 6-month replacement warranty.
For more information, contact Splintek, 3325 Wyoming St, Kansas City, MO 64111; (888) 792-0865; www.splintek.com.
Telescopic Expander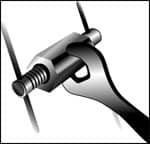 SUPERscrew SUPERspring Co offers SUPERscrewTM, whose 12-mm and 16-mm sizes have been unified to make the expander simpler to use. With the unified design, only a one-size wrench is needed to activate and lock both the 12-mm and the 16-mm sizes. The same lock nut will also fit both sizes. The Simplex Hex-designed SUPERscrew is friction-coated to prevent relapse and has an optional locking feature that provides true parallel maxillary expansion.
For more information, contact SUPERscrew SUPERspring Co, 135 Stables Way, Highwood, IL 60040; (800) 494-7594; www.superscrewsuperspring.com.
Power Component

Great Lakes Orthodontics offers the Inman Power Component (IPC), which may be used with a variety of appliances to protrude anteriors, regain space, distalize molars and bicuspids, expand arches, and perform multiple movements. Used in conjunction with a NiTi coil spring, the IPC provides continuous forces. Activation is easy, precise, and requires no special tools.
For more information, contact Great Lakes Orthodontics, 200 Cooper Ave, PO Box 5111, Tonawanda, NY 14151-5111; (800) 828-7626; www.greatlakesortho.com.
Thermoform Sheets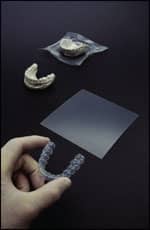 Glenroe Technologies offers Ultrafit thermoform sheets, which are made from a unique thermoforming material that has no discernable shrink. The material can be bonded to acrylic, making it perfect for creating bite planes and TMJ splints. The Ultrafit thermoform sheets can be used for retention, bite planes, and tooth movement. No cooling spray is needed when using Ultrafit, reducing the cost of making retainers. Ultrafit is available in round and square sheets for compatibility with most thermoforming machines, and comes in 1-mm, 1.5-mm, and 2-mm sizes.
For more information, contact Glenroe Technologies, 1912 44th Ave E, Bradenton, FL 34203; (800) 237-4060; www.glenroe.com.
Acrylic Formula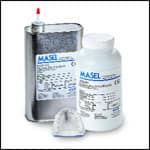 Masel offers Ultracryl IITM, an acrylic formula for preparing strong, hard, fog-free, and transparent appliances that will not break, scar, or scuff easily. Ultracryl II is a cadmium-free, extra-fine acrylic that allows for controlled placement of the powder for a stackable, nonslumping buildup. The liquid is crystal clear, with no haziness or opacity. It is also available in transparent pink, and comes in powder or liquid form. Ultracryl II works well with Masel's Electrik color and glitter additives.
For more information, contact Masel, 2701 Bartram Rd, Bristol, PA 19007-6892; (800) 423-8227; www.maselortho.com.
Interdental Cleaning Device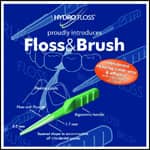 Hydro Floss Inc introduces Floss & Brush, an interdental cleaning pick with floss woven into a fine mesh on an easy-grip handle. Its design provides a soft, durable, flexible surface. Floss & Brush is impregnated with fluoride and can also be used as a medicinal applicator. It cleans efficiently around prosthetic and orthodontic appliances, crowns and bridges, and implants. Floss & Brush can be used daily for patients with special needs, for hard-to-reach areas between the teeth and gums, and for removing food debris and plaque.
For more information, contact Hydro Floss Inc, 3030 Dublin Circle, Bessemer, AL 35022; (800) 635-3594; www.hydrofloss.com.
Practice Growth System

Sesame Communications™ introduces Sesame Practice Marketing, an online communications solution for orthodontists. The marketing program is a suite of online tools that delivers professional-quality messages to a physician's community. The program leverages a practice's existing marketing initiatives, such as contests, sponsorships, and events, to achieve more exposure. Sesame Practice Marketing requires a designated staff member to spend just 1 hour per quarter and guides the user through a step-by-step program. Free Webinars teach practices how to succeed with marketing and help them with great new ideas.
For more information, contact Sesame Communications, 15 S Grady Way, Suite 420, Seattle, WA 98055; (877) 633-5193; www.orthosesame.com.
Spring Aligner
Inman Orthodontic Laboratories Inc offers the Inman Aligner, a spring aligner that uses the gentle, steady forces of nickel titanium coil springs. Its design allows for aggressive correction of anterior crowding and rotations associated with adult relapse. The aligner is completely controllable and easily adjusted. The Inman components may also be used in other appliance designs to retract anterior teeth or to jump anterior crossbites.
For more information, contact Inman Orthodontic Laboratories Inc, 9381 W Sample Rd, Coral Springs, FL 33065; (800) 289-0118; www.inmanortho.com.
Bending Pliers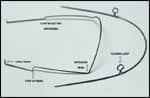 Suhail A. Khouri, DDS, offers Bendistal Pliers that bend nitinol, titanium, and other superelastic wires without annealing. The pliers can help intrude anterior teeth, correct cross-bites, expand or constrict dental arches, and rotate and tip back molars with simple and fast bends on tied archwires. The pliers feature a unique design that allows placing permanent bends in strategic locations on archwires that activate them to move teeth to their planned positions, all with a simple intraoral squeeze.
For more information, contact Suhail A. Khouri, DDS, 175 Lamp & Lantern Village, Chesterfield, MO 63017; (636) 230-9933; www.bendistalpliers.com.
Conflict-Resolution Book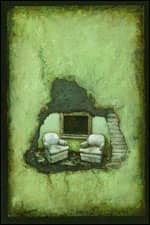 Hummingbird Associates offers the book, Beyond Resolution–Transforming Conflict in the Orthodontic Practice, by Karen Moawad, which includes lessons, exercises, and many true stories written exclusively for the orthodontic practice. The skills offered in this book for transforming conflict and moving beyond differences invite orthodontists and staff members to take a powerful step forward, to create a foundation for future productivity, and to discover the tools for building friendship and intimacy. A whole new level of trust develops as team members learn that "we can work it out." The book also offers strategies that should be considered to prepare for conflict.
For more information, contact Hummingbird Associates, PO Box 10279, Bainbridge Island, WA 98110; (206) 842-2661; www.hummingbirdassoc.com.
Lumineers Finishing Instruments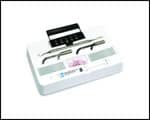 Den-Mat Corp offers the LumineersTM Finishing Kit, which provides exclusive tools that help make Lumineers placement more convenient and expedient. The all-inclusive kit allows orthodontists to finish Lumineers without the need for shots or drilling. The kit includes a CeriSaw and a CeriSander, which are used for interproximal finishing of multiple laminates and for opening composite restorations. The Burr Block provides fluted burs and fine-tapered diamond burs designed to allow the finishing of margins. The Schure 349 is a placement instrument for seating and finishing Lumineers. The Polishing Paste completes the Lumineers with a smooth shine that creates lustrous results.
For more information, contact Den-Mat, 2727 Skyway Dr, Santa Maria, CA 93455; (800) 445-0345; www.cerinate.com.
Resin Tip

Osada Inc offers the IM POINT 1 resin tip, an attachment for the Osada ENAC Quartz Piezoelectric Ultrasonic Oscillating System. By utilizing the fine oscillation of the ENAC Quartz Piezoelectric Ultrasonic System and the phenylene sulfide IM POINT 1, an orthodontist can smoothly scrape dental plaque and glue from the tooth surface without hurting enamel or implants.
For more information, contact Osada Inc, 8436 W Third St, #695, Los Angeles, CA 90048; (800) 426-7232; www.osadausa.com.
Plier Rack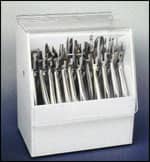 Ortho Organizers offers the Trim-Line Upright Plier Rack, which is a compact version of the Upright Plier Rack. The Trim-Line Upright Plier Rack is more than 20% smaller than its larger counterpart, and it is compact enough for easy chairside use and portability between offices. A clear, acrylic cover protects pliers from dust and contamination while allowing easy viewing to enable the orthodontist to make an instrument choice. Its dimensions are 6-in x 4-in x 7-in, and it holds 12 sets of pliers comfortably.
For more information, contact Ortho Organizers, 1619 S Rancho Santa Fe Rd, San Marcos, CA 92069-5198; (800) 547-2000; www.orthoorganizers.com.
Extended Warranty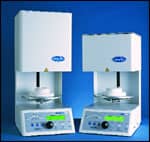 Whip Mix Corp offers an extended warranty on the Pro Press 100, the Firelite, and the Pro 100 furnaces for 3 years or 3,750 muffle hours, whichever comes first. The warranty covers the original purchaser (in US and Canada) against defective workmanship and materials under normal procedures of installation, use, and service within the dental profession. For international purchases, the warranty covers parts and labor for 2 years from the date of purchase from a dealer. The new warranty does not apply to products purchased before January 1, 2005.
For more information, contact Whip Mix Corp, PO Box 17183, Louisville, KY 40217-0183; (800) 626-5651; www.whipmix.com.
Web Search Engine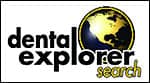 Advanstar Dental Media introduces Dental Explorer, a Web-based vertical search engine available at www.dentalproducts.net. The Web site provides information on new dental products and services that help dental professionals run their businesses. The site is an aggregate of all dentalproduct.net's products and includes dental content from the entire World Wide Web. It also allows the user to narrow a search by selecting one of 26 dental categories, such as cosmetic, endodontics, equipment, implants, office furniture, periodontics, or pharmaceuticals, from a drop-down menu.
For more information, contact Advanstar Dental Media, One Park Ave, New York, NY 10016; (212) 951-6600; www.advanstar.com.
Surgical Gloves
Henry Schein offers Criterion Latex Surgical Gloves that provide the optimum balance between barrier protection and tactile sensitivity. Their super-soft latex film and anatomical design provide comfort to reduce fatigue during even the longest procedures. The beaded cuff allows easy donning and, combined with the 12-in length, holds the gown firm to prevent roll-down or slippage. The gloves are available, 50 pairs per box, in sizes 5.5 to 9.
For more information, contact Sullivan-Schein Dental, 135 Duryea Rd, Melville, NY 11747; (800) 372-4346; www.sullivanschein.com.
Lotion Soap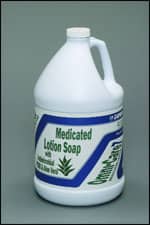 Mydent International offers Defend® Omni-Care7 Lotion Soap, which features an antioxidant formula with antimicrobial PCMX, a proven antiseptic that provides an extra level of protection in the operatory. Omni-Care7 contains seven natural ingredients and incorporates Bio-Structure, an all-natural herbal ingredient that gently cleanses without the use of harsh chemicals. Aloe vera and vitamin E help condition the skin and provide added protection against the effects of frequent washings.
For more information, contact Mydent International, 80 Suffolk Ct, Hauppauge, NY 11788; (800) 275-0020; www.defend.com.
Soft Caps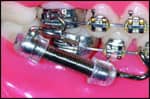 Comfort Solutions Inc offers soft caps designed from mouthguard material to fit over Herbst screws that cover ceramic or metal brackets, Class II correcting springs, HTH appliances, TP Flip Lock appliances, and transpalatal arches. These protective coverings bring instant relief and quick healing to intraoral ulcers caused by impinging appliances. They also provide comfort to patients who play musical instruments, and protect incisal edges that occlude against ceramic brackets.
For more information, contact Comfort Solutions Inc, 305-20897 57th Ave, Langley, BC, Canada, V3A-8L5; (604) 532-2078; www.comfortsolutions.ca.