by Sarah Schmelling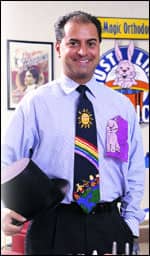 Brian Kerr, DMD, uses sleight of hand—and the occasional bagpipe solo—to keep his patients entertained
Brian Kerr, DMD, had been doing magic tricks since childhood, but it took a lecturer's words at a marketing seminar 5 years ago for the pieces to truly fit into place for his Scranton, Penn, practice.
"The person running the seminar said, 'Well, you're the magic orthodontist,' and I said I knew that," he explains. "She said, 'No, you're the magic orthodontist,' and again I said, yeah, I know. And she said, 'No, you're not getting it. You're The Magic Orthodontist,' " and finally, he understood that this was his niche—his way to get noticed.
But for Kerr, magic has always been much more than a marketing point for his practice. It's a way of breaking the ice with patients, making them feel more at ease. It can calm down the most upset child, and—just as important—the most agitated parents. It has helped him spread the word about oral hygiene to hundreds of children through presentations at local schools. The fact that it has also helped draw people to his increasingly technologically advanced office is just icing on the cake.
Talking Through Walls
Though Kerr has been practicing in Scranton for more than 8 years, he's still the youngest orthodontist in the town of close to 75,000 residents. It therefore makes sense that he continues to try to be a little different from his colleagues—and this extends well beyond magic.
In November 2004, he moved his practice from an old Victorian house to a more conventional office that he shares with a dentist in town. In the short time since then, Kerr has installed $50,000 worth of computer equipment at his central office and two satellite offices, and he is planning to go completely digital within the next few years. "Previously, the offices were computerized, but not networked together," he says. "That was causing some information-sharing problems, so we had to update."
Kerr installed imaging and management software systems and updated all hardware—from servers, to laptops, to desktops—and then installed multiple DSL lines to share information more efficiently. This way, Kerr says, "In our satellite, we're actually pulling information back from our main office. And then we're live in all the offices, so that no matter where we input data, we're all getting the same information."
Practice Profile
Name:
Magic Orthodontics
Location:
Scranton, Penn
Owner:
Brian Kerr, DMD
Specialty:
Orthodontics
Years in practice:
8
Patients per day:
50-60
Starts per year:
250
Days worked per week:
4
Office square footage:
3,000
Employees:
9
And while the nine-person staff he inherited upon moving offices had to learn a completely new way of doing things after having the same systems for many years, causing a "little rough ride," he says, Kerr believes it was the only way to ensure that things will be running smoothly for decades to come.
"I wasn't trying to make waves or anything like that, but I noticed some deficiencies and that some of the systems weren't current," he says. "We're still trying to get things where I'd like them to be."
Within the next 5 years, he hopes to go completely paperless, connecting new computers and digital x-ray systems to the existing network. Kerr says that when his practice was in just one office, it seemed like creating a chartless environment would be a helpful thing to do, but in an office with satellites, going digital will become absolutely necessary.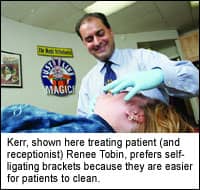 "It's just too much paper going back and forth—and charts everywhere," he says. Creating a completely digital office, he adds, will "smooth things out" as the years go by.
"If I were getting out of school now, I wouldn't even think about having charts. I would go digital from day one," he adds. "And I can't imagine practicing for the next 30 years, or however long it will be, without doing it that way."
For now, it will just be a matter of "working out the kinks" with the new systems they have, and then building on to the network with more digital technology.
Tricks of the Trade
Kerr is also unique among his Scranton brethren in his longtime use of ligatureless bracket systems. He believes this gives him an edge over other local orthodontists because the results he gets with self-ligating brackets—especially when it comes to oral hygiene—are so visibly apparent. "I noticed early on that kids and adults could keep their teeth a lot cleaner because they don't have all the little ties and O-rings and everything else," he says, adding that his new staff has noticed the improvements as well. "They can see the difference with patient comfort…and the assistants love it—they no longer have to spend half an hour putting two wires in."
The office also uses growth appliances, which have regained popularity in the past few years. "So we've taken that old technology and combined it with the new ligatureless brackets," he says. "And this has just really streamlined the technical part of doing the orthodontics, in that it's just better hygiene and less-frequent appointments. There's more comfort for the patients and fewer problems for the parents."
Now, Kerr just wants to more successfully spread the word about this work to the rest of his community because, he says, many of the dentists in town don't know that these systems are available. "I've gone around to dental offices and given presentations on these braces, and they were so excited to see what we could do, because we're actually extracting fewer teeth and using fewer appliances," he says. "So again, it's just a way of streamlining and making life easier for the staff, the patients, and the parents."
The Sorcerer's Apprenticeship
Kerr first got into magic when he was around 6 years old. By age 10, he was actually getting paid for performing at birthday parties; and by his teen years, he was going by the name "The Great Kerrdini"— Houdini was one of his idols—and practicing magic professionally. He worked a great deal throughout high school and college, doing mostly "restaurant work," which required going table to table and doing "personal" tricks with cards and coins, but he also did the bigger, cut-a-person-in-half tricks on stage.
Once Kerr was in dental school, magic—at least on a professional level—took a backseat to his studies, but he continued to learn tricks to perform for family and friends. Now, he not only does small tricks for patients between and during appointments—such as making balloon animals or pulling a silk from a sleeve or a coin from behind an ear—but he also gives new patients magic books so they can try a few tricks at home. "It's just a little book so they can do some tricks around the house—whether with a glass, or paper, or eggs—and it's just a lot of fun to share with them," he says, adding that he has probably, for better or worse, started a few kids on a "little magic career."
He says that while other practitioners might talk sports, something he "doesn't have a clue" about, magic is the thing he can share with patients to help them to get to know him and feel more comfortable.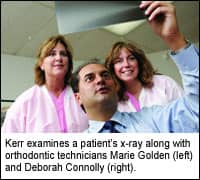 Kerr's magic gets a bigger stage when he visits schools, primarily during specific dental-focused times of the year. He has been the local chair of Dental Health Month for the last 3 years, and he was the Pennsylvania state chair 2 years ago. He says he speaks to approximately 1,000 children at multiple schools each year. The shows are about 70% dental-related and 30% magic, he says, but he tries to throw in tricks related to dentistry to keep the kids interested and awake.
An example? "Magicians always do a cut-and-restore rope trick—it's one of our standards," Kerr says. "Well, you don't have to refer to the rope as a rope; you can call it dental floss. So I do a whole skit around being a dentist from the Philadelphia Zoo." And the rope? Dental floss for an elephant. Needless to say, the kids in the audience love this trick.
Kerr also does the "standard vanishing milk pitcher" during these performances when talking about the food and drinks that can help oral health.
The Magic Orthodontist is planning to work the magic theme into his offices to a greater extent.
"Right now I just have some posters up, but I'd like to eventually do everything over again and possibly have a mural painted on the wall that could incorporate magic," he says.
Kerr and his dental-office partner also plan to put together a magic party for patients—as opposed to the more common baseball games and skating parties that other orthodontists sponsor. Kids will be able to play games and get their faces painted, while Kerr will perform an authentic magic show that will be much longer than his usual, preappointment tricks.
Taking the Stage
Taking his cue from that lecturer who he heard 5 years ago, Kerr has also been working to incorporate the uniqueness of being The Magic Orthodontist into his marketing efforts.
He uses a magic-themed logo on all his paperwork—from business cards to patient letters—and puts out a quarterly newsletter that also uses the theme. The magic motif also shows up in yellow pages and local newspaper advertisements, and he's working to update his Web sites: He owns the domain names themagicorthodontist.com and magicorthodontist.com.
Beyond magic, Kerr is active within the larger orthodontic community. He serves as a delegate to the Pennsylvania Dental Association, and next year he will become the president of the Scranton Dental Society, of which he is now vice president.
He also stays current on advances in the industry by attending national conferences, keeping up with the journals, and regularly calling up colleagues to just "pick their brains" and see what others are doing. When he first moved to Scranton, Kerr made it a point to visit every dental office in the area and get to know the community in which there are currently eight other orthodontists. "As the youngest one here, I wanted to make sure we shook hands and they got to know who I was," he says.
In his free time, he has also managed to take up the bagpipes. He has participated in the St Patrick's Day parade with his bagpiping troupe, The Greater Scranton Black Diamonds, for the last 3 years, something that has helped endear him to his patients.
"[The patients] find it pretty interesting to see me marching down the street in a kilt," he says. "They say, 'Hey, that's my orthodontist!' " The group took their act on the road when they were invited to perform at the dedication for the World War II Memorial last year in Washington, DC.
Practical Magic
Kerr may be The Magic Orthodontist, but, believe it or not, the idea of dental magic is becoming a slowly increasing sensation. While he says he knows of one magic dentist in Chicago, he adds that an entrepreneur in Mahtomedi, Minn, has put together three magic kits that dentists can purchase online. The illusions include a sponge trick called the "Magical Multiplying Molars," a trick in which the dentist can predict a patient's favorite toothbrush color, and "Tooth or Consequences," which features a tooth that rapidly turns yellow if the patient stops brushing it.
For his part, Kerr thinks these tricks are great and that they show that "people are realizing this is a nice thing to do for patients," but he still prefers to do his own personal brand of magic.
He's lately even been teaching his assistants to perform basic tricks, such as making balloon animals, so they can quickly fill in for him if an unhappy patient "needs some cheering up."
He adds that although he has met a few people here and there who don't like magic ("which is OK, too"), the great majority of people do enjoy it, and it almost always puts patients and parents at ease.
Most people, Kerr says, "want to be a kid again and to be entertained and kind of fooled and surprised, and it's a real ice-breaker. I really just think magic is great, no matter what the situation is."
Sarah Schmelling is a contributing writer for Orthodontic Products.