by Ben Burris, DDS, MDSBen Burris, DDS, MDS
The choices you make can profoundly affect patients' first impressions of your practice
The term "waiting room" has long been applied to the front portion of orthodontic offices, and the name itself tells us much about how we view a visit to the orthodontist. In the past, this area has simply been a space to warehouse parents of patients in the chair and to stack loads of people when they all show up at 3:30 and we are running way behind. Significant change is in the air, however, and many orthodontists are transforming the dreaded waiting room into a space that attracts, entertains, and delights patients and parents. We pay a great deal of money per square foot to build an office, and I believe that we need to have a specific reason for each and every bit. Every aspect of your office should shout that your patient and their family are in the right place and that they are wanted and welcome.
Patients' first impressions are what will determine whether or not they do treatment in a given office. That first impression begins with the new patient phone call and continues as patients review your Web site and any written material you send, observe the cleanliness of your parking area and the external appearance of your building, and then consider your reception area as they pass through your front door. All but the reception area are beyond the scope of this article but are well worth investigating, as all are critical to a successful conversion from a new patient to a patient of record.
The Entrance
Ben Burris, DDS, MDS
When William Shakespeare wrote, "All the world's a stage …" he must have had an orthodontic office in mind. When the patient and family step into our office, we want them to be transported from the worries of the world into the wonderful stage setting we create where friendly, well-dressed, well-groomed characters are happy—excited even—to see them, and where the surroundings are clean and comfortable. This may sound a bit over the top, but think about it: We are asking them to trust us above all others and spend thousands of dollars of their hard-earned money so that we can care for their children—and we are asking them to make this important decision based on a 1-hour visit plus a couple of phone calls. Don't think for a second that we are not being scrutinized every step of the way.
The Reception
The days of sliding glass doors sitting on top of the reception desk to keep out those pesky patients are over. It is essential that the reception desk be open and inviting, and that we have a smiling, pleasant, and enthusiastic employee sitting there with nothing more important to do than stand and greet each patient as he or she enters the office. This employee has a schedule sitting front and center, and can use this and the time to take educated guesses at the names of the new patients that arrive. Nothing impresses new patients and their families more than having someone they have never met before say, "You must be John Smith! We have been expecting you and are so happy you came to see us." Even if you guess incorrectly now and again, this is quickly forgotten.
We keep the reception desk clean and free of clutter. This also goes for any area that can be seen by the patients while standing at the reception desk. All too often, piles and piles of any and everything stack up in plain sight of the patients. This does not present the image we want to the new patient.
The Technology
We believe that integrating technology is a necessity for efficiency and for making the proper impression on a new patient and family. Our reception area has several components that show the patient that we are the most technologically advanced orthodontic office in our region:
1) Dolphin Management with biometric sign-in capability: We chose Dolphin Management and Dolphin Imaging for many, many reasons other than the biometric sign-in capability, but I have to admit that the program pays for itself with this one feature alone. The kids and parents never cease to be impressed by the fact that they can put their finger on the pad and the computer recognizes them. From the initial visit to the last retainer check, they still love putting their finger on the scanner and being recognized. The fact that they also have a birthday song played for them when the appointment is close to the big day and that they see their initial picture and how much they have changed are added bonuses.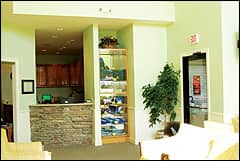 A comfortable, sunny area for the adults sits right next to a video game room for the kids.
2) Ortho Sesame data-gathering station: Ortho Sesame has become a big part of our day-to-day lives in the practice. We initially started using the service to collect patient e-mails and allow us to send out newsletters, contests, special offerings, Christmas cards, and the like without the cost of sending out snail mail (which include printing, letterhead, postage, and labor).
We realized that the first time we sent our Christmas card electronically, we saved $6,000 and the patients loved it. It didn't take long to make up and surpass what we spent on implementing Ortho Sesame. Now we also do all our confirmations via e-mail or text, which saves us hundreds of hours of labor per month since we stopped making phone calls to confirm appointments. We have found that the vast majority of patients actually like electronic communication better than receiving a call that they have to return, and they love the convenience of being able to pay us online straight from our Web site. The computer and monitor in the reception area invite patients to input their information so that they can receive mailings, get confirmation e-mails/texts, and log into our system to check appointments and balances or see records. It has been a huge success and paid for itself many times over. Again, this type of technology integration has a real wow factor (and added convenience for our patients and staff).
3) Free Wi-Fi: Offering this service to busy parents is a no-brainer. It is cheap and easy, and the parents love it.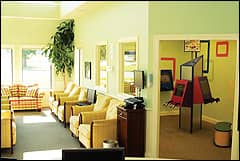 An open reception desk that is free of clutter offers a welcoming first impression to patients and parents.
4) Video game room: Incorporating a video game room into our reception area has had many benefits. The first and most important is that we run 20 minutes ahead of schedule most, if not all, days. The kids actually motivate the parents to get to their appointment early so they can play the games. Running ahead is great for many reasons, but the fact that it allows us to do one-step consults and add a bonding appointment any time we like is the most valuable to us. Also, we can take extra time should a patient come in with multiple brackets off or be in need of extra time and care. Game rooms are also great marketing tools, and we get a great deal of patients because their friends told them all about our "awesome game room" at school and they told their parents which orthodontist they wanted to visit. The cost is very reasonable when you look at the return. We believe in getting professionally built games that are functional, tough, and look great. We have bought games from Kidzpace for several of our offices, and are also using a newcomer to video-game manufacturing, Gator Games.
5) Flat-screen television: Currently we have cable TV and the patients seem to enjoy watching the weather or news, but we are in the process of creating educational and promotional videos to play in all our offices to take advantage of the prime real estate the televisions occupy.
The Ambiance
The furniture, decorations, windows, and even the wall colors come into play in creating this crucial aspect of the reception area. We like to create open spaces with an inviting, relaxed feel. Our patients and parents enjoy lounging in the comfortable chairs and sofas. Parents often catch a little nap or enjoy a good book or magazine while their kids are in the treatment area or game room. Some say that their time at the orthodontist is the only peace and quiet they ever get!
For more information about all the companies mentioned in this article, visit our online Buyer's Guide.
We like many large windows and pastels to soothe our customers while they relax. Finally, we tastefully promote our favorite products such as Invisalign Teen and Wild Smiles with posters that we frame and hang on the wall in lieu of art. We also frame and hang in the reception area any magazine articles, newspaper articles, and awards that showcase our orthodontists' and team's accomplishments. The patients always find these interesting and impressive, as they like to see an accomplished orthodontist and team.
The reception area is crucial to the success of an orthodontic office. Do it right and it is an asset to you and your team that will draw and retain patients more effectively than any advertising campaign. Do it wrong and it will be even more difficult to stay busy in a time when fewer discretionary dollars are available and many businesses are fiercely competing for them. Don't forget that any existing reception area can be modified and upgraded to be warm, welcoming, and technologically advanced. With a little planning and work, you can make the first room your patients encounter work for you.
---
Ben Burris, DDS, MDS, is in private practice in Jonesboro, Ark. He can be reached at