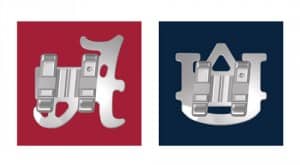 WildSmiles Inc, Omaha, Neb, has partnered with the University of Alabama and Auburn University to expand its Mascot Braces product line. Mascot Braces are orthodontic braces with bonding pads in the shape of officially licensed NCAA university logos.
WildSmiles now offers 19 Mascot Braces team options.
The traditional mini-twin brackets allow patients to personalize their braces and support their favorite collegiate teams simultaneously. According to the company, Mascot Braces offer the same functionality as traditional mini-twin braces. They are offered in multiple prescriptions and slot sizes with a low profile and rounded facial contours. The brackets are manufactured in the United States.
Mascot Braces are offered in sets of U1-1 as part of an exclusivity program within the states where the universities are located. Practices outside these states can gain access to the full collection of team logos through the Mascot Braces Club, starting at $59 per month.
University of Alabama—"Bama Braces"—and Auburn University—"Tiger Braces"—will be available nationwide in early October 2018.