by Ann H. Carlson
How Ray McLendon, DDS, remodeled a former church into the hub of his practice
When a Baptist congregation decided to relocate from the increasingly commercial area of Spring, Tex, to a nearby bedroom community, it was having a hard time finding a buyer for the church building—until Ray McLendon, DDS, came along. An orthodontist who runs five Clear Choice Orthodontic Associates locations in greater Houston, McLendon realized that without the steeple, the building would make a promising location for his growing practice.
"I think everybody else looked at that building and just saw a church and said, 'I don't need one,' " he says. "And I looked at the church, and I saw a 10,000-square-foot building."
A Hands-On Approach
While creating an orthodontic office from a church sounds like a tall order, McLendon was no stranger to this type of project. He had once converted a Kingwood, Tex, restaurant into an orthodontic office—although the existing plumbing and electrical systems had made that an easier undertaking. "What I learned by the school of hard knocks is churches are kind of the opposite of that," he notes. "They have very little plumbing, and they have very little electrical service, so we had to upgrade all that."
PRACTICE PROFILE

Name:

Clear Choice Orthodontic Associates

Location:

Kingwood, Tex; Spring, Tex;
The Woodlands, Tex; Katy, Tex;
Uptown Park, Tex

Owner:

Ray McLendon, DDS

Specialty:

Orthodontics

Years in Practice:

24

Patients per day:

About 80

Days worked per week:

4

Office square footage:

From 1,700 to 5,000 square feet

Staff members:

26
When remodeling a building, McLendon believes it is important to resist the urge to create a single-purpose design. "If you built a 2,000-square-foot, nice little brick building and put your orthodontic practice in it, you would probably enjoy it a lot as a practitioner—but Wal-Mart is never going to buy it from you," he says. "You can limit the opportunity to sell it to someone else because it doesn't really fit anybody else's need."
Still, with an eye to designing the office to suit the practice's patient flow and needs, McLendon usually brings his own vision to the design. He himself took on the role of general contractor for four of his offices, even doing his own plumbing on occasion. "For better or worse, I'm just a do-it-yourselfer," he admits.
The scope of the church project, however, was much larger than the others, so McLendon hired an architect on an hourly basis. Because he had a clear picture of what he wanted, he asked for feedback on his ideas from the architect, who then set the plans in motion. This constant communication helped ensure his original dream for the project matched the final result, which opened to patients in April 2006.
Space Creation
When it came to configuring the patient chairs, McLendon was not interested in an open-bay treatment area. The practice generates a lot of traffic, and he was concerned that a clear view of the office's 17-chair capacity would scare away patients and parents. "If you have a pretty busy practice, then you don't want everybody seeing everybody else," he says.
Although the practice usually books appointments for no more than seven chairs—leaving three for new patient consults and seven others free for quick wire clips, impressions, or retainer checks—having all of the chairs in one area would have undermined the personal touch McLendon wants patients to remember. "If we did have all the chairs in one room, we'd look kind of like Costco," he explains.
To break up the space, McLendon requested dividers between the chairs. These walls don't go all the way to the ceiling, but they are placed between almost every chair. "It's not designed for privacy," he says. "It's designed to break the eye."
The three chairs for new patients, however, do have their own separate rooms, an idea inspired by McLendon's tour of the Salt Lake City offices of Rand Bennett, DDS, MS. "What I learned from Rand Bennett was if you don't have enough new-patient rooms, you don't have the capacity to see new patients, and therefore, you can't grow," McLendon notes.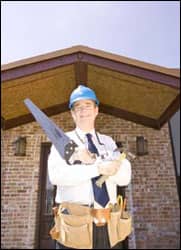 Mclendon in front of remodeled church building.
Having three rooms free for new patients means that treatment coordinators can see up to three new patients per hour, every hour. Of course, starting 24 new patients per day isn't likely to happen very often, but keeping the chairs available is a valuable time-saver for McLendon.
Traditionally, before treatment coordinators, many orthodontists were squeezing in two new-patient appointments before office hours and two more after the last patient went home. But McLendon's setup means that all new patients can be seen during the course of the business day. "If the only time you see three new patients at a time is at 4 pm because that's when they wanted to come, even that's a good idea—even if the rooms stay empty all day long until then," he says.
In addition to ample room for patient chairs, the remodeled building features several unique areas, including a fully stocked video game room with actual arcade consoles. Since one of McLendon's passions is teaching, there is also a large teaching facility at the back of the building. "We can seat about 15 doctors in classroom style and have lectures, and we can have staff meetings back there," he explains. Often, he hosts study group meetings that revolve around Invisalign, one of the focal points of his practice.
Clear Thinking
An early adopter of Invisalign technology who once served as a vice president for Align Technology, Santa Clara, Calif, McLendon has completed upward of 1,100 Invisalign cases—more than any other practitioner in the world. Not surprisingly, approximately 35% of his patients are adults, and the practice starts between 25 and 30 Invisalign patients per month.
McLendon first considered Invisalign seriously after attending a study club meeting held by David Wadler, DDS, MS, PA, who he saw being interviewed by a reporter after the meeting. "I thought, there may be really something to this, if the media is asking questions about it," McLendon says. "I can't think of anything that the media has ever asked me about nickel titanium wires." Since he started offering Invisalign, McLendon himself has been interviewed by The Wall Street Journal, and he recently sat for a live television interview on a local morning program.
Early on, McLendon recognized the appeal the clear plastic aligners would have for patients who otherwise might not even consider orthodontic treatment. "I think we underestimate the embarrassment factor for teens and adults," he says. "They're excited about the results of straight teeth, and that's about it. They're not really excited about the process."
When he began offering Invisalign, he first shared the news with the parents of his patients. "We used the notion that either they're interested or they know someone who's interested, and there's never any pressure," he says. "They can tell that I really don't have any agenda whether they do it or not—they never feel pressure to do it."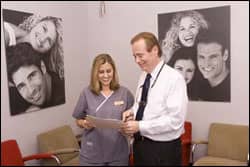 McLendon discusses treatment with administrative assistant Robin Payne.
One of the chief criticisms of Invisalign is that the treatment is primarily for minor tooth movement, but making modifications to the aligners, including cutting parts away, adding auxiliaries such as buttons and elastics, and experimenting with different types of attachments, has given McLendon satisfying results in cases that call for more complex tooth movement.
"Doctors can do almost all of the movements that can be done with wire with plastic, if they're willing to take the time and effort to do it," he says. He adds that these solutions won't necessarily be as efficient as wire, but sometimes it is the only way patients will accept treatment. "You've got to get down to what people are willing to do," he says.
Although McLendon has experienced tremendous success with Invisalign, he says that also offering traditional braces helps boost referrals. "At this moment, referring doctors are not 100% sure what can be done with Invisalign and what can't," he explains. "I really don't want them to have to worry about that. I want them to be able to know that if you send them, we'll take care of them for you."
Invisalign has also opened up a technological opportunity for the practice. While McLendon runs five offices, he personally spends time in three of the locations. The other two are overseen primarily by his associates. However, he still handles all of the computer work for every Invisalign patient in all locations—a task he can even accomplish on the road during his busy lecturing schedule. "A patient can be my patient in a location that I routinely do not go to, but I have the opportunity to straighten their teeth on the computer screen, having never met them in person," he says.
Practice Building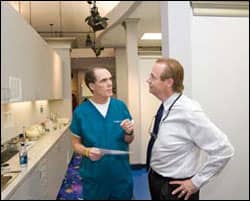 McLendon and Dr. David E Holsey discussing dental techniques.
After graduating from the University of Texas in 1983, McLendon realized that he had all the skills he needed to straighten teeth, but he needed to build his business skills. He developed a passion for practice-management courses and literature that helped him make informed decisions.
Early on, McLendon was inspired by Michael Gerber's The E-Myth, a book written for small business owners. "One of his phrases that's so valuable is that when you're working in your business, you're not likely to be working on your business," he says. When he originally set up shop, instead of dedicating the entire work week to seeing patients, he reserved Mondays and Fridays for evaluating his systems, processes, and plans for development—a strategy to which he attributes his early success.
Today, McLendon continues to fine-tune his practice, especially in trying to make patients and parents feel comfortable in the practice and pleased by the service. While the practice does some external marketing, chiefly focusing on Invisalign, McLendon believes very strongly in the power of internal marketing. In addition to guaranteeing that the office design is professional and welcoming and that staff get along and make the practice a fun place to be, he makes a commitment to be on time for appointments.
This strategy relies on patients coming in on time, which can be a tall order, especially if the orthodontist doesn't run on time himself. McLendon's staff reminds patients to be on time, and he ensures them of his commitment to be on time for them as well. If a patient still comes in 15 minutes late for a 30-minute appointment, for example, McLendon and his staff will do what they can for that patient in the remaining 15 minutes. This ensures that patients don't go away dissatisfied, and it also keeps the office on schedule.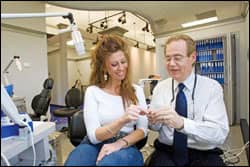 McLendon discusses treatment with patient Ami McIntyre.
Of course, there are some exceptions. If a patient travels 2 hours to reach the practice, then McLendon will not truncate the appointment, even if the patient arrives late. In cases like these, he may have to be late for the next appointment, but he tries to make this the exception, not the rule. "People will come on time if they know that you're making real efforts to be on time for them," he explains. "And they'll forgive you for being late occasionally."
Looking Ahead
McLendon, who is earning his MBA at Rice University, Houston, continues to look for ways to build his practice. In January, he brought on a business manager to handle most of the day-to-day managerial tasks, which gives him more time on the clinical side. "[We] seemed to have similar thought processes, so I thought it was a good fit," he says. "So far, that's going pretty well."
Although there are no immediate plans for new locations, McLendon says it is likely the practice will expand. However, he knows that the key to success is growing at a sustainable pace.
"We're most likely going to add locations in time, when it seems appropriate," he says. "But we don't want to grow just for growth's sake, and we don't want to grow faster than we can take good care of people."
Ann H. Carlson is a contributing writer for Orthodontic Products. For more information, contact /i>
Community Building
When Ray McLendon, DDS, decided to remodel a church building in Spring, Tex, to house one of his Clear Choice Orthodontic Associates locations, he had more than enough space for his needs. In fact, the office uses only 5,000 square feet of the original 10,000-square-foot building that housed the church's sanctuary, pastor's offices, and day care facilities.
Although he intended to buy only the one building, McLendon eventually decided to also purchase a second building on the property—a 20,000-square-foot facility, originally built to serve as a more modern sanctuary.
"I didn't need it for my business, but I did have an interest in it," he recalls. "I just had a vision that that building could continue to be some type of community resource."
Today, McLendon is in talks with a group of nonprofit organizations that concentrate on a spectrum of services, including spiritual ministry, historical reenactments, and even free music lessons. The building may provide a space for these events, and McLendon hopes the facility can be used to promote health-related activities as well. He also wants to provide youth-centered activities and games, such as air-hockey tournaments.
McLendon is in the final discussion phase with these nonprofit groups to determine how to use the facility. No matter what direction they choose, however, his hope is to create a place that will attract young people. "We're trying to think of things that kids like to do that don't get them in trouble," McLendon says.
—AHC